Prisoner exchanges have begun and both sides have drawn up timetables for the withdrawal of heavy weaponry. And there is vague talk of constitutional changes. The aftermath of Minsk II, the second attempt at a ceasefire in Ukraine's bloody civil war, is going more or less as expected.
The separatists captured the strategically important town of Debaltseve, as they were always going to do, and the Kiev government knew they would. They did not try to take the port of Mariupol – that will come. Despite some excitable media reports to the contrary, the last attack on Mariupol was almost a month ago. The shelling taking place was at Shirukane, a nearby town where clashes were taking place four months ago when I was there, and where hostilities have continued since. The timetable for pulling back artillery is being delayed amid accusations of the rebels continuing to fire at Ukrainian positions, but it is unlikely that full-scale battles will start in the immediate future.
But the war is anything but over, even in the short term. On Sunday we saw an example of hybrid warfare – the use of sabotage, destabilisation and black propaganda though proxies. It came in a bombing in the city of Kharkiv, killing two people and injuring a dozen others, during a rally to commemorate the anniversary of the overthrow of President Viktor Yanukovych, who is now in Russian exile.
The term hybrid warfare has been much in vogue recently with Western ministers, diplomats and military commanders lining up to warn of the Kremlin's use of such tactics. But, in fact, this type of war in the shadows has been going on ever since the fall of Mr Yanukovych, rising sharply in volume over the months, but with little or no international coverage.
Kharkiv, on the edge of the Donbas battleground, does not have a natural majority of pro-Russians like Donetsk and Luhansk, but controlling Ukraine's second city will buttress the dream of "Novorossiya" and give it more defensible borders. Kharkiv has experienced orchestrated violence, in tandem with a social media campaign. I was there in April last year, when Gennady Kernes, the mayor, was shot in the back in an attempted assassination. The 64-year-old billionaire had been a fervent supporter of Mr Yanukovych, banning protests in Kharkiv, like the one in Kiev's Maidan square which brought down the President, under an order to "avoid the spread of infectious disease". After the revolution he had become a super- nationalist, railing against Vladimir Putin's supposed plan to take over his country.
Separatists and nationalists blamed the other for the shooting. The attacks, however, have continued in Kharkiv. There have been more than a dozen blasts in the past three months, including one at a bar, the Stena, used by Ukrainian nationalist activists in November in which 10 people were injured; a pro-Russian group, the Kharkiv partisans, was blamed. Moscow denied culpability.
Such strife has been evident elsewhere. Odessa, on the Black Sea, is far away from the front line but, like Kharkiv, it is divided between separatists and nationalists. Long-running tensions and low-level violence between the rivals led to 48 people being burnt to death and more than 200 injured last April. The victims were pro-Russians; the ones who had trapped them in the local trade union headquarters and then thrown in Molotov cocktails were nationalists, including extreme right-wingers from groups such as Right Sector.
Ukraine crisis: A timeline of the conflict
Ukraine crisis: A timeline of the conflict
1/22 30 November 2013

Public support grows for the "Euromaidan" anti-government protesters in Kiev demonstrating against Yanukovych's refusal to sign the EU Association Agreement as images of them injured by police crackdown spread.

EPA

2/22 20 February 2014

Kiev sees its worst day of violence for almost 70 years as at least 88 people are killed in 48 hours, with uniformed snipers shooting at protesters from rooftops.

AFP/Getty Images

3/22 22 February 2014

Yanukovych flees the country after protest leaders and politicians agree to form a new government and hold elections. The imprisoned former Prime Minister, Yulia Tymoshenko, is freed from prison and protesters take control of Presidential administration buildings, including Mr Yanukovych's residence.

Genya Savilov/AFP/Getty Imageses

4/22 27 February 2014

Pro-Russian militias seize government buildings in Crimea and the new Ukrainian government vows to prevent the country breaking up as the Crimean Parliament sets a referendum on secession from Ukraine in May.

Sean Gallup/Getty Images

5/22 16 March 2014

Crimea votes overwhelmingly to secede from Ukraine and join Russia in a ballot condemned by the US and Europe as illegal. Russian troops had moved into the peninsula weeks before after pro-Russian separatists occupied buildings.

EPA

6/22 6 April 2014

Pro-Russian rebels seize government buildings in the eastern cities of Donetsk, Luhansk and Kharkiv, calling for a referendum on independence and claiming independent republic. Ukraine authorities regain control of Kharkiv buildings on 8 April after launching an "anti-terror operation" but the rest remain out of their control.

EPA/PHOTOMIG

7/22 7 June 2014

Petro Poroshenko is sworn in as Ukraine's president, calling on separatists to lay down their arms and end the fighting and later orders the creation of humanitarian corridors, since violated, to allow civilians to flee war zones.

Getty Images

8/22 27 June 2014

The EU signs an association agreement with Ukraine, along with Georgia and Moldova, eight months after protests over the abandonment of the deal sparked the crisis.

LOUISA GOULIAMAKI/AFP/Getty Images

9/22 17 July 2014

Malaysian Airlines flight MH17 is shot down over eastern Ukraine, killing all 298 people on board. Ukrainian intelligence officials claim it was hit by rebels using a Buk surface-to-air launcher in an apparent accident.

10/22 22 August 2014

A Russian aid convoy of more than 100 lorries enters eastern Ukraine and makes drop in rebel-controlled Luhansk without Government permission, sparking allegations of a "direct violation of international law".

Reuters/Alexander Demianchuk

11/22 29 August 2014

Nato releases satellite images appearing to show Russian soldiers, artillery and armoured vehicles engaged in military operations in eastern Ukraine.

Nato

12/22 8 September 2014

Russia warns that it could block flights through its airspace if the EU goes ahead with new sanctions over the ongoing crisis and conflict

EPA

13/22 17 September 2014

Despite the cease-fire and a law passed by the Ukrainian parliament on Tuesday granting greater autonomy to rebel-held parts of the east, civilian casualties continued to rise, adding to the estimated 3,000 people killed

Reuters

14/22 16 November 2014

The fragile ceasefire gives way to an increased wave of military activity as artillery fire continues to rock the eastern Ukraine's pro-Russian rebel bastion of Donetsk

Getty

15/22 26 December 2014

A new round of ceasefire talks, scheduled on neutral ground in the Belariusian capital Minsk, are called off

AFP/Getty

16/22 12 January 2015

Soldiers in Debaltseve were forced to prepare heavy defences around the city; despite a brief respite to the fighting in eastern Ukraine, hostilities in Donetsk resumed at a level not seen since September 2014

AFP/Getty

17/22 21 January 2015

13 people are killed during shelling of bus in the rebel-held city of Donetsk

Reuters

18/22 24 January 2015

Ten people were killed after pro-Russian separatists bombarded the east Ukrainian port city of Mariupol

AP

19/22 2 February 2015

There was a dangerous shift in tempo as rebels bolstered troop numbers against government forces

AFP/Getty

20/22 11 February 2015

European leaders meet in Minsk and agree on a ceasefire in eastern Ukraine beginning on February 14. From left to right: Belarus President Alexander Lukashenko, Russian President Vladimir Putin, German Chancellor Angela Merkel, France's President Francois Hollande and Ukrainian President Petro Poroshenko.

MAXIM MALINOVSKY | AFP | Getty Images

21/22 13 February 2015

Pro-Russian rebels in the city of Gorlivka, in the Donetsk region, fire missiles at Ukrainian forces in Debaltseve. Fighting continued in Debaltseve for a number of days after the Minsk ceasefire began.

ANDREY BORODULIN | AFP | Getty Images

22/22 18 February 2015

Ukrainian soldiers repair the bullet-shattered windshield of their truck as their withdraw from the strategic town of Debaltseve. Following intense shelling from pro-Russian rebels, Ukrainian forces began to leave the town in the early hours of February 18.

Brendan Hoffman | Getty Images
What happened was a terrible shock for the beautiful city with a hitherto proud multicultural heritage. There was deep anger. Standing in the ashes and debris of the burnt building, with the smell of charred bodies still in the air, Yuri Shubovich, 23, who had lost a cousin and a close friend, talked of the reckoning to come, a group of young men around him echoed the words.
There were five bombings in December alone in Odessa, targeting transport links and nationalist groups, including a collection point for donations to the Ukrainian army. One man died when the bomb he was carrying exploded prematurely. Again, the violence has been accompanied by a social media offensive. If one key aim of hybrid warfare is to sow distrust among communities, it is succeeding in Odessa, a city where once 200 different nationalities lived side by side.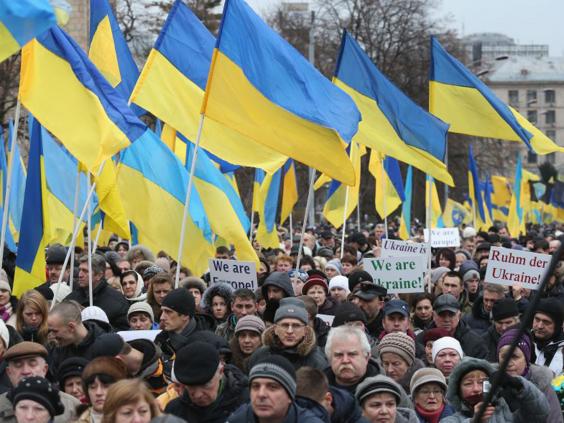 But it is not just one side using such tactics. At a hospital in Mariupol last September, injured members of the Azov Battalion, one of the private armies in the government side, talked about plans to take the battle back to the "terrorists" in Donetsk. A spate of gun battles was blamed on infighting among the separatists, but there appeared to be some truth in claims that provocateurs were at work.
There have been attacks in the "People's Republic" and its hinterland which remain unexplained. A railway bridge was blown up in Zaporizhia as a train was crossing on 20 January; the separatists were deemed to be responsible but the immediate beneficiary was the Kiev government, which extended its "anti-terrorist operations zone", enabling troops to be sent in large numbers.
A few months earlier, I witnessed an armed raid on UkrBusinessBank, owned by Oleksandr Yanukovych, the son of the former President, in Donetsk. The gunmen wore police uniforms, but they were nationalists from Ukrainian-held territory. They were arrested, but remained sanguine. "Oleksadr is $500m rich – this is money stolen by him and his father: we were just securing it," said one as he was being led into a van. When I expressed concern for his safety, the man winked: "It's OK, we have friends." They were released and disappeared that afternoon.
It is not always easy to discern the loyalties of those taking part in the dark world of hybrid warfare.
Reuse content