Olivia McEvoy and her partner Jean O'Brien stood hand in hand inside Dublin Castle as the life-changing result was read out. They have been together for 16 years – but only now can they begin planning a wedding that only a few months ago seemed impossible.
Ireland has become the first country in the world to allow same-sex marriage by means of a popular vote, with a resounding 62.1 per cent win on a turnout of 60.5 per cent. The result – 1,201,607 Yes, 734,300 No – comes little more than two decades after homosexuality was made legal in Ireland, marking a seismic shift in the country's social attitudes.
Ms McEvoy, 39, who was instrumental in the Yes campaign as chair of the National LGBT Federation, said: "We haven't imagined this as part of our life because it hasn't been an option. When civil partnerships came in in 2010 it was asking people to participate in their own discrimination in order to commit to the person they love. I couldn't celebrate that. But this is different."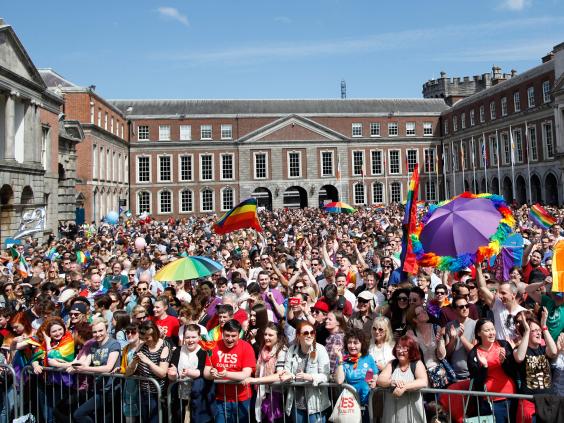 Her partner Ms O'Brien, a banker in her fifties, said: "We're absolutely thrilled. This whole thing has been about acceptance… Having fought for it now I want to get married. It would be a wonderful day to be with our family and friends."
The Dublin couple plan to have a small ceremony in their home city once the legislation is passed. The first marriages are not expected for several months since a bill needs to pass through two houses and weddings in Ireland need to be registered three months in advance.
In the courtyard in front of Dublin Castle hundreds of men, women and children draped in rainbow flags hugged, cheered and cried as the official results were broadcast on a big screen. Retired teacher, Peter Lynch, who was carrying a sign saying "Thank you Ireland," said: "This means everything. At last at the age of 60 I'm an equal citizen."
The ballot galvanised a new generation to embrace politics in Ireland. Almost 66,000 new voters were registered in the run-up to the election, many of them younger people engaging with politics for the first time.
Helen McCarthy, 21, a student at Maynooth University was wiping away tears with a rainbow flag outside Dublin Castle. "I've never been that politically minded or voted before but I had to register to vote for this. I wish I could show my 18-year-old self what's happened today."
With the result coinciding with last night's Eurovision Song Contest final, gay bars across the capital were ready for an enormous celebration. Rory O'Neill, better known by the alter ego Panti Bliss, who owns the city's Panti Bar, said it was set to be "the gayest day in Irish history."
The result makes Ireland the 20th country in the world to legalise gay marriage - but the only one to decide it by a public vote. Legislation was passed in Britain last year but Northern Ireland opted out, leaving it as the last place in the British Isles not to allow same-sex unions.
Irish gay marriage vote results: In pictures
Irish gay marriage vote results: In pictures
1/11 Drag queen Panti Bless and crowd celebrate a Yes victory

Drag artist and Yes activist Panti Bliss joins supporters to celebrate in front of Dublin Castle

Getty Images

2/11 The celebrations started last night in Dublin and continued all day

A couple celebrating in Dublin

EPA

3/11 A woman heading to the polling station yesterday

Woman walks past a mural of two rainbow coloured hearts on polling day. Polling stations in the 43 constituencies across country opened their doors yesterday to vote on legalising same sex marriage

EPA

4/11 A 'Yes to Equality' badge

A pro-gay marriage badge on a voter's lapel in gaelic meaning "Yes to Equality" seen in Dublin on polling day.

EPA

5/11 A cafe in Dublin lending its support to the cause

Many businesses in Ireland have got involved in the campaign, declaring their support for both the Yes and No campaigns

EPA

6/11 Two campaign posters side by side posters on a Dublin street

Both sides have campaigned fiercely saying they are fighting for social freedom

EPA

7/11 Newly married couple share their support for a Yes vote

Newly married Anna and Vincent Fox share a kiss as they mark their support for a Yes vote in Dublin on polling day

Getty Images

8/11 50 foot mural on the wall of Caherkinmonwee Castle in Galway to celebrate gay marriage

A 50 foot referendum mural created by artist Joe Caslin to promote a Yes vote

Getty Images

9/11 Supporters celebrate an expected Yes vote

Supporters in favour of same-sex marriage pose for a photograph as thousands gather in Dublin Castle

Getty

10/11 Couple waiting for the result in Dublin Castle

Erin Reddy (left) and Dee Campell awaiting the result at Central Count Centre in Dublin Castle

PA

11/11 A gay marriage activist kisses her rosary beads in celebration

A gay marriage supporter kisses her rosary beads at the Central Count Centre at Dublin Castle

PA
With no postal voting system, hundreds of Irish men and women came back to the country to cast their ballot. Efforts to bring back the diaspora were co-ordinated by the Yes campaign, with #hometovote trending on Twitter telling the moving stories of people who had made the long journey to be part of it.
Oonagh Murphy, 28, a theatre director living in London, travelled back to her home town of Wicklow, south of Dublin, on Friday. On Saturday morning she helped count the flurry of yes votes in her town before heading into Dublin to celebrate.
She was emotional as she saw the piles upon piles of Yes ballots. "As a gay person growing up in suburban Ireland it feels amazing that for once you're on the inside with popular opinion," she said. "This has made me want to move back one day."
The influence of the Catholic church has historically cemented Ireland's social conservatism. Homosexuality was not even legal in Ireland until 1993 - and divorce was only legalised three years later. Some 84 per cent of Irish people still identify as Catholic, yet this time, the church's pleas to follow them and vote no largely fell on deaf ears.
Many Catholics - including several high-profile priests and nuns - defied church leaders and pushed for a Yes vote. Ireland's former President, Mary McAleese - a devout Catholic who even studied at the Vatican - came out in favour of the referendum. She has a gay son and accused the Catholic church of hypocrisy, since it did not acknowledge non-church weddings between heterosexual couples anyway.
Analysts believe the church's waning influence is down to the impact of a succession of child abuse scandals over the last decade. That made its arguments about gay marriage being potentially damaging to children seem all the more hollow.
David Farrell, professor of politics at University College Dublin, said: "The abuse scandals have played a big part in this. I remember as a younger guy in the early 90s, the role that priests were playing in the divorce referendum was significant. In those days churches were packed and their words were listened to reverently.
"What you saw this time was much more circumspect. I think it's largely that they're still on the back foot because of all the scandals to do with child abuse and slave labour."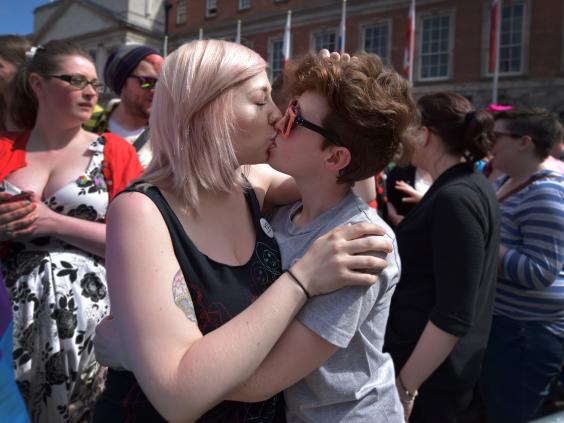 For some the result has come too late. Kevin O'Neil, 64, was moved to tears as he emerged from a polling station in The Liberties, central Dublin, on Friday. "It's an emotional day," he said. "I'm gay and I had two relationships for 20 years each. My partners both died and I would have loved to marry them."
Christy, his most recent partner, died of a heart attack in 2012 and James, his previous boyfriend, died in 1992, also of a heart attack. "I'll be looking at the photos of my two partners and thinking 'I wish you were here'," he said of how he planned to celebrate.
Though sad not to have someone to celebrate with, Mr O'Neill is excited by the social change the vote signifies. "I'm thinking about younger people coming up. In the Sixties it was hard to be gay. I didn't feel much discrimination but I just felt I wasn't part of society. Ireland has changed for the better. We have a big young population and we're telling them they're all loved no matter what."
Reuse content