Isis has claimed responsibility for a mass shooting at an Istanbul nightclub as Turkish police said they had detained eight people and were closing in on the chief suspect who carried out the attack.
The gunman, who is still at large, opened fire at a crowd of hundreds of people celebrating New Year's Eve at the Reina nightclub, killing at least 39 people and injuring dozens more. The brutal onslaught lasted seven minutes in which time the armed man fired more than 100 bullets into the crowd. It is thought he then changed his clothes and disappeared.
Eight people have been detained in relation while Turkish police have issued an image of the man suspect of carrying out the attack.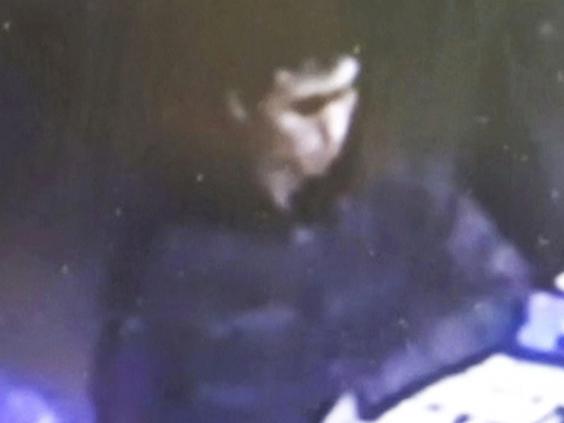 The victims include people from Saudi Arabia, Morocco, Lebanon and Libya, according to a Turkish government minister. Israel confirmed one of its citizens, 19-year-old Leanne Nasser, was also among the dead.
"Information about the fingerprints and basic appearance of the terrorist have been found. In the process after this, work to identify him swiftly will be carried out," Deputy Prime Minister Numan Kurtulmus said.
He added it was clear that Turkey's military incursion into Syria, launched in August, had annoyed terror groups and those behind them, but said the offensive would continue until all threats to Turkey were removed.
Kurtulmus also said the attack bore significant differences to previous attacks in Turkey and that it had been carried out to create divisions within Turkish society.
The extremist militant group has released a statement hailing the actions of a "heroic soldier", and said the man fired an automatic rifle and also detonated hand grenades in "revenge for God's religion and in response to the orders" of Isis leader Abu Bakr al-Baghdadi
It says: "In continuation of the blessed operations that Islamic State is conducting against the protector of the cross, Turkey, a heroic soldier of the caliphate struck one of the most famous nightclubs where the Christians celebrate their apostate holiday.
Police have established similarities with the high-casualty attack at Ataturk Airport in June and are investigating whether the same Isis cell carried out both attacks.
Eight people have been arrested in connection with the attack although the gunman is not among them.
Turkish President Erdogan said his country was determined to destroy the source of threats against it. While no one had so far claimed responsibility, Isis and extreme Kurdish separatist groups have staged similar attacks in the past.
"As a nation, we will fight to the end against not just the armed attacks of terror groups and the forces behind them, but also against their economic, political and social attacks," the President said in a statement.
"They are trying to create chaos, demoralise our people and destabilise our country with abominable attacks that target civilians.
"We will retain our cool-headedness as a nation, standing more closely together, and we will never give ground to such dirty games."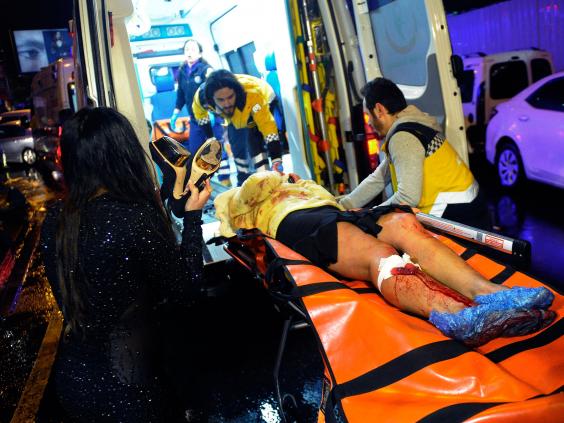 Turkish interior minister Suleyman Soylu said efforts were continuing to find the attacker, who entered the nightclub at around 1.15am on Sunday (10.15pm UK time), killing a police officer and a civilian before opening fire into the crowd of up to 700 people inside. 
Mr Soylu told reporters: "A manhunt for the terrorist is under way. Police have launched operations. We hope the attacker will be captured soon."
At least 69 people were being treated in hospital, with four said to be in a serious condition, the minister added.
Turkey has experienced a series of lethal attacks over the last year, with Mr Erdogan's government blaming a number of its list of foes.
The reaction of officials in the immediate aftermath of the New Year's Eve massacre, however, was that it is likely to have been the work of Isis.
Kurdish groups have tended to target security forces rather than carry out indiscriminate killings of civilians.  
And, while Ankara had blamed the followers of exiled cleric Fethullah Gulen for other attacks such as the murder of the Russian ambassador to Turkey earlier this month, they have yet to do so for what happened at the Reina nightclub.
Turkish forces are currently involved in a major military operation in northern Syria against Isis as well as the Kurds.
Isis has carried out a series of devastating bombings and shootings in Turkey specifically targeting, at times, the country's tourist industry. This, along with general turbulence, has resulted in a huge drop in visitors, especially from the West, to the country.
The nightclub, Reina, on the shores of the Bosphorous, had gained a chic reputation among Turkey's affluent, Westernised, secular young people, as well as sports stars and expatriates.
Foreign visitors have included Daniel Craig, Kylie Minogue, Naomi Watts and Jon Bon Jovi. Conservative Muslims have been critical of venues such as these, as well as events such as New Year's Eve celebrations, holding that they are incompatible with Turkey's Islamic heritage.
In the violent confusion of the attacks taking place in Turkey there has been a tendency to see a hidden American hand at play, something the Erdogan government had encouraged as relations with Washington have soured.
There have been repeated allegations that US intelligence had colluded with Mr Gulen, who is based in Pennsylvania as well as Islamist groups like Isis.
In response to social media rumours that Washington knew an attack was due to take place and failed to warn Turkey, the American embassy put out a statement that, although a travel warning had been issued to US nationals, "there was no information about threats to specific entertainment venues, including the Reina club".
The UK Foreign and Commonwealth Office (FCO) urged people in the area to "remain vigilant", and said they could not yet confirm whether there were any British victims.
A spokesperson told The Independent: "We are in touch with the local authorities following reports of an incident at a night club in Istanbul. It is still too early to know whether any British nationals were involved."
Travel advice on the the FCO website was updated following the attack, saying: "There is an ongoing police operation in Istanbul as a result of the attack, and the attacker may still be at large.
"You should exercise vigilance and caution at this time, and follow the advice and instructions of the security authorities."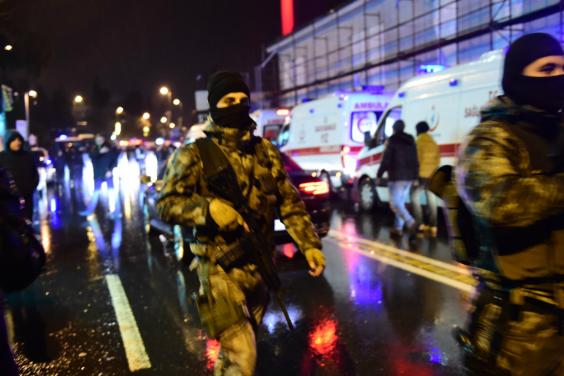 Local reports said some people jumped into the waters of the Bosphorus strait to escape the massacre.
There were reports that the gunman had dressed as Father Christmas, but Turkish Prime Minister Binali Yildirim said later: "There is no truth to this. He is an armed terrorist as we know."
Witnesses said the man had spoken in Arabic, suggesting he was not Turkish. 
Istanbul Governor Vasip Sahin told reporters the attacker had used a "long-range weapon" to "brutally and savagely" fire on people, apparently referring to some form of assault rifle. 
"Unfortunately [he] rained bullets in a very cruel and merciless way on innocent people who were there to celebrate New Year's and have fun," Mr Sahin said.
The Turkish government imposed a temporary media blackout on local coverage of the attack, banning the publication or broadcast of anything that could cause "fear in the public, panic and disorder and which may serve the aims of terrorist organisations".
Security in Turkish cities had been heightened during the run-up to the New Year with 17,000 police officers, some camouflaged as Santa Claus, on duty in Istanbul, state news agency Anadolu said. This use of fancy-dress camouflage may have been the source of the confusion about the gunman's clothes.
The mass shooting came at the end of a bloody year in Turkey, where terror attacks by Isis and Kurdish extremist groups resulted in the deaths of more than 180 people.
It is not yet clear whether the attacker had links with terrorist groups, but a security expert said he believed it was a "very typical Isis attack".
Security analyst Metin Gurcan told Sky News: "Isis hasn't claimed the attack yet, but it is likely that this is a very typical Isis attack, because if you look at Isis attacks inside Turkey in 2016, you see that Isis hit similar targets.
"The choice of a very well-known nightclub in which a Christmas party was going on is a perfect fit for an Isis objective."
In the hour after the attack, Justice minister Bekir Bozdağ wrote on Twitter: "This is a treacherous attack on Turkey, our peace, our unity, our brotherhood and all of us."
World leaders have offered assistance to Turkey.
UK Foreign Secretary Boris Johnson tweeted: "Thoughts with Turkey after cowardly act of terrorism in Istanbul nightclub attack. We stand shoulder to shoulder with our Turkish friends."
Barack Obama offered his condolences for the innocent lives lost, and directed his team to offer appropriate assistance to the Turkish authorities, according to White House spokesman Eric Schultz.
Russia's President Vladimir Putin, who is a joint guarantor with Mr Erdogan of the Syrian ceasefire, reportedly sent a message to the Turkish President stating: "It is hard to imagine a more cynical crime than killing innocent people during New Year celebrations.
"However, terrorists don't share moral values. Our common duty is to combat terrorists' aggression."
Speaking at the opening of Sunday's cabinet meeting, Mr Netanyahu quoted Chancellor Merkel's remarks over the weekend that "the biggest threat to the future of the world is from extremist Islamic terror", the paper reports.
And Federica Mogherini, the High Representative of the EU for Foreign Affairs and Security Policy, wrote on Twitter: "2017 starts with an attack in Istanbul. Our thoughts are with victims and their loved ones. We continue to work to prevent these tragedies."
Israeli Prime Minister Benjamin Netanyahu, meanwhile, condemned the attack and called for concerted international efforts to fight terrorism, The Jerusalem Post reported.
Amid the manhunt, armed police in riot gear blocked off the area surrounding the club, which is one of the most popular spots in the city, as clubbers wearing suits and cocktail dresses poured into the street.
In addition to the 15 foreign nationals, five of the dead have been identified as Turkish people, up to four of whom were working in the club. Authorities had not yet identified 19 others.
Witnesses have described seeing people "soaked in blood" as they tried to push their way to safety.
Sinem Uyanik told the Hurriyet newspaper: "We were having fun. All of a sudden people started to run. My husband said don't be afraid, and he jumped on me. 
World news in pictures
World news in pictures
1/29 23 March 2017

The Brandenburg Gate is illuminated with the colours of the British flag to show solidarity with the victims of the recent attack in London, in Berlin, Germany

Reuters

2/29 21 March 2017

A Nepalese woman carries a metal container locally known as 'gagri' containing fresh water during the early morning one day before World Water Day in Bhakatpur, Nepal

EPA

3/29 21 March 2017

World Water Day is held annually on 22 March as a means of focusing attention on the importance of freshwater and advocating for the sustainable management of freshwater resources

EPA

4/29 21 March 2017

Filipino fishermen arrange a fishing net next to a sewage pipe at a fishing village in the town of Bacoor, Cavite province, Philippines

EPA

5/29 20 March 2017

High-rise buildings are partly covered by heavy fog at Hong Kong's Victoria Harbour

AP

6/29 20 March 2017

Libyan fishermen rescue migrants from a sinking dinghy off the Libyan coastal town of Zawiyah, east of the capital, as they attempted to cross from the Mediterranean to Europe

Getty Images

7/29 20 March 2017

Migrants wait to be rescued from a sinking dingey off the Libyan coastal town of Zawiyah, east of the capital

Getty Images

8/29 19 March 2017

Lebanese activists from the Civilian motionless, and from various parties wave national flags during a protest against new high taxes in front of the Lebanese government palace in Beirut , Lebanon

EPA

9/29 19 March 2017

People march to protest the regional Catalan government's push to break away from the rest of Spain, in Barcelona, Spain

AP

10/29 19 March 2017

An activist lays half-naked with fake blood in a cage during a protest for animal rights, against the suffering and murdering of animals and against animal testing in Athens, Greece

EPA

11/29 18 March 2017

Passengers wait at Orly airport southern terminal after a shooting incident near Paris, France

Reuters

12/29 16 March 2017

Wearing Coyote masks and business suits and waving signs against Canada Goose and their use of fur, PETA members gather outside the New York Stock Exchange

Getty Images

13/29 16 March 2017

View of the Tocqueville high school after a shooting has taken place injuring at least eight people, in Grasse, southern France

Reuters

14/29 16 March 2017

Suspects with their hands tied in plastic straps walk past residents during a raid by the Philippine Drug Enforcement Agency (PDEA) at an informal settlers' area inside a public cemetery in Manila

Getty Images

15/29 16 March 2017

A SpaceX Falcon 9 rocket launches from Kennedy Space Center, over Cocoa Beach and Cape Canaveral skyline in Florida

AP

16/29 16 March 2017

French Police officers secure the scene near the Paris offices of the International Monetary Fund (IMF) in Paris, after a letter bomb exploded in the premises

Getty Images

17/29 16 March 2017

A man poses as crying firebrand anti-Islam lawmaker Geert Wilders during a small demonstration outside parliament in The Hague, Netherlands

AP

18/29 15 March 2017

Acting Assistant Attorney General Mary McCord, speaks during a news conference at the Justice Department in Washington

AP

19/29 14 March 2017

A four-month-old Syrian baby receives treatment at a make-shift hospital following reported air strikes in the rebel-held district of Barzeh, on the north-eastern outskirts of the capital Damascus

Getty Images

20/29 14 March 2017

Miguel Angel Munoz faces a 25-year prison sentence for the alleged murder in 2015 of the US tourist Denise Pikka Thiem, who was hiking the Santiago pilgrim trail

Getty Images

21/29 14 March 2017

Malaysian censors have reportedly cut out a 'gay moment' in the Disney film 'Beauty and the Beast' before agreeing to its release in the Muslim-majority nation

Getty Images

22/29 14 March 2017

Tibetan spiritual leader the Dalai Lama sits on his ceremonial chair during a religious talk at the Tsuglakhang temple in Dharmsala, India

AP

23/29 14 March 2017

Members of the Iraqi forces prepare to fly a drone armed with grenades in the fight against Islamic State (IS) group jihadists in the northern Iraqi city of Mosul

Getty Images

24/29 14 March 2017

A member of the Iraqi forces carries two grenades carrying feathers, which are to be fired from a drone in the fight against Islamic State (IS) group jihadists in the northern Iraqi city of Mosul

Getty Images

25/29 13 March 2017

Members of the Iraqi forces advance towards the Old City in western Mosul, during an offensive to retake the city from Islamic State (IS) group fighters

Getty Images

26/29 13 March 2017

US President Donald J. Trump holds up a note and drawing depicting him that was created by the child of Greg Knox of Ohio, during a meeting on healthcare in the Roosevelt Room of the White House in Washington, DC

EPA

27/29 13 March 2017

Relatives hold up placards with pictures of victims as they gather in commemoration on the first anniversary of the March 13 terror attack at the former site of the bombing in central Ankara

Getty Images

28/29 12 March 2017

People celebrate Holi festival at a temple in Vrindavan, Uttar Pradesh, India

Rex

29/29 12 March 2017

A Sadhu or Hindu holy man with his face smeared with powdered colours looks on during Holi festival celebrations at Sri Laxmi Narayan Temple in Amritsar, India

EPA
"People ran over me. My husband was hit in three places. I managed to push through and get out, it was terrible. People were soaked in blood."
Another witness, Sefa Boyd, told local media: "People were escaping to the right and left, leave the victims, where the folks are, and my girlfriend fainted.
"It was the most crowded hours at the time, the crowd was crowded inside. but you don't think that this kind of thing will happen in a place like Reina."