The shadow cast over Italy by far-right terror groups has returned.
Neo-fascists have been planning the assassination of the prime minister, Matteo Renzi, his cabinet, and have plotted bomb attacks against the public.
Magistrates in L'Aquila believe they may have thwarted plans to blow up a market run by immigrants in the port of Pescara in the run-up to Christmas. Police yesterday seized 14 members of an extremist organisation in raids across the country after magistrates claimed there was evidence it was "planning a series of acts of violence against institutional targets".
The group's alleged leader, Stefano Manni, a 48-year-old former policeman, appears to have made direct threats against Italy's head of state, President Giorgio Napolitano, a former communist, on Facebook, stating: "This is the perfect moment in history to torch Napolitano and his escort."
According to court documents, the hit list also featured Mr Renzi, former premiers Mario Monti and Enrico Letta and the former integration minister Cécile Kyenge. But the 14 suspected neo-fascists seized yesterday, who were said to have based their organisation on the banned New Order far-right group, had a much wider range of targets. Wiretaps obtained by investigators overheard members also discussing the assassination of regional political leaders, particularly those without armed bodyguards.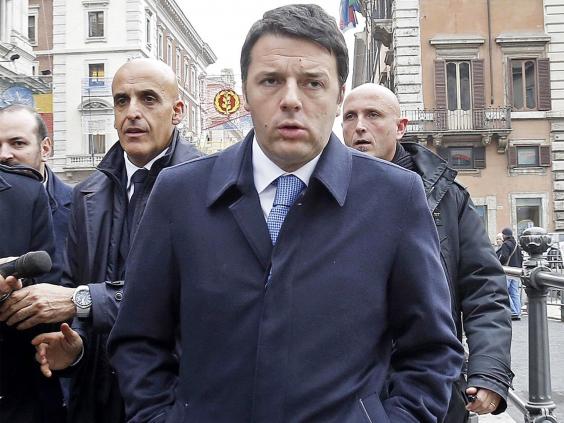 One wiretapped conversation between Mr Manni and another suspect, Franco La Valle, appears to refer to plans for a terror attack on the railways, details of which would "be revealed in due course". Italian newspapers were quick to note that the arrests came on the 30th anniversary of the Train 904 atrocity or "Christmas Massacre", in which 17 people died on 23 December 1984 when a bomb exploded on a passenger train eight miles into the Apennine Base Tunnel between Bologna and Florence. The Sicilian mafia, was blamed but investigations revealed additional links to a host of far-right individuals.
The L'Aquila prosecutor's office said the neo-fascist group was planning "significant acts against state figures, including ministers, police officers and magistrates" and was hoping for "100 or 1,000 Occorsio's", a reference to Vitorrio Occorsio, the magistrate murdered in Rome in 1976 while investigating links between masons and the far right. "Manni and his network considered the economic and political scene in Italy ripe to promote feelings of anti-Semitism and xenophobia," the document added.
Some of the wiretaps appear to catch suspects discussing the price of weapons and explosives. The extent to which the group was in a position to make good its threats is not clear. Political reaction in Rome has been muted but, with far-right links emerging to a new mafia-like group that earlier this month was said to have creamed hundreds of millions of euros off public contracts, the menace of political extremism was already in the air. The L'Aquila chief prosecutor, Fausto Cardella said: "There's a galaxy of groups and characters that represent, albeit in a very fragmented way, the new terrorism of the extreme right – and it's something we don't fully know about."
Reuse content