Italians have begun voting in a referendum heralded as the jucture when the fate of Prime Minister Matteo Renzi – and some say of Europe – will be decided.
The vote is being watched worldwide for signs of escalating anti-establishment sentiment, following a surge of support for populist parties that has forcibly rocked America and the UK during 2016.
Mr Renzi has promised to resign if he loses, triggering political instability and risking plunging the Italy's already struggling economy into a fresh crisis, which could cause further turmoil in the eurozone.
The Prime Minister proposes streamlining Italy's government – long considered gridlocked with bureaucracy – including slashing the size of the senate from 315 members to 100.
The centre-left politician argues this will accelerate the lawmaking process in Italy, which currently has 60 governments, but opponents say this will hand too much power to the prime minister.
Polls opened at 7am, with about 51 million Italians eligible to vote on Mr Renzi's plan to drastically reduce the role of the upper house Senate and claw back powers from regional authorities.
The Italian leader made not comment as he voted in Pontassieve, a Tuscan town east of Florence, along with his wife, Agnese Landini. He is expected to return to Rome later this afternoon to watch the outcome of the vote.
With all the opposition parties lined up against the reform, a victory for Mr Renzi would be a surprise and represent an enormous personal triumph for Italy's youngest prime minister who often appeared to be fighting the campaign single-handed.
All surveys published in the month before a blackout was imposed on 18 November put the 'No' camp ahead.
Private polls have continued to be conducted in the last two weeks and bookmakers say 'No' remains the clear favourite to win.
However, in the final days of frenetic campaigning Mr Renzi insisted the public mood was changing, focusing his attention on the millions of Italians who said they were undecided.
Pippo Nicosia, a stall-holder at Campo dei Fiori market in central Rome, said he would vote 'Yes' but had no doubt about the result. "'No' will win, everything will collapse so we might as well all go on holiday," he said.
Turnout, expected at between 50 and 60 percent, could be crucial. Pollsters say lower participation could favour Renzi, as hostility to his reform is strongest among young voters and those in the poor south, segments of the population that often don't bother to vote.
A turnout above 60 percent could also make the result more unpredictable, as it would suggest many voters who said they planned to abstain ended up going to the polls.
With bookmakers' odds suggesting a roughly 75 per cent chance of a win for 'No', speculation is rife on what Renzi will do in the event of defeat.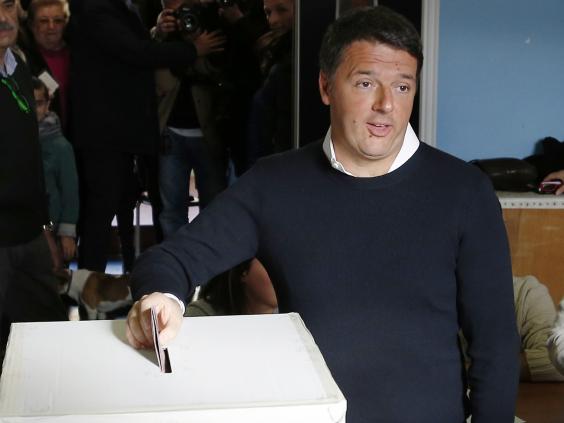 He is widely expected to resign and has said he will play no role in any unelected, "technical" government, which President Sergio Mattarella may try to put in place. Some of his allies have urged him to stay in power regardless of the result.
The result of exit polls will be announced as soon as voting ends and the count begins at 11pm.
After around 30 minutes, the first projections of the result will be announced on the basis of actual votes counted.
If the result is not close, the winner could be clear after the second projection, sometime between midnight and 1am.
In a very close race, the winner may not be known until the count is completed, probably between 2 and 3am.
World news in pictures
World news in pictures
1/29 27 March 2017

A Greenpeace activisit throws molasses on the Total logo at the French oil giant headquarters in La Defense district, western Paris to protest against a drilling project at the mouth of the Amazon where coral reef was discovered

Getty Images

2/29 27 March 2017

Greenpeace activisits pour molasses in front of French oil giant Total Total headquarters

Getty Images

3/29 27 March 2017

Kashmiri villagers watch the funeral procession of suspected rebel Shahbaz Shafi, also known as Rayees Kachroo, at Belov village in Pulwama, south of Srinagar. Two suspected rebels were killed during an ambush by Indian government forces. Several rebel groups have spent decades fighting Indian soldiers deployed in the disputed territory, demanding independence or a merger with Pakistan which also claims the Himalayan region in its entirety

Getty Images

4/29 27 March 2017

Kashmiri villagers carry the body of suspected rebel Shahbaz Shafi, also known as Rayees Kachroo, at Belov village in Pulwama, south of Srinagar

Getty Images

5/29 27 March 2017

Rescue workers carry victims after an avalanche hit a group of high school students and teachers climbing near a ski resort in Nasu town, north of Tokyo, Japan

Reuters

6/29 27 March 2017

Supporter of South Korea's impeached ex-president Park Geun-Hye stand in front of a wall displayed with rose and pictures of Park outside the former leader's residence in Seoul

Getty Images

7/29 27 March 2017

Police officers stand guard outside the residence of South Korea's impeached ex-president Park Geun-Hye in Seoul

Getty Images

8/29 26 March 2017

French presidential election candidate for the En Marche movement Emmanuel Macron holds a child as he is greeted upon his arrival in Dzaoudzi, on the French Indian Ocean island of Mayotte, as part of a campaign trip

Getty Images

9/29 26 March 2017

A member of the Libyan National Army (LNA) fires a machine gun mounted on the back of a Toyota pickup truck against jihadists in district of Suq al-Hut in the eastern coastal city of Benghazi

Getty Images

10/29 26 March 2017

Opposition supporters rally against corruption in central Saint Petersburg

Getty Images

11/29 26 March 2017

Opposition supporters with a cutout figure depicting Prime Minister Dmitry Medvedev participate in an anti-corruption rally in central Saint Petersburg

Getty Images

12/29 26 March 2017

Police officers detain a man during an unauthorised anti-corruption rally in central Moscow

Getty Images

13/29 25 March 2017

People hold banners and flags during a demonstration against Erdogan dictatorship and in favour of democracy in Turkey, in Bern, Switzerland

Reuters

14/29 24 March 2017

Local government have decided to rename the island's main airport after the Madeira-born footballer Cristiano Ronaldo. The official inauguration ceremony is due to take place on 29 March

Getty Images

15/29 24 March 2017

Workers began the renaming works of the Madeira International Airport in Funchal, Madeira, Portugal. Local government have decided to rename the island's main airport after the Madeira-born footballer Cristiano Ronaldo

Getty Images

16/29 24 March 2017

Turkish rescue workers and medics work next to the bodies of migrants laid out near an ambulance in Kusadasi, Turkey

AP

17/29 23 March 2017

Russia's President Vladimir Putin and Maly Theatre Artistic Director Yuri Solomin talking ahead of the Last Sacrifice play at the Maly Theatre

Getty Images

18/29 23 March 2017

The Brandenburg Gate is illuminated with the colours of the British flag to show solidarity with the victims of the recent attack in London, in Berlin, Germany

Reuters

19/29 23 March 2017

US President Donald Trump sits in the drivers seat of a semi-truck as he welcomes truckers and CEOs to the White House in Washington, DC

Getty Images

20/29 22 March 2017

James Harris Jackson is escorted out of a police precinct in New York. Police said Jackson, accused of fatally stabbing a black man in New York City, told investigators he travelled from Baltimore specifically to attack black people

AP

21/29 20 March 2017

High-rise buildings are partly covered by heavy fog at Hong Kong's Victoria Harbour

AP

22/29 20 March 2017

Libyan fishermen rescue migrants from a sinking dinghy off the Libyan coastal town of Zawiyah, east of the capital, as they attempted to cross from the Mediterranean to Europe

Getty Images

23/29 20 March 2017

Migrants wait to be rescued from a sinking dingey off the Libyan coastal town of Zawiyah, east of the capital

Getty

24/29 19 March 2017

Lebanese activists from the Civilian motionless, and from various parties wave national flags during a protest against new high taxes in front of the Lebanese government palace in Beirut , Lebanon

EPA

25/29 19 March 2017

People march to protest the regional Catalan government's push to break away from the rest of Spain, in Barcelona, Spain

AP

26/29 19 March 2017

An activist lays half-naked with fake blood in a cage during a protest for animal rights, against the suffering and murdering of animals and against animal testing in Athens, Greece

EPA

27/29 18 March 2017

Passengers wait at Orly airport southern terminal after a shooting incident near Paris, France

Reuters

28/29 16 March 2017

Wearing Coyote masks and business suits and waving signs against Canada Goose and their use of fur, PETA members gather outside the New York Stock Exchange

Getty Images

29/29 16 March 2017

View of the Tocqueville high school after a shooting has taken place injuring at least eight people, in Grasse, southern France

Reuters
Economy Minister Pier Carlo Padoan sought to calm nervous markets on Friday, saying there was "no risk of a financial earthquake" if 'No' wins, though there may be "48 hours of turbulence".
Market jitters have concentrated on Italy's banks, saddled with €360bn euros (£300bn) of bad loans, and most specifically on Monte Dei Paschi di Siena, its oldest and third largest lender.
The bank needs to raise 5 billion euros (£420bn) by the end of the year to plug a capital shortfall or risk being wound down. Government officials say potential investors may be deterred by political instability if 'No' should win. 
Meanwhile, a runoff in Austria could put a right-wing populist in control of the nation for the first time since the Second World War.
Reuters