Record rainfall in Japan has burst riverbanks, ripped houses from their foundations and forced over 100,000 people to flee their homes. The aftermath of Typhoon Etau has also washed tons of radioactive water from the ruined Daiichi nuclear power plant into the Pacific.
In dramatic scenes reminiscent of the tsunami disaster that struck the country's coast in 2011, residents of Joso City, 34 miles north-east of Tokyo, were rescued from rooftops by Self-Defence Force helicopters. Houses were swamped by a muddy deluge from the Kinugawa River as people were winched to safety, some clutching family pets. 
Hundreds of people are stranded and several pensioners are missing in what the Japan Meteorological Agency called an "unprecedented" downpour. A man in his seventies was at home in Joso when his property was washed away, said NHK, Japan's public service broadcaster. Police said others have reportedly been buried under mud or swept away in cars and houses. "We heard a huge sound like a thunderclap, and then the hillside came down," said one resident, who watched a landslide sweep away his neighbour.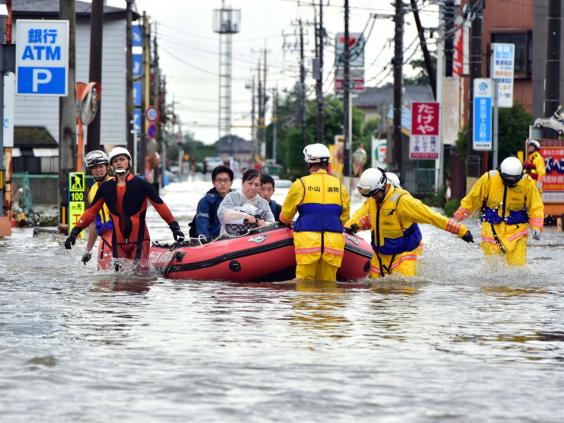 Television footage showed people in Joso waving towels while waiting for help on the upper floors of homes engulfed in floods after the overflowing Kinugawa swept through. "I thought I was safe because I live on a hill, but pretty soon the water came up and everything was washed away," a barefoot man told Fuji TV after his helicopter rescue.
Some areas received double the usual September rainfall in 48 hours after tropical storm Etau swept across Japan's main island of Honshu. In some places, rain-swollen rivers burst their banks.
Zoo animals roam Tbilisi after floods
Weeks of near-daily rain had already left much of Ibaraki and Tochigi prefectures, north/north-east of Tokyo, deluged before the typhoon struck, dumping over 500mm (about 20ins) of precipitation in just 24 hours in some places – twice the average for the entire month of September. At one point early today over 900,000 people were advised to evacuate. So far, more than 90,000 had been forced to flee the "wall of water". 
And there was no end in sight – fresh heavy rain alerts have been issued. The meteorological agency says rivers in Tochigi, Ibaraki and Niigata could burst their banks on Friday and has warned of possible landslides across eastern and north-eastern Japan. Such warnings are taken seriously – 74 people died last year in landslides near Hiroshima city following torrential rain.  
The Tokyo Electric Power Co (Tepco) said contaminated water from the Daiichi plant had flowed into the ocean after rain swamped drainage pumps, but insisted that it had "no effect" on the sea. Since the triple meltdown at the plant in 2011, engineers pour water on the melted uranium fuel in the bottom of the three most damaged reactors to keep them from overheating. That generates 400 tons of radioactive water every day.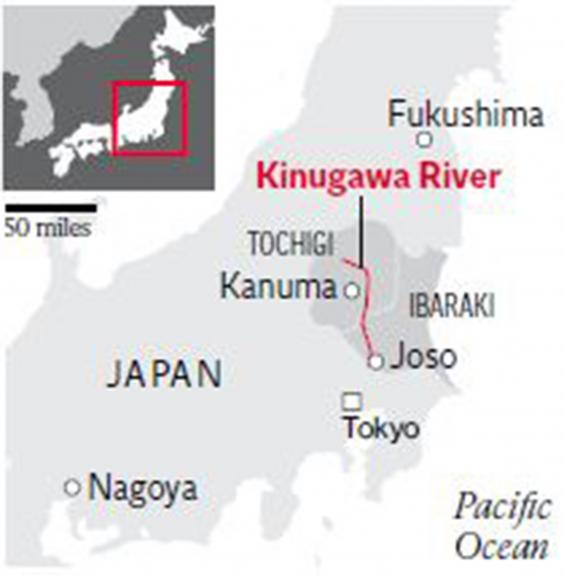 Prime Minister Shinzo Abe said the government was "standing united" to deal with the disaster and had put the army and rescue services on high alert. "We are putting highest priority on people's lives," he told reporters. The government's top spokesman, Yoshihide Suga, confirmed that at least one person was missing due to the weather. 
Etau pummelled Japan on Wednesday, bringing heavy rain and winds of up to 77mph. The typhoon has now veered away from the mainland but left behind a thick band of cloud that continued to bring torrential rainfall to Tokyo and the surrounding prefectures. Several prefectural governments have reported landslides. An official for Tochigi prefecture said at least one person was missing in Kanuma, a city with a population of just over 100,000. The city was battered by nearly 18ins of rain in a single 24-hour period, more than double the previous rainfall record. Several other parts of the country have also seen records tumble.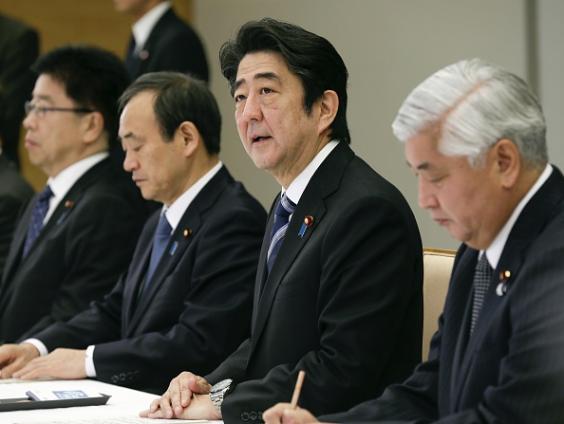 Nearly 1,000 people are reportedly stranded in the resort city of Nikko after a road collapsed. Trains and flights in some parts of the country have been suspended. Photographs tweeted on the news website Nippon.com showed landslides on waterlogged hills in Tochigi that looked like "Godzilla took a swipe at the forest".
Japan is painfully exposed to sometimes destructive tropical storms every year. Typhoon Talas, which struck in 2011, left 98 people dead or missing and destroyed or damaged 4,000 homes. The UN's Intergovernmental Panel on Climate Change, which met in Yokohama last year, warned that climate change would likely cause more extreme weather events and greater damage from intensifying typhoons.
Reuse content