Cars filled with militant supporters of the Justice and Development Party (AKP) celebrated its unexpectedly decisive victory in the Turkish parliamentary election by driving through the streets of Istanbul cheering and waving their party's yellow and blue flags. They even penetrated the middle-class Bohemian district of Cihangir, where they beat drums and defiantly chanted the name of President Recep Tayyip Erdogan. 
Mr Erdogan himself was jubilant. "The national will manifested itself on 1 November in favour of stability," he said after emerging from a mosque in Istanbul. "Let's be as one, be brothers and all be Turkey together."
Secular Turks opposed to the Islamic populist AKP were depressed in equal measure. Some were distributing by Facebook the names of countries like Uruguay and Antigua where Turks, appalled by the AKP's success, could easily take refuge. In most cases, the thought of flight was not entirely serious, but the fact that some people are thinking about it is a measure of the degree to which Turkish society is divided between secular and Islamic, Kurd and Turk, Sunni and Alevi. 
Watching voters enter a polling station at the Firuzaga Elementary School in Istanbul, it was easy to identify their political allegiance by their dress alone, the most obvious indication being whether not women were wearing headscarves.
The 78 million Turks may be polarised, but the size of the groups into which they are divided are very unequal: the AKP has won 49 per cent of the vote, the secular centrist Republican People's Party (CHP) 25 per cent, the right wing anti-Kurdish Nationalist Movement Party (MHP) 12 per cent and pro-Kurdish People's Democratic Party (HDP) 11 per cent. 
The Turkish government is still deciding if Isis or the PKK is the greatest threat to its security
None of this should have been too surprising except that, as with the British general election, the opinion polls had, with one exception, predicted that little would change from the election five months earlier on 7 June, when the AKP lost its majority for the first time since 2002. This was because of the rise of the HDP vote above the 10 per cent threshold below which parties cannot enter parliament.
The AKP needed to win just 18 more seats to regain its majority and the odds were always stacked in its favour. It controls most of the levers of power in Turkey, from the security forces to the judiciary and the media. The AKP is led by the Prime Minister Ahmet Davutoglu, but it was Mr Erdogan who was the architect of its victory, making no pretence of being a politically neutral President and rejecting any suggestion of a coalition government. 
He was helped in this by the CHP and MHP both having moribund leaders, while the HDP could be demonised as political proxies for the Kurdistan Workers Party (PKK), which most Turks revile as terrorists.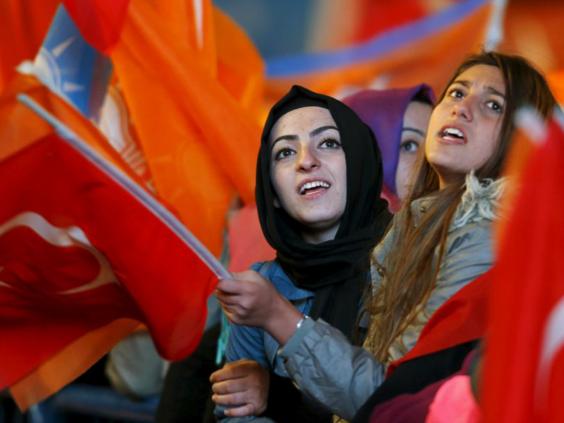 Mr Erdogan stoked Kurdish-Turkish antipathy, resumed military action against the PKK and played the patriotic card for all it was worth. When 102 demonstrators were killed in an Isis-linked bomb attack on 10 October, mourners at the funerals shouted "Erdogan murderer!"  An atmosphere of fear developed in which voters, including many Kurds as well as extreme Turkish nationalists, opted for the AKP as the guarantor of stability. 
In the circumstances, this was an understandable choice, even if the AKP had stirred up the insecurity it promised to quell. The opposition parties hate each other too much to form an alternative government. The AKP is denounced for its authoritarianism, but it has real achievements to boast of, even if these are exaggerated by a compliant media. 
According to IMF figures, Turkey now has the 18th largest economy in the world and its GDP per capita increased from $3,576 in 2002 to $10,529 in 2014. The AKP is often described as a right-wing Islamist party, but it is also populist and nationalist, drawing support from almost all parts of the country, including Istanbul and Ankara. In the wake of its triumph, AKP will presumably move to secure such levers of power and influence not already in its grasp. The shares of the media group that might be its next target fell sharply as the result of the election became plain. 
Secular Turks feel threatened by creeping Islamicisation, though in practice these threats have never quite been realised. Measures have been taken against the consumption of alcohol, though so far these are often mild, such as it not being available at festivals when people under 25 are present. But this does not mean that intrusive Islamic norms might not be enforced and the very extent of the AKP's dominance makes secular Turks feel vulnerable.
Polarisation there certainly is in Turkey: many Kurds feel alienated, as do the 10-20 per cent who belong to the Alevi minority, whose beliefs are distantly connected to Shiaism. But forecasts of civil war bruited about during the election campaign are exaggerated: the AKP may be authoritarian, but it is not a dictatorship, since elections are real and the opposition lost because they did not have enough support.
Recep Tayyip Erdogan's most controversial quotes
Recep Tayyip Erdogan's most controversial quotes
1/8 The Turkish President's craziest quotes

Just a week before he was elected President, he called Erdogan Amberin Zaman, the Turkey correspondent for 'The Economist', a "shameless militant woman disguised under the name of a journalist" after she had asked an opposition leader whether "Muslim society is able to question" the authorities. "Know your place," Erdoğan said. "They gave you a pen and you are writing a column in a newspaper. "And then they invite you to a TV channel owned by Doğan media group and you insult at a society of 99 per cent Muslims," he said he said according to Today's Zaman newspaper.

Sascha Schuermann/Getty Images

2/8 The Turkish President's craziest quotes

Turkish people are pictured chanting slogans during an anti-government protest on Taksim square in Istanbul, on 29 June, 2013. The protests were sparked by brutal police action against a local conservation battle to save Istanbul's Gezi Park, and soon turned into nationwide demonstrations against the government. Amid the protests - the worst in Turkey for years - Erdogan accused demonstrators of being "arm-in-arm with terrorism," according to Reuters. "This is a protest organized by extremist elements. We will not give away anything to those who live arm-in-arm with terrorism," he said.

GURCAN OZTURK/AFP/Getty Images

3/8 The Turkish President's craziest quotes

During last year's protests, activists used social media to organise and disseminate information. Several dozen tweeters were arrested following the protests, according to local media reports. Erdogan responded by calling the technology a "menace". "There is now a menace which is called Twitter," Erdogan said. "The best examples of lies can be found there. To me, social media is the worst menace to society," BBC New reported.

Vladimir Astapkovich/RIA Novosti via Getty Images

4/8 The Turkish President's craziest quotes

Not helping to allay accusations of authoritarianism, after Turkish police detained 49 people, including well-known business people and those close to the ruling party, Erdeogan ominously told reporter that Turkey "is not a banana republic" that can be affected by unnamed "operations", according to Today's Zaman newspaper. "People who are backed by the media and certain funders cannot change this country," he said. "People backed by certain dark gangs both inside and outside Turkey cannot mess with the country's path. They cannot change conditions in Turkey. Turkey is not a country that anyone can launch an operation into. The [Turkish] nation will not allow that. The AK Party, which is governing this nation, will not allow this."

Alexander Hassenstein/Getty Images

5/8 The Turkish President's craziest quotes

Friends and relatives of the miners who died in an explosion at the Soma mine are pictured praying following the burial in Soma cemetery of the last body to be recovered from the mine in May 2014. At the time, the then-Prime Minister badly misjudged the Soma mining disaster, in which 301 workers died. He told the relatives of dead and dying miners that "these types of incidents are ordinary things", following allegations that the government had ignored safety concerns about the privately owned mine, the Guardian reported. In his defence, Erdogan recounted in a separate speech a list of mining disasters which occurred abroad, including a British disaster in 1862, and one in America "which has every kind of technology".

Oli Scarff/Getty Images

6/8 The Turkish President's craziest quotes

Palestinians pictured attending Friday noon prayers in a destroyed mosque that was hit by Israeli strikes, in Gaza City. As Prime Minister, Erdogan has condemned Israel, accusing it of deliberately killing Palestinian mothers and warned that the it would "drown in the blood it sheds." Speaking to thousands of supporters during a rally in Istanbul ahead of the 10 August election, Reuters reported him as saying: "Just like Hitler, who sought to establish a race free of all faults, Israel is chasing after the same target." "They kill women so that they will not give birth to Palestinians; they kill babies so that they won't grow up; they kill men so they can't defend their country ... They will drown in the blood they shed," he said.

AP

7/8 The Turkish President's craziest quotes

Amid the worst protests in Turkey for years which had spread across dozens of cities last June, Erdogan accused demonstrators of being "arm-in-arm with terrorism," according to Reuters. A demonstration to halt construction in a park in an Istanbul square grew into mass protests against a heavy-handed police crackdown and what opponents called Erdogan's authoritarian policies. "This is a protest organized by extremist elements," Erdogan said before departing on a trip to North Africa. "We will not give away anything to those who live arm-in-arm with terrorism," he said.

Sascha Schuermann/Getty Images

8/8 The Turkish President's craziest quotes

In March 2014, Erdogan accused a 15-year-old boy who died from injuries sustained in last year's anti-government protests of being linked to terrorism. Berkin Elvan, who became a symbol of anti-government protests, had gone to pick up bread when he was hit with a teargas canister - sending him into a nine-month coma before he passed away. In a speech broadcast on state TV, Erdogan said of Berkin: "This kid with steel marbles in his pockets, with a slingshot in his hand, his face covered with a scarf, who had been taken up into terror organisations, was unfortunately subjected to pepper gas. "How could the police determine how old that person was who had a scarf on his face and was hurling steel marbles with a slingshot in his hand?"

ADEM ALTAN/AFP/Getty Images
The threats to Turkey post-election relate primarily to the Kurds and to the war in Syria. The PKK is stronger than it was in the 1980s and 1990s because it now has its own quasi-state in Syria. The other threat comes from Isis, which showed during the election how its suicide bombers can envenom existing antagonism between Turks and Kurds. 
The Turkish government is still deciding if Isis or the PKK is the greatest threat to its security. The greatest danger to Turkey remains the war in Syria, where its policies have been spectacularly unsuccessful. It wanted to get rid of President Bashar al-Assad and he is still there. It did not want the Syrian Kurds to form a de facto state controlling half of Turkey's border with Syria and they have done so. The great test for the next Turkish government will be the Syrian war.