Silene Fredriks-Hoogzand has no idea where the bodies of her son Bryce and his girlfriend Daisy Oehlers landed after the plane they were travelling on was blown to smithereens on Thursday, but she sees the site vividly in her nightmares.
"When I am in my bed at night, I see my son lying on the ground. I see Daisy. I see Bryce. I see them in my head. I see it!" she said. "They have to come home, not only those two. Everybody has to come home."
The trauma for families still waiting for their relatives' remains to be brought home after the MH17 disaster has been compounded by footage of the bodies being carted around like garbage. After being left out for days in the heat, they were heaved in black sacks into rubbish trucks before being manhandled onto cargo trains that have only just moved.
The instant availability of images from the scene has only added to families' distress. Ms Fredriks-Hoogzand could not resist the chance to look for her son and his girlfriend in the graphic pictures circulated online. "I saw pictures on Facebook of bodies, complete bodies. I had to look at it because maybe my son was in the picture," she said.
"Bodies are just lying there for three days in the hot sun. There are people who have this on their conscience. There are families who can never hold the body of a child or a mother," she said in another interview.
Video: The Independent's Oliver Wright discusses European response to MH17 tragedy
Bryce Fredriks-Hoogzand and Daisy Oehlers were two of the 193 Dutch victims of the disaster, on their way to a holiday to Bali to get over the grief of Daisy's mother dying just over two months ago. "I paid for their tickets to have a four-week holiday to find happiness again," Ms Fredriks-Hoogzand said. "It's a tragedy on top of a tragedy."
Don MacLeod, a psychologist who specialises in bereavement in the wake of disasters, said that the extreme remove of the disaster from a typical death would make it harder for relatives of the 298 victims to come to terms with the events.
"The big problem for people, in addition to losing someone anyway, is the unknown nature of it," Mr MacLeod said. "It's in a foreign place, it happens in mid-air and there are real difficulties about what state the bodies are in. All these things multiply. It's a really terrible thing for any family or individual to face because there's so much more to it than a straightforward bereavement."
Barry Sweeney, 52, whose 28-year-old son Liam was killed in the flight, said he had tried not to look at images of the scene because seeing it reminded him that his son was lying there alone with "nobody to give him a good cuddle". Liam had been travelling with his friend and fellow football fan John Alder to see Newcastle United play in New Zealand.
His father told ITV's This Morning: "I have seen a little bit of the news, I try to stop watching it only because it is upsetting, especially when you see bodybags but I'm hoping Liam is in one of those because I don't want him to be lying there somewhere where there's nobody there to give him a good cuddle, you know.
"I think I'm getting through it because I can talk to people, as long as I'm talking, I'm fine; when I stop the tears come."
Mr Sweeney called on the Government to bring their trauma to an end and bring the bodies home. "Without going into politics because I think the Government have to sort that out, I just want them basically to bring the 298 people who need to be brought home for this to close," he said.
Because the disaster was on an international airline and happened in a place far from where the passengers were from, Mr MacLeod said it would be harder for relatives to find community support. "In some disasters which are united by geographical location there's a community of greavers which can be quite helpful," he said. "For example, in Liverpool after Hillsborough, they had that support and people became bonded in the common adversity. That is missing in this kind of mass transportation event because it happens very far away from the origins of all the people involved."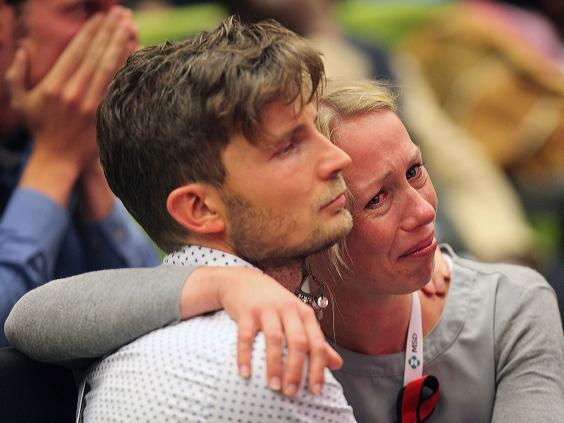 The political dimension to the disaster means many families have focused their rage on President Putin and pro-Russian rebels. Hans de Borst, father of schoolgirl Elsemiek de Borst, has written an open letter to "Monster Mr Putin" blaming him for his daughter's death. Posted online, it details how the 17-year-old had been looking forward to going to TU Delft to study engineering.
The letter, which is written in Dutch, says: "Mr Putin, Many thanks to the Separatist leaders of Ukrainian government for the murder of my dear and only child, Elsemiek."
He adds: "She is suddenly no more! From the air she was shot in a foreign country where a war is going on."
Mr MacLeod said the horrific nature of the deaths would mean that anger at those behind it stayed with their relatives for life. "Anger is very close to the surface when someone is bereaved; it's a natural part of the process," he said. "When there's such a focus for that anger, many people will focus their lives around the incident because they have someone to blame."
Jordan Withers, whose uncle Glenn Thomas was killed in the crash, described the horror of knowing your relative was among the bodies. "Seeing the news this morning, they have been loading them on to trains like cargo," he said in an interview with The Today Programme on BBC Radio Four. "And it's just degrading and inhumane. You wouldn't treat anyone like that. It's 2014, you can't believe it's still going on really. It's unbelievable."