Young, educated and glamorous, Marion Maréchal-Le Pen has fast become the new face of far-right politics in France.
Just a few days before her 26th birthday, the granddaughter of longstanding French far-right Front National (FN) leader Jean-Marie Le Pen looks set to win the party's first regional seat.
Following Sunday's elections, she is expected to triumph in the southern region of Provence-Alpes-Côte d'Azur - her outspoken grandparent's heartland.
Marine Le Pen, her aunt and the current leader of the Front National party, is likely to ensure a family double-act with her own electoral success in the northern region of Nord-Pas-De-Calais. 
At just 22, Ms Maréchal-Le Pen was the youngest member of the French Assemblée Nationale in the Republic's history - and the first for her party -when she was elected representative of the Vaucluse constituency in southern France.
Born in 1989, in Saint-Germain-en-Laye, near Paris, she was brought up by her mother, Yann Le Pen, and her aunt, Marine, until her mother married Samuel Maréchal, who gave his name to Marion. 
Later, she was revealed to be the daughter of the late journalist and diplomat Roger Auque, whom she only met in 2002, age 13.
Her career in politics took off early when in 1992, aged two, she was pictured in the arms of grandfather Jean-Marie in a regional election campaign poster with the motto "security is the first liberty".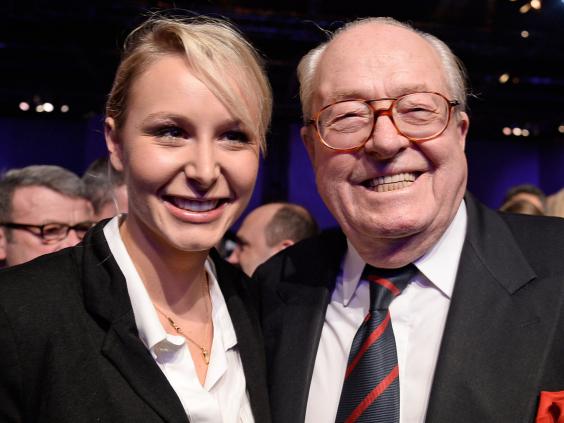 Inspired by the nationalism of French Emperor Napoléon Bonaparte, Ms Maréchal-Le Pen joined her family's party in 2008, aged 18, and ran as part of the FN list for Mayor of Saint-Cloud, in western Paris.
Two year after failing to get elected in regional elections, she won her Vaucluse seat in 2012, after the socialist party candidates refused to pull out in the second round, making it a three-way vote with the right-wing UMP party.
A graduate in public law, a young mother of one and wife to businessman Matthieu Decosse, Mrs Maréchal-Le Pen embodies a new generation of conservatives, with the potential for a more widespread appeal. 
As an observant Catholic, she echoes the traditionalist branch of the party, while using her freshness in politics to persuade a younger generation of voters.
In pictures: Extremists in the EU
In pictures: Extremists in the EU
1/6 France: Marine le Pen

Marine Le Pen, 45, took over the Front National (FN), the party that her father founded, in 2011. He himself described her as "a big, healthy, blonde girl, an ideal physical specimen." She claims to have cleaned up the FN and succeeded in pushing her anti-European, anti-euro and anti-immigration agenda into the EU political mainstream

AFP

2/6 Germany: Udo Voigt

He will be the first German neo-Nazi to enter the European Parliament. The former army officer, born in 1952, was jailed in 1995 for inciting racial hatred. Formerly the leader of the far right National Democratic Party (NPD), Voigt was convicted in 2009 after he was caught handing out flyers at the World Cup which argued that a black player was not entitled to play for Germany, whose national team – the literature argued – should be made up only of white players.

AFP

3/6 Denmark: Morten Messerschmidt

Leader of the Danish People's Party, which won 27 per cent of the vote. His party has rammed 20 laws relating to immigrants and asylum-seekers through the Danish parliament, giving it the most anti-foreigner legislation in Europe. His party calls Islam "a fascist ideology" and rails against "East European criminal gangs". One party strategist said "blood ties" to Denmark should be required for citizenship, though the statement was quickly retracted.

EPA

4/6 Hungary: Krisztina Morvai

A senior member of Jobbik, the anti-Semitic and anti-Roma party on Hungary's far right wing. In 2009, she attracted international publicity after declaring: "So-called proud Hungarian Jews should go back to playing with their little circumcised dicks." In 2009, she cancelled an interview with a British newspaper, declaring in tones of outrage: "I am a decent politician and the mother of three children, yet you in the west keep portraying me as a Nazi and a Fascist."

AP

5/6 Italy: Mario Borghezio

MEP for Italy's notoriously racist Northern League, he has relentlessly attacked the nation's first black cabinet minister, Cecile Kyenge, minister for integration, claiming she would import 'tribal traditions' into the Italian government. Other elected members in the party called her "an orang-utan" and suggested that someone should rape her, so she would understand how the victims of Somali rapists felt. He attracted attention by lobbying for the creation of an EU archive of UFO sightings.

Getty

6/6 Greece: Eleftherios Synadinos

Fabulously mustachioed retired lieutenant-general in the Greek army, he was one of Golden Dawn's top candidates in the European elections, at which the overtly neo-Nazi party obtained more than 9 per cent of the vote. With its black-shirted assault squads, the Hitler photos and the party's swastika-inspired logo, it has been accused of being a criminal organisation. Its website declares: "We aren't the quiet birds of peace time, we are birds of the storm and the hurricane."
In April this year, she was announced as FN candidate for the Provence-Alpes-Côte d'Azur seat when her grandfather was forced to pull out after making repeated remarks about gas chambers being "a detail" of the Second World War.
At a time when a family feud had started within the party, Ms Maréchal-Le Pen dissociated herself from her grandfather's negationist comments by saying she "deeply disagreed" - but refused to support his exclusion from the party.
She had by then become a powerful voice within the party, and tried to reconcile its most extreme fringes with a more moderate right-wing nationalism.
But beyond appearances, her deep conservatism is engrained in all aspects of her politics.
Unlike other FN members, she does not support the death penalty but believes in lifetime sentences. She opposes same-sex marriage - taking part in protests against "marriage for all" in Paris -and supported cuts to family planning centres.
A strong advocate of business nationalism, she wants to put more emphasise on France's regional boundaries for trade and the economy and has long opposed wind turbines.
But her stance on identity and immigration are her political landmarks. 
She has said she fears "the Riviera becoming a favela" and that believes in the "replacement theory", by which French-born citizens are being replaced by newly arrived immigrants.
In an interview with a French newspaper, she said Muslim people "could not be given the same rank as the Catholic religion".
Ms Maréchal-Le Pen has shown her readiness for confrontation by going head-to head with former Gaullist Prime Minister Alain Juppé on primetime television.
She is bold and gives the impression she feels she has nothing to lose - making her a powerful tool for the FN to broaden its electorate and create a real challenge on the right of France's political spectrum.
As Cécile Alduy, co-author of a recent study Marine Le Pen's Words: Decoding the New National Front Discourse, summarises: "With Marion, you have a paradoxical character. While she projects an image of a young woman who is modern, friendly, nice and smiling, her discourse is much more conservative than that of even Marine Le Pen, very strong, sometimes aggressive.
"She uses the words and dress code of her generation, the tone of young people, is very casual in the way she addresses others and looks very modern, but what she promotes is a very conservative, traditional agenda – in terms of morals, against women's rights, restricting rights to abortion, very conservative about gay marriage.
"She's probably going to be marketed by the Front National as a new young face that's looking forward to the future of France, though when you look at what she's promising, it is to go back to economics, legislation and morality that is from before the 1980s, at least."