Italy's Prime Minister, Matteo Renzi, is betting his reputation – and the guardianship of Italy's constitution – on a senior judge with a proven record of fighting the Mob and an open dislike of the former premier Silvio Berlusconi.
This morning the Italian parliament will elect a new head of state, and the Constitutional Court justice, Sergio Mattarella, is the presidential candidate behind whom Mr Renzi hopes to unite his fractured party and restore his credibility. Mr Renzi's centre-left Democratic Party (PD) has been riven by his decision to do a deal – seen as a Faustian pact by many – with the convicted criminal Berlusconi over electoral reform.
But, confident that he has Senate approval for his electoral bill, the young premier appears to have knifed Berlusconi "in the front", as he did so memorably in disposing of the former PD Prime Minister Enrico Letta. Now he is pushing for a known adversary of the media mogul to be President of the Republic.
Most parliamentarians in Berlusconi's Forza Italia party and Mr Renzi's PD cast blank votes in the first three rounds, in which an unlikely two-thirds majority was needed for victory. This morning, a simple majority – or 505 votes from the 952 MPs and senators and 58 regional delegates – is sufficient for victory.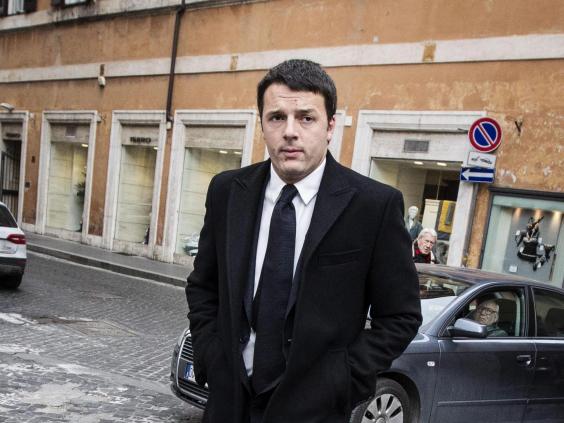 Mr Renzi has publicly backed Mr Mattarella and hailed his credentials. "The fight against the Mafia, [his] resignation for an ideal… the abolition of military conscription. [Mr Mattarella is] a decent politician," he tweeted.
Experts note that the President of the Republic, particularly in periods of crisis or weak government, has a pivotal role in Italian politics, with the power to dissolve government early and the right to reject unconstitutional laws and block ministerial appointments.
Mr Mattarella, 73, a veteran centrist, earned a reputation for toughness and honesty in fighting the Mafia in his home city of Palermo. His brother Piersanti was killed by the Mob while governor of Sicily in 1980. In 1990 Mr Mattarella quit a ministerial job in protest at the Mammi media law, which handed Berlusconi control of private TV.
The disgraced former premier, 78, has complained that since then Mr Mattarella has always ruled against him. And he accuses the Prime Minister of going back on a promise to give him a say in choosing the replacement for President Giorgio Napolitano, 89, who quit this month, less than two years into his second term.
Despite protesting against his latest manoeuvre, centre-right members of Mr Renzi's coalition said the Government would hold, for now.
"Despite our dissent regarding the candidature of Mattarella, the pact with the Government is not a risk," said Renato Schifani, a senator with the small New Centre Right party. "We have nothing against [Mr Mattarella] personally, but we must stress strongly our objection to the political methods used by Renzi."
But already Mr Renzi's manoeuvre appears to have pleased his PD critics. Stefano Fassina, a leading left-winger, said: "Mattarella's election will provide stability, allow us to complete the electoral law and Senate reform, and launch a battery of interventions for the economy."
But it is not certain Mr Renzi will get the result he wants, even with left-wing backing, as the unruly Five Star Movement and right-wing groups such as the Northern League are unlikely to back Mr Mattarella.