The missile system used to down Malaysia Airlines flight MH17 was transported into Ukraine by Russian soldiers with "high-level" authorisation, a new report has claimed.
An investigation completed by the Dutch Safety Board last year concluded that the plane was downed by a warhead fired by a Buk system that detonated a metre away from the cockpit and caused the aircraft to break up and crash, killing all 298 passengers and crew on board.
Those findings did not assign responsibility for the disaster, which is the subject of a separate criminal probe, but identified a 320 sq km area of eastern Ukraine from which the missile was fired.
In a report released today, a group of investigative citizen journalists have used social media posts, satellite images and video footage to trace the Buk missile system alleged to have downed MH17 from Russia into Ukraine.
The launcher, labelled Buk 3x2, can allegedly be traced in a convoy operated by Russia's 53rd Anti-Aircraft Missile Brigade from a base in Kursk, Russia, to the Ukrainian border near Millerovo.
Footage and images taken on 23 and 24 June 2014, less than a month before the crash, show the weapon being transported with several other rocket launchers, a command post and radar equipment.
"There is no direct evidence indicating if it was Russian or separatist soldiers who operated Buk 3×2 when it was in Ukraine," Bellingcat researchers said. "However, considering the complexity of the Buk-M1 system, it is most likely that the Russian military did not transfer a Buk missile launcher to separatist commanders without some guidance or a Russian crew."
Buk 3x2 was identified in rebel-held Ukrainian territory around Donetsk, Torez and Snizhne on the day MH17 crashed in nearby Hrabove.
In pictures: MH17 final report
In pictures: MH17 final report
1/7

Getty Images

2/7

Getty Images

3/7

Almaz-Antei director Yan Novikov, center, looks at the screen during a news conference in Moscow. Almaz-Antei air defense consortium, the builder of Buk missiles, presented its vision of the MH-17 air crash based on a new modeling of the disaster they recently conducted

AP

4/7

A graphic and a skin element of a passenger airplane which was used in a full-scale experiment by Almaz-Antey simulating shooting down of Malaysian Airlines flight MH17 in Ukraine is displayed during a Russian missile manufacturer Almaz-Antey news conference dedicated to the MH17 crash in Moscow

EPA

5/7

Almaz-Antei director Yan Novikov, seated center, attends a news conference in Moscow

AP

6/7

Projectiles with thecharacteristic "double tee" formation of components of the warhead of a Buk missile 9?38?1, are displayed during a news conference in Moscow

AP

7/7

Almaz-Antei director Yan Novikov, attends a news conference in Moscow

AP
Associated Press journalists documented seeing the Buk being transported through the town of Snizhne on 17 July 2014, noting that the uniforms of some members of its crew differed from separatists and claiming they spoke with "a distinctive Russian accent".
The account was supported by three eyewitnesses who told the BBC they saw a Buk launcher being unloaded by Russian soldiers in Snezhnoye, 10 miles from the crash site, hours before MH17 was hit.
In images taken on the following morning, the system appears to be missing one missile.
Shortly after MH17's disappearance, a post attributed to separatist leader Igor Girkin, a Russian army veteran, claimed rebels had shot down a Ukrainian military transport plane.
The swiftly-deleted on Russian social network VKontakte was accompanied by a video of rising smoke and said: "We warned them - don't fly in our sky."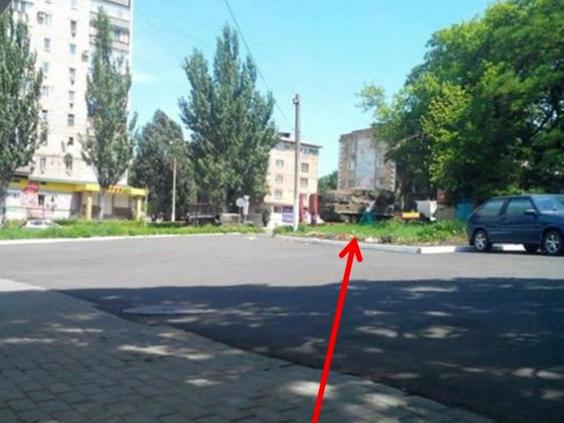 Intercepted phone calls between rebels also appeared to show their involvement, with an alleged recording dated on 18 July 2014 showing a man saying the launcher had been brought from Russia by a contact code-named "the Librarian".
Conversations released by the Security Service of Ukraine appeared to show a panicked militant telling a superior: "It was 100 per cent a passenger aircraft…there are civilian items, medicinal stuff, towels, toilet paper."
Separatist groups have since denied any involvement in the disaster, while Russian officials have continually dismissed allegations of soldiers or equipment being deployed in Ukraine.
In its own investigation, Russian Buk manufacturer Almaz Antey claimed the deadly missile was fired from Zaroschenskoye and that Ukrainian forces were stationed there at the time.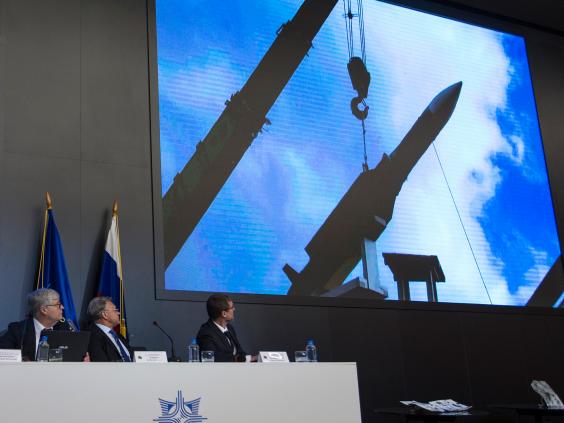 The Joint Investigation Team conducting the criminal investigation into the crash issued footage of Buk 3x2 as part of a call for witnesses.
Its information matched Bellingcat's analysis, showing the weapon being transported throughout the Donbass region and around Snizhne, although no verdict has yet been reached.
Bellingcat said it sent an extended and uncensored version of its report to investigators in December, including the full names and photographs of soldiers associated with the 2nd Battalion of the 53rd Anti-Aircraft Missile Brigade.
"Although it is likely that the head officials of Russia's Ministry of Defence did not explicitly decide to send a Buk missile launcher to Ukraine, the decision to send military equipment (with or without crew) from the Air Defence Forces to Ukraine was likely made at a very high level and, therefore, the Russian Ministry of Defence bears the main responsibility for the downing of MH17,"the group's report concluded.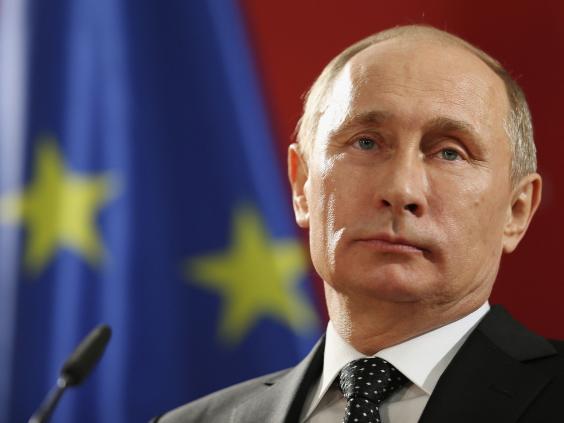 "This responsibility is shared with separatist leaders of the Donetsk People's Republic and (to a lesser extent) the Luhansk People's Republic…ultimately, responsibility for the downing of MH17 from a weapon provided and possibly operated by the Russian military lies with its two head commanders: Minister of Defence Sergey Shoigu and President Vladimir Putin."
The conflict continues in Ukraine more than two years after a separatist insurgency started in the east following the toppling of President Viktor Yanukovych.
The foreign ministers of France and Germany expressed concern that the crisis could escalate once again during a visit to Kiev on Tuesday.
The two countries have been trying to help resolve the conflict that has killed more than 9,000 people since April 2014. 
Additional reporting by AP
Reuse content