A British Navy ship was heading across the Mediterranean this afternoon to rescue thousands of migrants stranded at sea on more than a dozen boats.
Sky News, who have a journalist on the HMS Bulwark, reported that all European naval ships in the region had been ordered to sail to the Libyan coast in an unprecedented response to help up to 14 vessels.
The 19,000 tonne ship, which carries more than 80 British personnel, is understood to be launching its three Merlin helicopters to fly ahead on surveillance missions.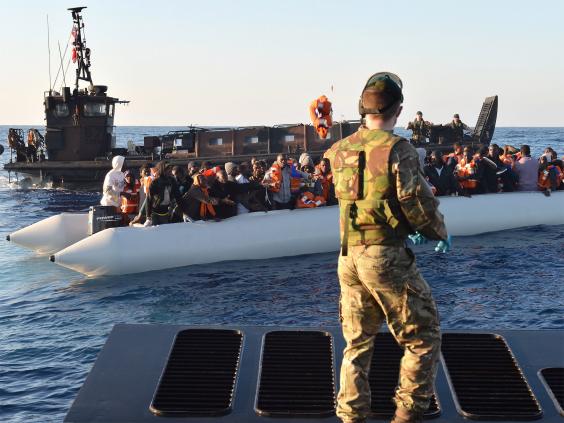 More than 2,000 men, women and children were rescued earlier on Saturday from four boats, according to the Migrant Offshore Aid Station (MOAS), and are being taken to Sicily.
Italian, Irish and German ships joined the effort along with a medical vessel from Doctors Without Borders (MSF), which assessed and treated hundreds of patients at sea.
#MOAS coordinated the rescue of over 2,000 people together with Italian, Irish & German ships. #SavingLives #MSF pic.twitter.com/FM8kCMVxCf

— MOAS (@moas_eu) June 6, 2015
A journalist from American network ABC boarded one of the emptied migrant boats, photographing the "tiny, putrid" hold where an estimated 250 people were crammed next to the engine for their voyage.
It was unclear whether that rescue was part of the incident that the HMS Bulwark was attending.
A spokesperson for the Ministry of Defence told The Independent: "The ship is on its way to help with a rescue mission."
The tiny, putrid hold next to the engine that 250 migrants were packed into on one boat @moas_eu @MSF_Sea pic.twitter.com/aFi5POsh7M

— Alexander Marquardt (@MarquardtA) June 6, 2015
HMS Bulwark was sent to the Mediterranean at the start of last month as part of a Europe-wide response to the deaths of migrants making the perilous journey across the sea fleeing conflict and poverty.
On 13 May, it rescued more than 400 people from four vessels stranded just 40 miles from the Libyan coast.
Human smugglers frequently take barely seaworthy vessels into international waters and abandon them long before reaching Europe, risking the lives of everyone on board so they can escape back to Libya and avoid arrest.
Two suspected smugglers were detained in Sicily on Saturday.
Police said a Tunisian man was arrested after a boat containing 12 people were spotted by an Italian naval vessel and a Gambian man was being held on suspicion of sailing 116 people across in a dinghy.
Almost 90,000 people crossed the Mediterranean from January to May, with at least 1,850 dead or missing, and another 42,000 have reached Greek shores over the Aegean Sea.
Additional reporting by AP
Reuse content