About 150 migrants have reportedly attempted to storm the Channel Tunnel terminal in Calais in a bid to board UK-bound freight trains, leading to fresh disruption to channel services.
Freight and passenger services were delayed after migrants attempted to access restricted areas on the French side, Eurotunnel said.
French riot police were reportedly on the scene.
A Eurotunnel spokesman said: "Eurotunnel reiterates its call to the authorities to provide a solution to the migrant crisis and restore order to the Calais region."
Kent Police reinstated Operation Stack on Sunday, just hours after the contingency plan, which sees freight traffic queued on sections of the M20, had been brought to an end.
But it was lifted again by about 3pm, with police warning motorists of residual delays.
#OpStack Although #M20 is now open delays remain between J7 & 8. Please allow extra time for your journey if you're setting off soon

— Kent Police (UK) (@kent_police) July 4, 2015
Last week lorry drivers faced long delays as they were held in miles of queues in Operation Stack as a result of disruption, caused by industrial action, at Calais.
Ferry services at Dover appeared to be operating as normal.
A spokesman for the Port of Dover said that "no ferry traffic is being held in Operation Stack and the Port of Dover remains open for business".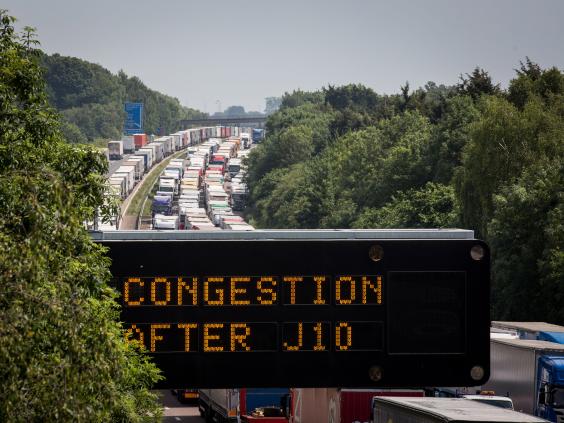 Dan Cook, the operations director of Europa Worldwide Group, a logistics firm, said "marauding mobs" were effectively halting trade.
"We have had vehicles on the motorway in broad daylight being surrounded by marauding mobs racing around, opening doors, cutting trailers, climbing into the back," he said.
"We have experienced quite a bit of theft and damage to customers' products."
About 3,000 people displaced from countries including Eritrea, Sudan, Syria and Afghanistan setting up camp near the port of Calais. Many hope to make the trip to the UK.
French aid workers have reported a "catastrophic" situation, with predictions that 2,000 more migrants could arrive over the summer at the camp, dubbed Jungle II.
Home Secretary Theresa May and Bernard Cazeneuve, her French counterpart, this week agreed to increase joint intervention fund to improve security around the port and the Channel Tunnel.
(Additional reporting by agencies)
Reuse content