Khaloon Spenati sits on a marble wall with his baby son on his knee at Milano Centrale studying the list of destinations and wondering whether Paris, Zurich, Vienna or Munich will bring him closer to Sweden.
Milan's elegant 1930s station has become a hub for Syrian refugees beginning their journey across Europe, with thousands passing through every week. Following the Lampedusa disaster last October, when 366 people drowned, Italy softened its policy towards immigrants and it has become a beacon for those fleeing conflict in Syria, the Middle East and Africa.
Part of Milano Centrale resembles a refugee camp. Bottles of water are handed out by aid workers beneath huge screens advertising Dolce & Gabbana clothes. A humanitarian helpdesk offers advice. A shuttle service to a nearby camp is swamped. Outside the station newsagents, a Save The Children play area has been erected, where children play on foam mats and colour pictures.
Mr Spenati, 30, fled Damascus in 2012, with wife Inas, also 30, their children and more than a dozen relatives. He is one of Syria's Sunni Muslim majority and his family were supporters of the Free Syrian Army, who fought against President Bashar al-Assad's largely Alawite government. They first travelled to Egypt and then Libya, before paying people smugglers £675 per family member to take them from Tripoli to Italy.
The baby on his knee is his youngest child, seven-month-old Anas, who was born in Tripoli when they were already in exile. His daughters are, Mirna, six, and Masa, five. They have been refugees for almost as long as they can remember – and they have still never been to school.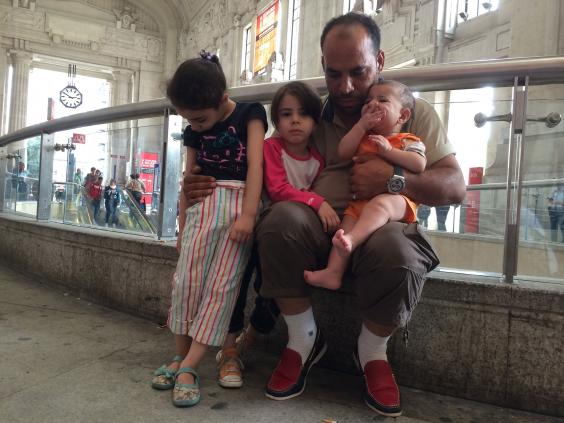 Before the war Mr Spenati was self-employed, fitting swimming pool filters in some of Damascus's most glamorous  homes. The family owned a comfortable apartment.
"The boat we went on was a mini Titanic," he said, "The Libyan smugglers treated us like sheep, like animals. There were 300 of us on board. It was only 14 metres long and 4 metres wide so it was sitting very low in the water."
After 24 hours they were discovered by a navy ship from Malta. Transferred on to an Italian navy vessel which took three days to reach Calabria on the southern tip of Italy, they were sent to a nearby refugee camp – then took a train to Milan.
Now he plans to get them to Sweden to claim asylum and a fresh start using his remaining £1,200 savings.  
Like many families they refused to give their names or fingerprints when they arrived in Italy to make it easier to claim asylum elsewhere in Europe. The scale of new arrivals is overwhelming for the Italians. Police sources told the national paper Il Giornale recently: "We cannot control them any more. We cannot even identify them."
As more people take the journey, the death toll climbs. Last year around 600 refugees died in the Mediterranean. In the first eight months of this year, the death toll was nearly 1,900 – with 1,600 of them since the start of June.
Many smugglers transfer their human cargo to a smaller boats at the edge of international waters before pointing them in the direction of Italy. The passengers typically have no sailing experience and are left to get themselves into Italian waters, so the smugglers can avoid a human trafficking prosecution. Once in Italian waters they hope to be rescued by passing navy ships but the risks are high.
Not everyone is prepared to gamble at sea. Others at Milan station had taken great legal risks instead. One 23-year-old man, who didn't want his name published, has been trying to get to England for seven months. He left his home near Damascus on New Year's Day, heading first to Lebanon and then into Turkey.
He paid smugglers for a fake passport but the only one they could get was Algerian, which cost him £2,150. He flew to Rome where they discovered it was a fake and arrested him. He explained he was Syrian but they insisted he must return to Istanbul. After 48 hours of resisting getting on the plane he was taken to a back room by Italian security staff – he could not tell from their uniform if they were military or police – and beaten. Photos on his phone show large purple bruising on his forehead just after the attack. Blurry pictures taken inside the Alitalia aeroplane when he was removed show the men in blue uniforms who did it. He also got a medical report on his injuries once he reached Turkey and hopes to press charges when he finally reaches safety.
Not put off, he travelled by sea to Greece where he paid £2,380 for a fake Italian identity card and bought a flight to Venice. He is light-skinned and could easily pass for a native European, even dressed like an Italian backpacker. At the airport in Athens he was questioned to test if he was Italian. In Italian they asked his name and if he could count to 10 – both of which he had taught himself. They let him through.
Before now he had never broken any laws. His father pushed him to get the education he never had. Now a fourth-year civil engineering student, he left Syria with just a year to go on his course.
Waiting for the first train to Calais, he explains he is desperate to reach England and pick up his studies. "I'm a smart guy and I'll prove it," he says in accomplished English. He digs out a dog-eared envelope of papers, showing his outstanding grades at Damascus University. He says: "I just want to complete my studies. I want to complete my life. Is that too much to ask?"