Members of Native American tribes are involved in a dispute with a German Wild West museum over human scalps in its exhibition.
The Karl May Museum in Radebeul, outside Dresden, has been criticised for displaying the scalps, some of which are decorated with braided hair and beads.
Cecil Pavlat, cultural repatriation specialist of the Ojibwe Nation - to which one of the scalps is said to belong – wrote to the museum this month to complain about the "insensitive display" of the "ancestral remains" and to request their return, Deutsche Welle reported.
"It's a part of that human being," he told the publication.
"It'd be no different to cutting a hand off, or an arm and displaying that - it's just not culturally appropriate or even acceptable by most ethnic groups, whether they're Native American or not."
He also said that the display reinforced negative stereotypes about Native Americans. "That's the way we view it, as ancestral remains, even speaking the word 'scalps' - it creeps me out," he said.
"Some say that this was a practice created by our people. History tells us that this has been practiced throughout history in other places, including Europe."
The museum, named after adventure writer Karl May, acquired the scalps from the Austrian Ernst Tobis, as part of a huge collection of Native American artefacts he bequeathed to the museum in 1926.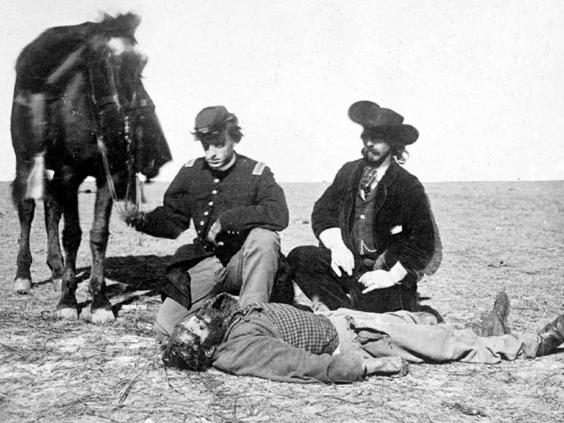 So far, the tribes' appeal for their return has not been successful. The US embassy, who have been made aware of the dispute, have recommended that the tribes deal directly with the museum themselves.
Museum director Claudia Kaulfuss told Deutsche Welle: "In principle we are ready to talk, but first we want to understand what is wanted. We have four scalps on display, and it's not even clear which tribes they belong to.
"We have two from white people, two from Indians - one of them is more or less just a plait of hair, and whether any really belongs to an Ojibwe Indian we don't know."
She added: "Of course we'd enter into dialogue. But we'd also want to put forward our side. We're a museum in Germany, subject to German law, and we'd like to explain why we want to show a piece of history, and that we aren't pillorying anything with it.
"But they can't just expect us to hand something over without talking to anyone about it first, because then more people might come and soon our museum would be empty."
The scalps were bought from the Ojibwe Tribe for $1,000 (£600) and three bottles of alcohol by Mr Tobis in 1904.
Reuse content