Following the conclusion of World War II, Germany embarked on an initiative to rid their society, culture and politics of any remains of Adolf Hitler's Nazi ideology.
However, researchers have said words belonging to the years of the Third Reich are increasingly being used by German politicians and members of the public to criticise their government's response to the refugee crisis.
The increase in the use of Nazi terminology comes amid an unprecedented rise in the number of attacks on asylum seekers and refugee accommodation. 
Attacks on asylum seekers' accommodation increased more than fivefold from 2014 to 2015, according to national crime statistics released by interior minister Thomas de Maiziere.
Crimes targeting the homes of asylum-seekers also swelled, quadrupling to 1,031, including four attempted murders, eight explosives offences, 60 assaults and 94 arsons.
The authorities also recorded crimes of vandalism, such as the spraying of swastikas and neo-Nazi slogans on refugee accommodation. 
Previously taboo words which echo the ideas of racial purity held by the Nazis have begun to reemerge in German political discourse, and have been turned towards refugees and asylum seekers in particular. 
Researchers have seen an increased use of Nazi terminology by politicians and members of the public, Josefin Graef, final year doctoral researcher at the Institute for German Studies at the University of Birmingham, told The Independent.
She cited the example of the chairwoman of the Alternative For Germany (AFD) party, Frauke Petry, using the word "Völkisch" ("ethnic"), which was used by the Nazis to describe those they saw as belonging to the superior German race.
Ms Petry said the term should not be seen in a purely negative sense and should instead carry positive connotations because it is linked to the world "Volk" ("people"), hinting she did not want the term to be seen as the equivalent as "racist". 
Her claim was met by outrage by other parties and the media, who argued the term was key to Nazi ideology and stands for a policy of exclusion towards those perceived as "non-German" - in this instance refugees and asylum seekers.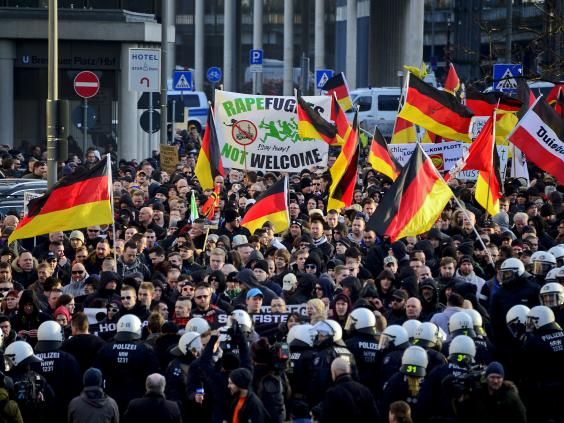 The term "Volksverrater" ("Traitor of the people") is increasingly heard during anti-refugee protests such as those held by the anti-Islam Pegida movement, Ms Graef added.
The phrase has been used to denounce Angela Merkel and ministers from her Christian Democratic Union for allowing 890,000 asylum-seekers to settle in Germany over the last year.
Pegida have also referred to the media as "Lügenpresse" ("lying press"), a disparaging term used by Adolf Hitler to discount negative reports in the media. The expression was also used by supporters of Donald Trump to attack the media in America during his campaign to become president of the United States. 
The use of Nazi terminology can also be seen as a response to political differences between the main German parties in recent years, Ms Graef said.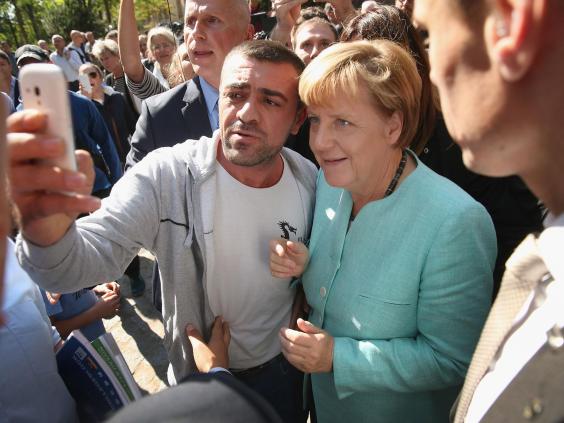 Many were critical of Angela Merkel's "we can do it" slogan in response to the refugee crisis, questioning the government about how many refugees it intended to accept and how they would be integrated within German society.
More than 20,000 refugees have arrived in Germany so far this year.
As such, many see the refugee crisis as an opportunity to challenge the political status quo in Germany ahead of the next general election in 2017. "Provocation is easily achieved with the use of Nazi terminology," Ms Graef said.
Doctor Alim Baluch, a teaching fellow in German Politics and Society at Bath University, told The Independent that many Germans are unaware they are using sayings belonging to Germany's Nazi past.
He said words such as "Abartig" (which approximately translates to "abnormal and disgusting") and the prefix Volks- are a throwback to the time of the Third Reich. 
Refugee crisis - in pictures
Refugee crisis - in pictures
1/27

A child looks through the fence at the Moria detention camp for migrants and refugees at the island of Lesbos on May 24, 2016.

AFP/Getty Images

2/27

Ahmad Zarour, 32, from Syria, reacts after his rescue by MOAS (Migrant Offshore Aid Station) while attempting to reach the Greek island of Agathonisi, Dodecanese, southeastern Agean Sea

3/27

Syrian migrants holding life vests gather onto a pebble beach in the Yesil liman district of Canakkale, northwestern Turkey, after being stopped by Turkish police in their attempt to reach the Greek island of Lesbos on 29 January 2016.

Getty Images

4/27

Refugees flash the 'V for victory' sign during a demonstration as they block the Greek-Macedonian border

5/27

Migrants have been braving sub zero temperatures as they cross the border from Macedonia into Serbia.

6/27

A sinking boat is seen behind a Turkish gendarme off the coast of Canakkale's Bademli district on January 30, 2016. At least 33 migrants drowned on January 30 when their boat sank in the Aegean Sea while trying to cross from Turkey to Greece.

Getty Images

7/27

A general view of a shelter for migrants inside a hangar of the former Tempelhof airport in Berlin, Germany

8/27

Refugees protest behind a fence against restrictions limiting passage at the Greek-Macedonian border, near Gevgelija. Since last week, Macedonia has restricted passage to northern Europe to only Syrians, Iraqis and Afghans who are considered war refugees. All other nationalities are deemed economic migrants and told to turn back. Macedonia has finished building a fence on its frontier with Greece becoming the latest country in Europe to build a border barrier aimed at checking the flow of refugees

9/27

A father and his child wait after being caught by Turkish gendarme on 27 January 2016 at Canakkale's Kucukkuyu district

10/27

Migrants make hand signals as they arrive into the southern Spanish port of Malaga on 27 January, 2016 after an inflatable boat carrying 55 Africans, seven of them women and six chidren, was rescued by the Spanish coast guard off the Spanish coast.

11/27

A refugee holds two children as dozens arrive on an overcrowded boat on the Greek island of Lesbos

12/27

A child, covered by emergency blankets, reacts as she arrives, with other refugees and migrants, on the Greek island of Lesbos, At least five migrants including three children, died after four boats sank between Turkey and Greece, as rescue workers searched the sea for dozens more, the Greek coastguard said

13/27

Migrants wait under outside the Moria registration camp on the Lesbos. Over 400,000 people have landed on Greek islands from neighbouring Turkey since the beginning of the year

14/27

The bodies of Christian refugees are buried separately from Muslim refugees at the Agios Panteleimonas cemetery in Mytilene, Lesbos

15/27

Macedonian police officers control a crowd of refugees as they prepare to enter a camp after crossing the Greek border into Macedonia near Gevgelija

Getty Images

16/27

A refugee tries to force the entry to a camp as Macedonian police officers control a crowd after crossing the Greek border into Macedonia near Gevgelija

Getty Images

17/27

Refugees are seen aboard a Turkish fishing boat as they arrive on the Greek island of Lesbos after crossing a part of the Aegean Sea from the Turkish coast to Lesbos

Reuters

18/27

An elderly woman sings a lullaby to baby on a beach after arriving with other refugees on the Greek island of Lesbos after crossing the Aegean sea from Turkey

Getty Images

19/27

A man collapses as refugees make land from an overloaded rubber dinghy after crossing the Aegean see from Turkey, at the island of Lesbos

EPA

20/27

A girl reacts as refugees arrive by boat on the Greek island of Lesbos after crossing the Aegean sea from Turkey

Getty Images

21/27

Refugees make a show of hands as they queue after crossing the Greek border into Macedonia near Gevgelija

Getty Images

22/27

People help a wheelchair user board a train with others, heading towards Serbia, at the transit camp for refugees near the southern Macedonian town of Gevgelija

AP

23/27

Refugees board a train, after crossing the Greek-Macedonian border, near Gevgelija. Macedonia is a key transit country in the Balkans migration route into the EU, with thousands of asylum seekers - many of them from Syria, Afghanistan, Iraq and Somalia - entering the country every day

Getty Images

24/27

An aerial picture shows the "New Jungle" refugee camp where some 3,500 people live while they attempt to enter Britain, near the port of Calais, northern France

Getty Images

25/27

A Syrian girl reacts as she helped by a volunteer upon her arrival from Turkey on the Greek island of Lesbos, after having crossed the Aegean Sea

EPA

26/27

Refugees arrive by boat on the Greek island of Lesbos after crossing the Aegean sea from Turkey

Getty Images

27/27

Beds ready for use for migrants and refugees are prepared at a processing center on January 27, 2016 in Passau, Germany. The flow of migrants arriving in Passau has dropped to between 500 and 1,000 per day, down significantly from last November, when in the same region up to 6,000 migrants were arriving daily.
Dr Baluch cited two particular examples of the use of Nazi terminology, which he described as "imbued with pseudo-biological concepts which imply a scientific rationale for treating people differently based on their race or physical appearance".
In the first, Bettina Kudla, MP for Ms Merkel's CDU, used the phrase "Umvolkung" when criticising Germany's immigration policy on Twitter, a term referring to Hitler's idea of ethnic cleansing. Ms Kudla was using the term to suggest ethnic Germans were being ethnically cleansed by immigrants, Dr Baluch said. She later deleted the tweet. 
In another, Björn Höcke, the Alternative for Germany (AfD) chairman for the state of Thuringia, claimed Africans had a "fundamentally different type of reproduction" in contrast to Europeans. Dr Baluch said Mr Höcke had used terms typically assigned by biologists to different species in order to suggest Africans have a higher birth rate compared to Europeans.
Similar rhetoric and attitudes can be found across Europe, Dr Baluch and Ms Graef added, and are becoming part of the political mainstream in France, Austria, Denmark, Hungary, the Czech Republic and Slovakia. 
Reuse content