As a modest, if prosperous nation of just 11 million, Belgium rarely makes news headlines, yet today it has the unenviable distinction of being Europe's Jihadist hothouse.
After the Paris attacks, police quickly traced the terrorists to Brussels, raiding addresses in the Molenbeek district and arresting seven suspects. It was in the grimy, run-down, neighbourhood that investigators believe the Paris plot was hatched by Abdelhamid Abaaoud, the Belgian-born son of an immigrant shopkeeper from Morocco.
Abaaoud is only part of a web of Belgium-based foot soldiers, whose exploits have left a trail of death across Europe. And beyond: around 500 young Belgians have gone to Syria to fight for Jihadist groups like Isis – per capita, no other European country has sent more foreign fighters. 
Why is Belgium at the heart of Europe's most destructive wave of terrorism in a generation? There is no single explanation, but rather a number of ingredients, from post-war immigration from north Africa, hate preachers, ghettos, poverty, and marginalision. There is also a belated realisation by the Belgian authorities that complacency towards extremism has allowed the pernicious Islamic influences to fester. 
Islamist extremism has a long history in Belgium. While there have been few attacks on Belgian soil, there has been significant involvement in atrocities elsewhere. There are links to the murder of the Afghan anti-Taliban fighter Ahmed Shah Masoud – just before the September 2001 attacks in the US – and the Groupe Islamique Marocain Combattant (GICM), which had a major role in the 2004 Madrid train bombings. In 2005, Muslim convert Muriel Degauque, became the first known female Western suicide bomber, when she blew herself up in Iraq. 
Some of the problems are thought to have deeper roots, including a 1970s decision to allow Saudi Arabia to send preachers with fundamentalist, Salafist teachings to Moroccan immigrants. The Great Mosque of Brussels is still owned by the Saudi royal family. However, it was the Syrian civil war that gave the jihadists their recent fillip. Belgium's chief police commissioner Catherine de Bolle says that of 474 Belgians linked with the Syria conflict, about 130 have returned, 77 have died in the conflict, and more than 200 are still over there. Intelligence officials say that Syria – in particular, the ultra-violent ideology of Isis – represents a paradigm shift from seeking a regional caliphate to global Jihad.  
World's monuments show solidarity with Paris
World's monuments show solidarity with Paris
1/30

National Portrait Gallery, London, UK

2/30

London Eye, UK

3/30

Sydney Opera House, Australia

4/30

The Christ the Redeemer statue, Rio de Janeiro, Brazil

5/30

The Great Pyramid of Giza, Egypt

6/30

The HSBC building, Hong Kong, China

7/30

California State University, Long Beach, USA

8/30

US Embassy, Paris

9/30

The Swiss Parliament, Bern, Switzerland

10/30

Chhatrapati Shivaji train station building, Mumbai, India

11/30

The Eiffel Tower, Paris

12/30

Wembley Stadium, London

13/30

The fortress 'Tsarevets', Veliko Tarnovo, Bulgaria

14/30

The SSE Hydro arena, Glasgow, Scotland

15/30

The Story Bridge, Brisbane, Queensland, Australia

16/30

The Perth Council house, Perth, Australia

17/30

Plaza Francia (France's Square), Caracas, Venezuela

18/30

Sarajevo city hall, Bosnia and Herzegovina

19/30

Penshaw Monument, Sunderland, UK

20/30

St Mary's Cathedral, Sydney, Australia

21/30

Chile's presidential palace La Moneda, Santiago, Chile

22/30

The Australian Parliament House, Canberra, Australia

23/30

The monument of Brotherhood and Unity, Pristina, Kosovo

24/30

The Planalto Presidential Palace, Brasilia, Brazil

25/30

De La Salle university, Manila, Philippines

26/30

The Greenland Centre, Jinan city, China

27/30

Calagary Tower, Alberta, Canada

28/30

The Senate building, Mexico City

Reuters/Tomas Bravo

29/30

One World Trade Centre, New York, USA

30/30

The Angel de la Independencia monument, Mexico City
The Belgian connection was laid bare in the recent trial in Antwerp of Fouad Belkacem, the leader of the radical group Sharia4Belgium, which claimed to be an Islamic information network, but was actively recruiting fighters for Syria.  
Mr Belkacem, a 32-year-old Islamic radical, was accused by prosecutors of belonging to a terrorist group and brainwashing young people. In February, he was sentenced to 12 years in prison. It was the largest trial of its kind in the country: 44 other members of Sharia4Belgium were given sentences ranging between three and 12 years, although most of them in absentia, as they were in Syria.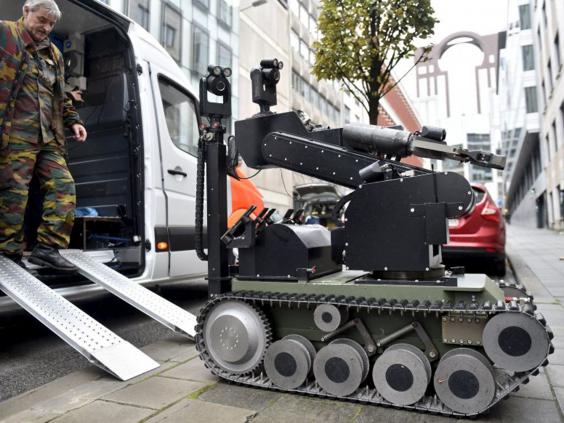 The trial revealed how sophisticated the underground Jihadist pipeline had become. Although Belgian security services have infiltrated mosques more effectively in past decade – in part, after discovering a Belgian connection to the 2005 Madrid bombings –  Sharia4Belgium and others have found ways to evade surveillance by using internet chat rooms and social media. 
Almost all the trails linking Belgium to terrorism find their way to Molenbeek, the deprived Brussels commune. Belgian Prime Minister Charles Michel, who has promised a crackdown on extremism in the country, says there is a "huge problem" in Molenbeek, and has suggested closing some of the commune's 22 mosques.
The situation is not helped by a fractured law enforcement – the Brussels region has 19 communes and operationally independent police zones – and a shortage of Arabic speakers in the Belgian intelligence services.  
Bilal Benyaich from the Itinera Institute, a Brussels-based think tank, says Molenbeek is a melting pot of malign elements. "You have big Muslim communities boxed into tight housing in poor neighbourhoods," he says.  
Mr Benyaich says that many young Muslims feel marginalised from mainstream Belgian life. "This real or perceived sense of exclusion is combined with extreme Islam," he says. "All these problems come together in a complex process of indoctrination and alienation."
Reuse content