Thousands of people marched in the Polish capital of Warsaw on Saturday to express anger at the government.
The strongly conservative Law and Justice Party have only been in power for three months. Despite their short tenure, they have been accused of undermining the Polish constitution and freedoms more broadly.
Estimates of the numbers of people in attendance at the protest, dubbed 'We the People', ranged from 15,000 to 80,000. Many chanted "We will defend democracy!" and "Lech Wałęsa!", the name of the first president of Poland after Communist rule.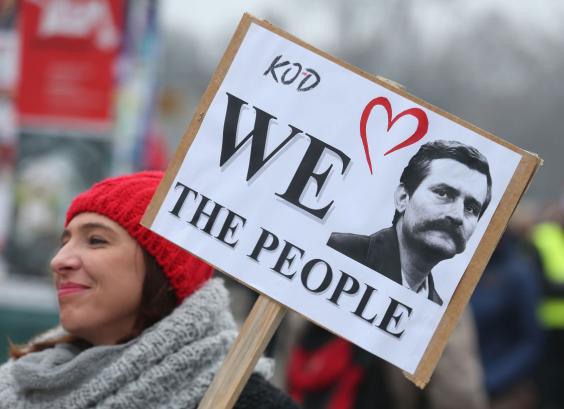 The march was organised by the Committee for the Defence of Democracy, an umbrella organisation which formed in opposition to the actions of the Law and Justice party. 
"We want a free and open Poland... a Poland where there is room for everyone," said the head of committee, Mateusz Kijowski, to marchers.
The main complaint of the demonstrators was the government's actions on the Constitutional Tribunal, a court which is intended to act as a check on new legislation.
President Andrzej Duda ignored five new judges - to sit on a panel of 15 - who were chosen by the previous government. He instead installed some loyal to the Law and Justice Party after they came to power. The subsequent fallout has led to a constitutional crisis in Poland.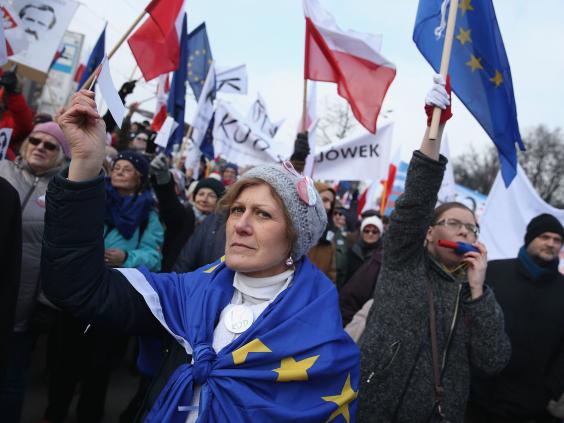 The Law and Justice party has also amended media laws, which has enabled party loyalists to be placed in key positions in public broadcasting. 
Party loyalists have also been placed in leading positions in state companies after a change in the rules on civil service appointments, critics have said. 
In addition, the intelligence services and the public prosecution service have been brought under Parliament control, the Financial Times reported. 
Many protestors wore masks of Mr Wałęsa, whose union Solidarity played a crucial role in the fall of Communism in Poland. 
There have been allegations that he was a police informer during the Soviet era, but supporters off Mr Wałęsa's have dismissed this as a smear, instigated by the Law and Justice party. Mr Wałęsa has denied the allegations.
"We came here to defend a symbol of Polish history [Mr Wałęsa] against hate," Grzegorz Schetyna, head of opposition party Civic Platform, told the crowd. 
"We are defending Poland against Jaroslaw Kaczynski [leader of the Law and Justice party]," Mr Schetyna continued.  "We will not allow Poland to be taken over."
Mr Kaczynski has no official role role in government but is widely believed to exert influence through the two most senior party members in government: President Duda and Prime Minister Beata Szydlo.
Mr Kaczynski has been a central figure in the rise of popular right wing sentiment in Poland. His nationalist-leaning politics are characterised by a mistrust of both the EU, especially Germany, and Russia. He has been derided as his critics as xenophobic, anti-Semitic and homophobic.