A scull cap worn by the Pope has sold for almost £70,000 on Ebay after the pontiff was convinced to give it to a television show host.
Pope Francis was passing through crowds at his regular audience at the Vatican when a presenter from Italian programme Le Iene (The Hyenas) offered him a new white zucchetto hat.
Footage of the moment showed the Pope carefully comparing it to his own hat and swapping after finding it was the same size, handing his scull cap over.
The broadcasters then gave it to a charity to auction it on Ebay to raise money for humanitarian work in the Democratic Republic of the Congo.
Within two days, bids had reached €80,000 (£63,000) and the holy hat was eventually sold for €89,050 (£69,560) on Wednesday.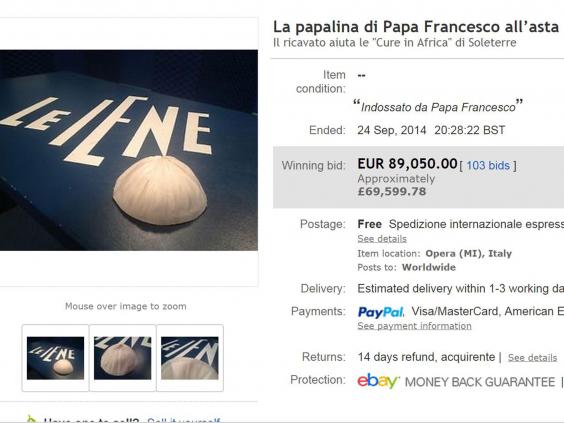 Only authorised bidders who had contacted the seller in advance were allowed to participate to "ensure transparency and seriousness".
The proceeds will go to Italian charity Soleterre for its project in Zongo fighting child mortality and deaths during childbirth.
Reuse content