President Vladimir Putin's leading political enemy was convicted along with his brother today in a fraud case widely seen as a political vendetta by the Kremlin, triggering one of Russia's boldest anti-government demonstrations in years.
Police allowed a few thousand protesters to gather just outside Red Square for about two hours – a show of relative restraint for Russian authorities – before moving in to break up the unsanctioned rally by pushing the demonstrators toward subway entrances. The rally came hours after the anti-corruption campaigner Alexei Navalny was found guilty of what activists said were trumped-up charges and given a suspended sentence of three-and-a-half years. His younger brother Oleg was sent to prison for a similar period, a move that drew comparisons to the Stalin-era practice of punishing family members of enemies of the state.
After receiving his sentence, Alexei travelled towards Moscow's Manezh Square, near Red Square, urging his supporters, the number of which later grew to several thousand, "not to leave until they are forced to". Before he could arrive at the protest, he was arrested. He subsequently tweeted: "They cannot arrest everyone."
Домашний арест-это да, но сегодня мне очень хочется быть с вами. Поэтому я тоже еду. #Манежка pic.twitter.com/xkWGX0Hp4F

— Alexey Navalny (@navalny) December 30, 2014
An announcement from the Moscow Mayor's office said that the rally would be dealt with robustly, adding: "All unauthorised actions will be suppressed by law enforcement agencies."
The protesters, who gathered on Manezh Square outside the Kremlin, chanted: "We are the power!" and "Russia without Putin!" Some shouted slogans of support for Ukraine.
Scuffles erupted between the protesters and pro-Putin activists shouting, "Those who don't like Russia should go to the United States!" – the chants reflecting the Kremlin's depiction of opposition supporters as Western stooges.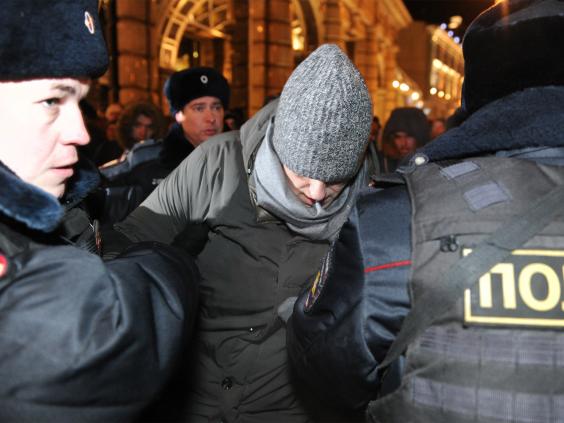 The Navalny brothers were accused of stealing about 30 million roubles (£345,000) from two companies, including an affiliate of the French cosmetics company Yves Rocher, between 2008 and 2012.
Judge Korobchenko had planned to deliver her verdict on 15 January, but it was brought forward to this morning. Court secretaries explained the move by saying the judgment was "ready earlier than expected".
To many of the brothers' supporters, however, the verdict was seen as linked to the success of a Facebook campaign set up by Mr Navalny's ally and former election manager Leonid Volkov. Despite early attempts to block the page, more than 30,000 people had indicated their readiness to risk arrest and to go out to protest against the widely anticipated guilty verdict.
Speaking to The Independent, Mr Volkov said he believed that the decision to bring forward sentencing had been taken out of "fear" and a hope that Mr Navalny's supporters would be unprepared the day before the country's main holiday.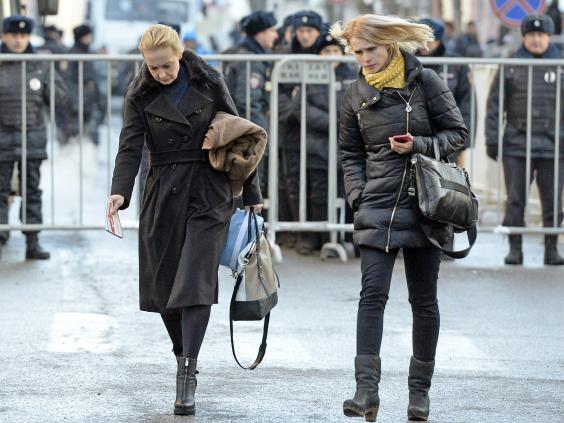 Few of the many supporters and journalists gathered earlier in the day were allowed into the area immediately in front of the court building. But a group of Alexei Navalny's opponents were given prime access and from the early morning were seen waving banners saying: "Navalny's place is behind bars."
As the judge began her sentencing, police were seen pushing crowds further away from the court.
During sentencing, the brothers stood together, smiling at one another. Once the verdict had been delivered, Oleg embraced his brother, wife and parents, before being placed inside a cell.
Oleg Navalny's immediate detention, before an appeal, has been questioned by legal experts. While arrest pending appeal is not necessarily unusual in Russian legal practice, it is in direct contradiction to a ruling delivered in another case brought against Alexei Navalny last year, the so-called "Kirovles affair".
Then, following widespread protests, judges ruled that the detention was unlawful, and unexpectedly released Mr Navalny on bail. According to Pavel Chikov, a lawyer, such behaviour showed that "the authorities are playing with the law to fit which ever outcome they want". Mr Chikov said he believed the decision had been taken at the highest level. Alexei Navalny responded to the verdict emotionally, shouting at the judge: "Are you not ashamed of yourself? Why are you sending [Oleg] to prison? To punish me more?"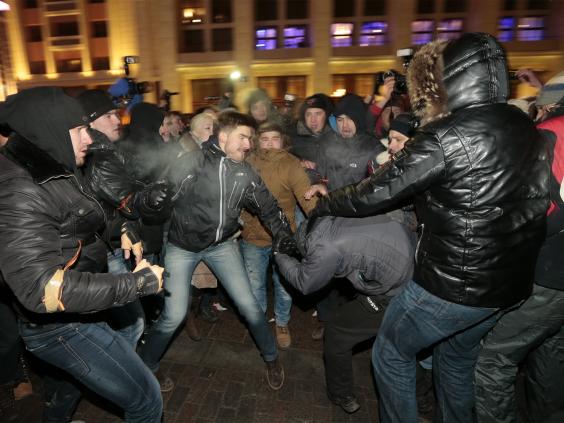 Maria Lipman, a visiting fellow of the European Council on Foreign Relations, believes the Kremlin's unexpected move has given Alexei Navalny a moral dilemma. "The decision effectively takes Oleg Navalny hostage and gives the Kremlin leverage over Alexei's political activity – now he has to measure all his actions against his brother's fate."
The Kremlin also seems to be sending another message, to protesters, she added. "They are saying: 'Your actions are pointless, worthless; you are at our mercy'."
At the unsanctioned rally, several dozen people were arrested. Witnesses also reported the appearance of Cossack fighters and other organised anti-Navalny protesters, apparently distinguishing themselves with the orange and black St George's ribbons synonymous with the pro-Russian uprising in eastern Ukraine. The prospect of three-and-a-half years in a penal colony that potentially awaits Oleg Navalny is not one to be taken lightly. Russian prisons are notorious for poor levels of sanitation and frequent physical violence. Medical attention is often lacking or severely delayed, sometimes deliberately.
9 controversial Putin quotes
9 controversial Putin quotes
1/9 2004

"Anyone who doesn't regret the passing of the Soviet Union has no heart. Anyone who wants it restored has no brains."

Getty images

2/9 December 2005

"There is no such thing as a former KGB man."

Getty images

3/9 G8 Summit press conference 2008

"If you want to become an Islamic fundamentalist and be circumcised, come to Moscow. We are multiconfessional. We have very good specialists. I can recommend one for the operation. He'll make sure nothing grows back."

Getty images

4/9 2010

"Russia doesn't negotiate with terrorists. It destroys them." After the Moscow Metro bomb

Getty images

5/9 September 2013

"They say that Pyotr Ilyich Tchaikovsky was a homosexual. Truth be told, we don't love him because of that, but he was a great musician, and we all love his music. So what?" Interview with Associated Press

Getty images

6/9 March 2014

"The West's leaders seem, from what they say, entirely to have forgotten that there are some leaders in the world who want to conquer other countries."

Getty images

7/9 2014

Amazingly elaborate metaphor regarding the West and Russia "[Sometimes I think] our bear should probably just sit quietly and just eat honey instead of hunting animals, maybe then they will leave the bear in peace, but, no, they will not. What they are trying to do is chain the bear, and when they chain the bear they will take out his fangs and claws. This is how nuclear deterrence is working at the moment. If they take out the bear's fangs and claws, then the bear will not be able to do anything. It will just be a stuffed animal." Russian President's annual press conference

Getty images

8/9 2014

After Ksenia Sobchack, a well-known anti-Kremlin activist and journalist, was allowed to ask a question about Putin's government suppressing opposing political viewpoints: "Why did you give her the floor?" Russian President's annual press conference

Getty images

9/9 January 2014

"You can feel relaxed and calm [in Russia], but leave children alone, please." Directed at gay people in January 2014, before the Sochi Winter Olympics

Getty images
The Russian tycoon Mikhail Khodorkovsky, who spent 10 years in jail before he was pardoned last year, dismissed the verdict as Mr Putin's revenge for Mr Navalny's activism.
He said in a statement that he was "not even surprised that Putin and his entourage are capable of vile tricks, deception, forgery and manipulation – they are not capable of anything else".
Ms Lipman believes the unusual sentences show how anxious the Kremlin has become in dealing with Alexei Navalny.
"They [are] still not ready to lock up Navalny and the message is still not one of outright repression," she said. "The authorities want to make people consider and reconsider – to ask whether they really want to go out to defend someone's younger brother."
Reuse content