Russia has threatened to turn off the gas supply to Ukraine "by the end of the week", sparking fears of a potential fuel shortage across the whole of Europe.
The dispute comes as both sides prepare to renew EU-brokered deals on gas prices – yet the crisis has gone far beyond a simple bargaining tactic after Vladimir Putin said Ukraine's unwillingness to provide rebel-held areas with winter fuel "smells of genocide".
So is the rhetoric coming from the Kremlin just so much hot air, or does the proposed cut-off threaten fuel bills for British families and lives in Eastern Europe?
How much do the UK and Europe rely on Russia for energy?
Russia exports about 150 billion cubic metres per annum to European markets, the equivalent of roughly 30 per cent of the continent's gas needs.
Three pipelines – one through Ukraine, one through Belarus and Poland and a third called Nord Stream that goes straight under the Baltic Sea from northern Russia to northern Germany.
Russia's high dependency on Ukraine for transporting its gas led to plans for a South Stream via Bulgaria, but that was aborted in the face of EU objections. They now want to build a pipeline through Turkey instead – but that is some way off yet.
Britain produces about 60 per cent of its own gas in the North Sea, and sources the rest via pipelines from Belgium, the Netherlands and Norway.
Steve Thomas, Professor of Energy Policy at the University of Greenwich's Business School, has advised the Government on the diversification of UK energy sources.
He said that for gas supplies, Britain is "very lucky in terms of diversity – if not in price".
The above map from Energydesk shows where Gazprom gas goes.
What proportion of Russian gas goes through Ukraine?
Between 40 and 50 per cent of the Russian gas for Europe is transported through Ukraine.
But part of the reason the present standoff has arisen comes from the fact that there are actually a number of routes through Ukraine that the gas can take.
Because gas can be siphoned off the pipeline as it makes its way through the country, Russia is unable to stop Ukraine receiving gas without stopping the whole flow to Europe.
In response, Russia has reportedly started sending more gas across the border through rebel-held territories – effectively meaning they are directly supplying the separatists instead of the Kiev government.
Ukraine has accused Russia of using this as a way to support rebel fighters and then try and get the government to pay for it, while Russia says it is for the greater good that civilians in these areas be given gas and it needs to be paid for somehow.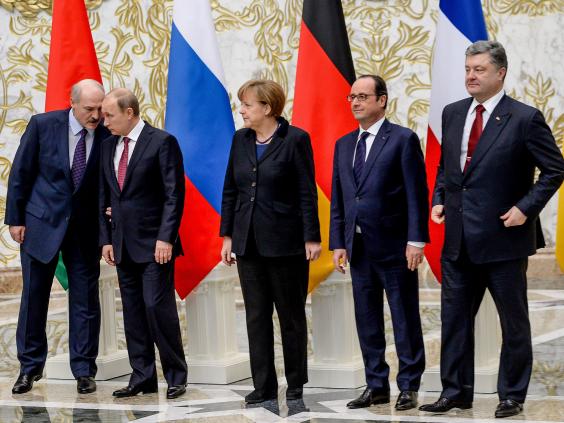 What would happen to Europe if Putin turns it off?
We had a taste of this in 2009 when there was the last cut-off, when one of the problems identified was that the interconnections between southern European countries was poor. So, for instance, Bulgaria suffered when Russia cut off the main pipeline because it had hardly any storage and little means of getting gas from the rest of Europe.
John Lough, an associate fellow with the Russia and Eurasia programme at Chatham House, says that five years later interconnectivity is much better in Europe and a mild winter means storage levels across the continent are generally OK.
In the event of a lengthy cut-off – more than a few days – he says the immediate problem would be for people in south-eastern Europe who still rely largely on direct Russian supply.
But it would soon start to effect prices across the rest of the continent, as new deals for alternative gas sources would have to be struck.
And to the UK?
One of Britain's weaknesses, according to Professor Thomas, is that we have far too little storage for gas – about 15 days' worth compared to the Netherlands having a year or more. "This dates back to when we were self-sufficient in gas and could simply turn up or down production when needed," he says. "So if there was a general shortage of gas across Europe, we would run short very soon."
Mr Lough agrees, but says it would require a cut-off lasting "a few weeks" for the effects to be felt strongly in the UK.
On the subject of a hike in bills for British families, he says: "I think we could be talking about that if wholesale prices have to rise. But it depends on the duration of the shortage and the amount of gas in storage."
Even though Britain doesn't buy any more than a tiny amount of gas direct from Gazprom, the supplies it takes from other European countries are, in part, topped up by Russia.
It means that Britain is far from detached from the European marketplace – and if Russia reduces supplies for more than a few days, that will likely have an impact across at some level across the whole continent.
Tensions between Russia and the Western world
Tensions between Russia and the Western world
1/7 Russia

Vladimir Putin leaves G20 early after criticism from world leaders over Ukraine. David Cameron warned Vladimir Putin, face to face, that Russia's whole post-Cold War relationship with the West is at a "fork in the road" over Ukraine

Getty

2/7 Russia

A mysterious Russian object is being tracked by space agencies, giving new life to fears about the increase of space weapons. The satellite, dubbed Object 2014-28E, has grabbed the interest of official and amateur satellite-watchers because it is taking a confusing path and its purpose has not been identified

Getty Images

3/7 Russia

Russian warplanes are risking the security of civilian passengers as they play a dangerous game designed to test Western air defences, according to Nato's secretary general

FRA

4/7 Russia

Russia has warned Ukraine that a resumption of hostilities against pro-Russian separatists in the east would be catastrophic for Ukraine

Reuters

5/7 Russia

A Swedish minesweeper searches for suspected "foreign underwater activity" near Stockholm. A Russian sub in Swedish waters has slipped away into the sea...leaving recriminations in its wake

Reuters

6/7 Russia

Russian government agencies have been accused of editing a Wikipedia article to suggest the Ukrainian military was responsible for shooting down the Malaysia Airlines flight MH17, a Twitter account monitoring state IP addresses has claimed

AFP

7/7 Russia

Australia's prime minister Tony Abbott has promised he will "shirtfront" Vladimir Putin over the downing of Malaysia Airlines flight MH17, which killed 38 Australian citizens

AP
What's the downside for Russia?
One thing we did learn from the cut-off in 2009 was that Russia stands to lose a great deal from its grandstanding approach. Gazprom lost huge amounts of money then, and the gas crisis had an enduring impact on its reputation as a supplier.
"[Cutting the supply] is not an easy thing for Russia to do," Mr Lough says. "There are a lot of negatives associated with it."
"My suspicion is that Russia needs to export gas much more than we need to import it," says Professor Thomas. "So it would be rather kamikaze to shut off supplies for anything more than a few days."
So how likely is it that the gas will go?
The general consensus appears to be that Putin is fighting a war of words, using the gas supply as another source of pressure that to try and weaken the Ukrainian government and discourage its move towards Europe.
Putin wants to make Europe more flexible in response to some of Russia's demands regarding the broader Ukrainian crisis – as well reminding the rest of the world that Russia can wield this power.
"Russia is playing a bigger game," says Mr Lough, "looking to rewrite the arrangements of 1991 and the end of the Cold War. They want to reflect what they see as Russia's increased standing in the world and to establish a certain level of influence for Russia that is internationally accepted."
What would Europe do next?
While there is no immediate response that Europe can take as a direct counter to Russia shutting off the gas supply, to France and Germany in particular it will be seen as a violation of the ceasefire agreement made in Minsk, when all parties agreed to work towards the stabilisation of Ukraine.
The US has already hinted at a wide range of new measures it could start implementing in the event that the 12 February accord fails – the most serious perhaps being the arming and training of Ukrainian government troops.
With such key Western powers seemingly in favour of further sanctions and measures, a further "sharpening of the economic instruments" would be highly likely in the event of even a medium-length cut-off, Mr Lough says.
"I don't care for terming it a 'new Cold War' – I think a 'cold peace' is probably more accurate," he says. "But I think you can certainly speak of a higher level on confrontation between Russia and Europe."