Maria Francesca died on Christmas Day after a life of only two months and 10 days. She was taken ill in her parents' makeshift shack in a Roma camp south of Paris and died in hospital a few hours later.
Although her brief life was obscure, she has become a celebrated, political symbol in death. The infant will be buried in a southern Paris suburbs on Monday after an unseemly row over her grave, which has posed awkward questions about the rightward drift of politics in France.
The centre-right mayor of the small suburban town where Maria Francesca lived allegedly refused permission last week for the little girl to be buried in his municipal cemetery. He was quoted as saying that places were limited – and reserved for local tax-payers.
His attitude produced an explosion of anger among human-rights groups and left-wing – and some centre-right – politicians in France. They suggested that the mayor's decision was, consciously or unconsciously, shaped by the "racism" and "prejudice" that has seeped into mainstream French politics from the far right in recent years.
The Socialist Prime Minister, Manuel Valls, in a tweet last night said: "To refuse a grave to a child because of her origins is an insult to her memory and an insult to what France stands for."
Christian Leclerc, the mayor of Champlan, elected last year as a centre-right independent, insisted on Sunday that he was the victim of a misunderstanding and a political manipulation. Mr Leclerc said that he had never refused permission for Maria Francesca to be buried in the Champlan cemetery. His attitude had been "misunderstood", he said, both by municipal officials and by a local newspaper reporter. The baby girl, who died from sudden infant death syndrome after being taken ill in an encampment without water or electricity close to an industrial estate on the edge of the town, will be buried today in a municipal cemetery of the neighbouring town of Wissous. The town's mayor, Richard Trinquier, also centre-right, said that he had offered the grave for "humanitarian reasons".
"For a mother to lose her baby at two-and-a-half months is tragic enough," he said. "There is no reason to add to her pain and to her grief."
Maria Francesca is likely to remain a cause célèbre all the same. Anti-racist groups plan to take legal action against Mr Leclerc. France's official "defender of human rights", Jacques Toubon, a former centre-right politician, said that he was "devastated and stupefied" by the incident and will launch an investigation.
The episode draws attention to what some French commentators call the "Le-Penisation" of attitudes on the right and centre-right of mainstream French politics. The mayor of Champlan is an independent but ran last year in alliance with Nicolas Sarkozy's centre-right Union pour un Mouvement Populaire (UMP). He won over 70 per cent of the vote – four times as much as Marine Le Pen's anti-immigrant Front National (FN).
Champlan is a prosperous, mostly white town 11 miles south of the Paris city boundary. Mr Leclerc is an environmental activist, with no record of extreme views on race or immigration.
Loïc Gandais, president of a support organisation for Roma in the Champlan area, said the mayor's decision could only be explained by "racism, xenophobia and stigmatisation". Such attitudes, he said, had spread from the far right to become an "almost unconscious, default position" in much of the centre right.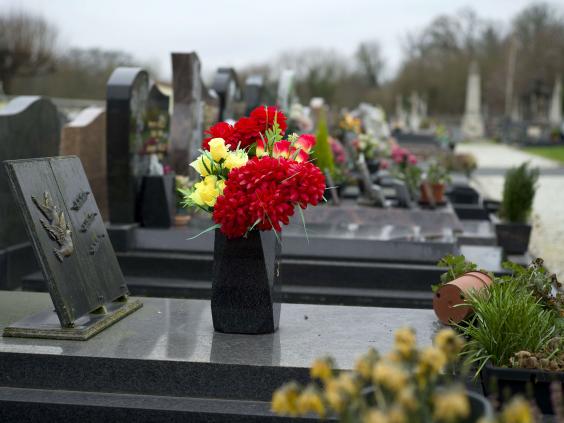 The row over Maria Francesca's grave has coincided with another episode that points to the erosion of the barriers that once existed in France between the "mainstream" centre-right (including the heirs of Charles de Gaulle) and the far right FN (composed partly of the heirs of the collaborationist Vichy regime of 1940-44). Senior officials in the junior movements of both the FN and Mr Sarkozy's UMP held a joint celebration on New Year's Eve and posted selfies on the internet.
The UMP demanded an explanation from party members. Former President Sarkozy took over the leadership of the party again in November. He plans to move the UMP to the right on issues such as immigration – but to refuse all dealings with the Front National.
Maria Francesca's parents, in their mid 30s, are believed to have emigrated to France from Romania two years ago. They are part of an estimated 20,000-strong Roma community – some legal, others not.
Initially, the mayor, Mr Leclerc was quoted by the respected tabloid newspaper Le Parisien as saying that he had refused Maria Francesca a grave because "we have only a few places left. Priority is given to those who pay their taxes locally."
Yesterday, as the row soared to national dimensions, Mr Leclerc said: "At no point did I refuse this burial. "This has been distorted out of all recognition. There was a misunderstanding in the chain of decision [by municipal employees] about what could and could not happen. Someone got mixed up."
The mayor said his original, published comments had been "taken out of context" and that he had been "speaking on a poor line". He sent his condolences to the girl's parents.
Reuse content