So it turns out that some beanie babies can make you rich.
Young couple Leah Rogers and Ryan Flanaghan bought a purple beanie bear beanie at a car boot sale in Bude, Cornwall for £10 — it could now be worth more than £62,000.
The toy, which they picked up on the most recent Bank Holiday Monday, is one of just 100 'first edition' bears made to honour Princess Diana after her death in 1997.
For comparison, a second-edition bear is sold for around £25.
1990s nostalgia: The top 10
1990s nostalgia: The top 10
1/9 Number 10: Not being able to change plans using mobiles

Don't you miss the time when plans never changed at the last minute because they were made on a landline? 22 per cent of people agree with you.

Getty

2/9 Number 9: Renting videos from the local shop

A quarter of people surveyed said they missed renting videos from the local shop. So much more of an event than going on Netflix.

Alamy

3/9 Number 8: 90s toys

Troll dolls, Beanie Babies and friendship bracelets were among the toys that 27 per cent of people want back.

4/9 Number 7: Saturday night television

Gladiator's, Noel's Houseparty and Blind Date were among the classics of Saturday night television. 28 per cent of people said they missed watching it with their families.

Getty

5/9 Number 6: Waiting for photos to be developed

We're taking more photos than ever but the hundreds of pictures are rarely printed. Almost 30 per cent of people missed waiting for their holiday snaps and making an album.

GETTY IMAGES

6/9 Number 5: Hand-written thank you notes

Almost a third of people miss sending and receiving hand-written thank you notes.

7/9 Number 4: Buying singles on cassette or vinyl

Records might be fashionable again but the humble cassette never made a comeback. 32 per cent of people missed buying singles on cassettes or vinyl.

Rex Pictures

8/9 Number 3: Top of the Pops

Cancelled in 2006, TOTP was an institution for more than 40 years. 34 per cent of people would still rather watch it than trawl YouTube for music videos.

PA

9/9 Number 2: Having pen pals

Pen pals from school could last for years, especially with the time it took to actually write and post letters. 35 of people think email just isn't the same.

Getty
According to a Daily Mail report, 22-year old builder Flanaghan was once a beanie baby enthusiast, and recognised the bear as potentially the most valuable one out there.
The couple confirmed that it was in fact the extremely rare bear — handmade in Indonesia in 2007 with special pellets and a tag that refers to the Princess of Wales Memorial Fund.
There was a poem as well, about Princess Diana: "Like an angel she came from heaven above; she shared her compassion, her pain, her love; she only stayed with us long enough to teach the world to share, to give, to reach."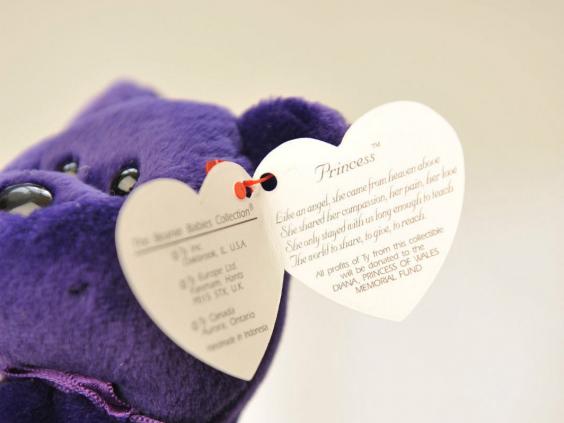 Another first edition Princess Diana bear is reportedly listed on eBay for £62,500.
Other similar beanie babies are available for far less, however, with some on offer for between £1,000 and £14,000.
The couple have now put their own purple collectible up for online auction, starting the bidding at £25,000. They hope to spend the proceeds on a deposit for a house.
Rogers, 20, told the Mail: "We couldn't believe it. We picked it up for £10 and it could be worth tens of thousands.
"It's so hard for young people to get on the property ladder so we think this could really be a blessing."
Reuse content