As winter sets in, Norway's Arctic frontier with Russia is becoming one of the fastest-growing routes for asylum seekers to enter Western Europe, despite being inhospitable, cold and -- soon -- permanently dark.
The imminent arrival of the polar night -- when the sun does not rise from roughly late November to late January -- has not dissuaded an increasing number of Syrians, Afghans and others from taking this remote and icy route in search of security.
Over 4,000 people have crossed the border since August, up from just 10 in 2014, according to Norwegian authorities, which have been taken surprise by the speed of the change and now fear that winter will make the passage a deadly one.
"This road is safer. You don't have to cross the sea," said Akram Ali, 23, a technical engineering student who three days ago was in his hometown of Tartus, Syria, and was now trying to warm up at an arrival centre opened on Wednesday.
The number of people taking the Arctic route is tiny compared to the three-quarters of a million who have arrived on Europe's southern shores after crossing the Mediterranean this year, a perilous journey that has cost at least 3,400 lives.
"It is so cold here," Ali told Reuters, his head buried in a woolly grey scarf wrapped around a thin brown jacket. Temperatures at the border dipped to minus 10 degrees Celsius on Wednesday, with a biting wind blowing.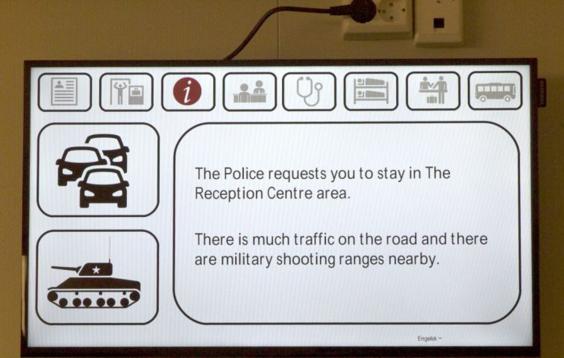 Ali left Syria to avoid the army draft and paid $2,500 all-inclusive for the trip to the border, which included flying to the Russian Arctic port of Murmansk via Moscow and Beirut. Like others reaching Norway, he cycled the final stretch, as Russian authorities do not allow travellers to proceed on foot.
The centre where Ali will spend his first 48 hours in Norway will provide shelter for around 600 people in prefabricated barracks on the site of a former military camp bordering the airport of Kirkenes, some 15 km (9 miles) from the border.
New arrivals are given fleece jumpers, waterproof jackets and other clothes appropriate for the Arctic climate, with most sleeping in bunk beds.
Until now asylum seekers have been housed in Kirkenes' sports hall but the rising number of arrivals made it impossible to continue. The new reception centre took four weeks to open.
European countries are deeply split over how to respond to the sudden and massive influx of people.
Norway's minority government, a coalition of the centre-right Conservatives and the anti-immigration Progress Party, said on Tuesday that it would seek to pass emergency legislation next week to limit the numbers arriving. The proposed law would enable authorities to turn away within 48 hours any asylum seekers who have had residency visas in Russia.
It is advertising the new restrictions on social media, in the hope it will act as a deterrent. But that may prove futile.
"In Norway, the government gives you a chance. Maybe here I can have a future," said Bikram Shrestha, a 32-year-old Nepalese car mechanic who lived for five months in Moscow. "In Russia they don't speak English and it is hard to get a job."
He cycled some 30 km to the border on a children's bike he bought for $400. Like his neighbour in the centre's waiting room, he had to contend with slippery roads.
"I fell on the ice maybe 10-12 times," said 32-year-old Waqas Waheed from Pakistan, a textile factory worker who lived for eight months in Moscow and paid $200 for a child's bike.
With polar nights just days away, authorities here are concerned the Arctic route is becoming more dangerous.
"People could die: it is very cold ... There is a danger it can happen," said Rune Rafaelsen, the mayor of the local municipality of Soer-Varanger.
Refugee crisis - in pictures
Refugee crisis - in pictures
1/27

A child looks through the fence at the Moria detention camp for migrants and refugees at the island of Lesbos on May 24, 2016.

AFP/Getty Images

2/27

Ahmad Zarour, 32, from Syria, reacts after his rescue by MOAS (Migrant Offshore Aid Station) while attempting to reach the Greek island of Agathonisi, Dodecanese, southeastern Agean Sea

3/27

Syrian migrants holding life vests gather onto a pebble beach in the Yesil liman district of Canakkale, northwestern Turkey, after being stopped by Turkish police in their attempt to reach the Greek island of Lesbos on 29 January 2016.

Getty Images

4/27

Refugees flash the 'V for victory' sign during a demonstration as they block the Greek-Macedonian border

5/27

Migrants have been braving sub zero temperatures as they cross the border from Macedonia into Serbia.

6/27

A sinking boat is seen behind a Turkish gendarme off the coast of Canakkale's Bademli district on January 30, 2016. At least 33 migrants drowned on January 30 when their boat sank in the Aegean Sea while trying to cross from Turkey to Greece.

Getty Images

7/27

A general view of a shelter for migrants inside a hangar of the former Tempelhof airport in Berlin, Germany

8/27

Refugees protest behind a fence against restrictions limiting passage at the Greek-Macedonian border, near Gevgelija. Since last week, Macedonia has restricted passage to northern Europe to only Syrians, Iraqis and Afghans who are considered war refugees. All other nationalities are deemed economic migrants and told to turn back. Macedonia has finished building a fence on its frontier with Greece becoming the latest country in Europe to build a border barrier aimed at checking the flow of refugees

9/27

A father and his child wait after being caught by Turkish gendarme on 27 January 2016 at Canakkale's Kucukkuyu district

10/27

Migrants make hand signals as they arrive into the southern Spanish port of Malaga on 27 January, 2016 after an inflatable boat carrying 55 Africans, seven of them women and six chidren, was rescued by the Spanish coast guard off the Spanish coast.

11/27

A refugee holds two children as dozens arrive on an overcrowded boat on the Greek island of Lesbos

12/27

A child, covered by emergency blankets, reacts as she arrives, with other refugees and migrants, on the Greek island of Lesbos, At least five migrants including three children, died after four boats sank between Turkey and Greece, as rescue workers searched the sea for dozens more, the Greek coastguard said

13/27

Migrants wait under outside the Moria registration camp on the Lesbos. Over 400,000 people have landed on Greek islands from neighbouring Turkey since the beginning of the year

14/27

The bodies of Christian refugees are buried separately from Muslim refugees at the Agios Panteleimonas cemetery in Mytilene, Lesbos

15/27

Macedonian police officers control a crowd of refugees as they prepare to enter a camp after crossing the Greek border into Macedonia near Gevgelija

Getty Images

16/27

A refugee tries to force the entry to a camp as Macedonian police officers control a crowd after crossing the Greek border into Macedonia near Gevgelija

Getty Images

17/27

Refugees are seen aboard a Turkish fishing boat as they arrive on the Greek island of Lesbos after crossing a part of the Aegean Sea from the Turkish coast to Lesbos

Reuters

18/27

An elderly woman sings a lullaby to baby on a beach after arriving with other refugees on the Greek island of Lesbos after crossing the Aegean sea from Turkey

Getty Images

19/27

A man collapses as refugees make land from an overloaded rubber dinghy after crossing the Aegean see from Turkey, at the island of Lesbos

EPA

20/27

A girl reacts as refugees arrive by boat on the Greek island of Lesbos after crossing the Aegean sea from Turkey

Getty Images

21/27

Refugees make a show of hands as they queue after crossing the Greek border into Macedonia near Gevgelija

Getty Images

22/27

People help a wheelchair user board a train with others, heading towards Serbia, at the transit camp for refugees near the southern Macedonian town of Gevgelija

AP

23/27

Refugees board a train, after crossing the Greek-Macedonian border, near Gevgelija. Macedonia is a key transit country in the Balkans migration route into the EU, with thousands of asylum seekers - many of them from Syria, Afghanistan, Iraq and Somalia - entering the country every day

Getty Images

24/27

An aerial picture shows the "New Jungle" refugee camp where some 3,500 people live while they attempt to enter Britain, near the port of Calais, northern France

Getty Images

25/27

A Syrian girl reacts as she helped by a volunteer upon her arrival from Turkey on the Greek island of Lesbos, after having crossed the Aegean Sea

EPA

26/27

Refugees arrive by boat on the Greek island of Lesbos after crossing the Aegean sea from Turkey

Getty Images

27/27

Beds ready for use for migrants and refugees are prepared at a processing center on January 27, 2016 in Passau, Germany. The flow of migrants arriving in Passau has dropped to between 500 and 1,000 per day, down significantly from last November, when in the same region up to 6,000 migrants were arriving daily.
Last week, he visited the mayor of Nikel, the nearest Russian town on the other side of the border, to discuss how to deal with the asylum crisis.
"What I saw along the road was very worrying. Soon it can be minus 20-30 degrees. I don't want to see people out walking or on bikes, with children, at these temperatures," Rafaelsen told Reuters.
"(In Russia) I saw people crying, young children, babies, it was a sight I did not like.
"I have crossed the border several hundred times and for me this was very emotional. I never thought this should happen at this border so far in the high north. This was a sad moment for me."
Reuters
Reuse content