Hundreds of people in Sweden and Denmark have stepped forward to help those arriving there, offering beds, food, lifts, train tickets, and in one case smuggling a refugee across the international frontier in a sailing boat.
Annika Holm Nielsen, a 24-year-old Danish youth politician, sailed her yacht across the five-mile strait from Copenhagen to the Swedish city of Malmo, with a refugee on board, in a trip some have compared to the rescue of Copenhagen's Jews during the Nazi occupation.
She met the man, whom she called Abdul, shortly after he arrived at Copenhagen's Central Station from Germany, and took him to the marina where a friend moored their boat. "I was standing next to a person who was completely exhausted and in such great need," she told The Independent. "We took this decision because we thought it was the safest thing to do, it wasn't something symbolic." She added: "He told us he had been on far worse boat trips."
In graphics: Refugees in the EU
More than 1,150 refugees have arrived in Denmark by ferry since Sunday, with several hundred walking up the motorway towards Copenhagen over the past two days, shouting "Malmo, Malmo, Malmo" – their hoped-for destination . But at least 300 have vanished, leading Danish and Swedish police to suspect that they and many more have been smuggled into Sweden.
"I know people who are smuggling refugees, using all means of transportation available: boats, by car, by train when it's possible," Ms Holm Nielsen said. "There's always a dilemma when you break the law: it's not something I do every day." Swedish police said that they had detained 14 people for attempting to smuggle refugees over the Oresund Bridge between the two countries.
The Facebook Group "We who are at Malmo Central", set up to coordinate volunteers meeting refugees in Sweden, had grown from nine people to more than 1,500 in less than 24 hours – with 50 of them accommodating refugees in their homes on Monday, and many more expected to do so last night.
"Everybody's doing something to help," Aslihan Ekinci Kaba, as she stood by boxes of fruit, water, and nappies in the centre of the station. "I was surprised, but I think that after this picture of the little boy, people want to help."
"When you come to Vienna or Malmo and see this, it's very amazing," said Abbas Karigol, 39, a sports journalist and refugee from Baghdad, as the group around him tucked into fresh pizzas. "I hope to become a volunteer, because I feel what I suffer. I see the danger and the tiredness. And when someone gives you water, I say, 'thank you very much. It is not only water that you give'."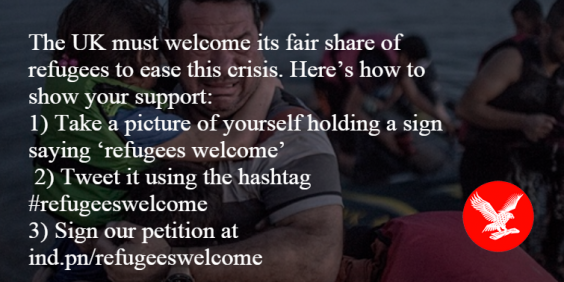 Click here to sign The Independent's Change.org petition
Reuse content