In recent months, Denmark has taken a fairly harsh stance toward refugees. In September, for example, authorities published an ad in Lebanese newspapers carrying an unmistakable message to foreigners who might think about seeking asylum: Don't come to Denmark.
Now, the country is debating another and even more extreme step: The government is considering a law that would allow authorities to confiscate jewellery from refugees entering the country. The proposal is almost certain to pass parliament.
"It is pretty telling about the current Danish policies that [some] are not quite sure whether this is a hoax or not," said Zachary Whyte, an asylum and integration researcher at the University of Copenhagen. In this case, it's real.
"The bill presented on 10 December 2015 provides the Danish authorities with the power to search clothes and luggage of asylum seekers — and other migrants without a permit to stay in Denmark — with a view to finding assets which may cover the expenses," the Danish ministry of integration said in an email to The Washington Post.
The law would also impact refugees already in the country. It is included in an asylum policy bill which is expected to pass Parliament in January and would be set to take effect by next February. Police authorities would be allowed to seize valuables and cash amounts they deem expensive enough. According to the integration ministry, "the new rule on seizure will only apply to assets of a considerable value." Foreigners are expected to be able to "keep assets which are necessary to maintain a modest standard of living, e.g. watches and mobile phones. Furthermore, assets which have a certain personal, sentimental value to a foreigner will not, as a main rule, be seized unless they have [considerable] value."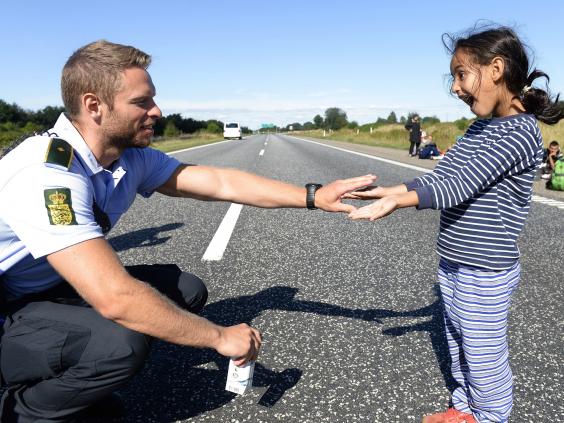 There were discrepancies in how the two main political parties are interpreting the proposed law. "Absurdly, the minister of justice initially explained the law on television by saying that it would apply to a hypothetical asylum seeker arriving with a suitcase full of diamonds. This prompted the Danish People's Party to point out that items of smaller value should also be impounded," Whyte said.
He thinks there is no need for the law. "Asylum seekers generally do not arrive in Denmark with large amounts of cash and jewellery," he said.
Refugee crisis - in pictures
Refugee crisis - in pictures
1/27

A child looks through the fence at the Moria detention camp for migrants and refugees at the island of Lesbos on May 24, 2016.

AFP/Getty Images

2/27

Ahmad Zarour, 32, from Syria, reacts after his rescue by MOAS (Migrant Offshore Aid Station) while attempting to reach the Greek island of Agathonisi, Dodecanese, southeastern Agean Sea

3/27

Syrian migrants holding life vests gather onto a pebble beach in the Yesil liman district of Canakkale, northwestern Turkey, after being stopped by Turkish police in their attempt to reach the Greek island of Lesbos on 29 January 2016.

Getty Images

4/27

Refugees flash the 'V for victory' sign during a demonstration as they block the Greek-Macedonian border

5/27

Migrants have been braving sub zero temperatures as they cross the border from Macedonia into Serbia.

6/27

A sinking boat is seen behind a Turkish gendarme off the coast of Canakkale's Bademli district on January 30, 2016. At least 33 migrants drowned on January 30 when their boat sank in the Aegean Sea while trying to cross from Turkey to Greece.

Getty Images

7/27

A general view of a shelter for migrants inside a hangar of the former Tempelhof airport in Berlin, Germany

8/27

Refugees protest behind a fence against restrictions limiting passage at the Greek-Macedonian border, near Gevgelija. Since last week, Macedonia has restricted passage to northern Europe to only Syrians, Iraqis and Afghans who are considered war refugees. All other nationalities are deemed economic migrants and told to turn back. Macedonia has finished building a fence on its frontier with Greece becoming the latest country in Europe to build a border barrier aimed at checking the flow of refugees

9/27

A father and his child wait after being caught by Turkish gendarme on 27 January 2016 at Canakkale's Kucukkuyu district

10/27

Migrants make hand signals as they arrive into the southern Spanish port of Malaga on 27 January, 2016 after an inflatable boat carrying 55 Africans, seven of them women and six chidren, was rescued by the Spanish coast guard off the Spanish coast.

11/27

A refugee holds two children as dozens arrive on an overcrowded boat on the Greek island of Lesbos

12/27

A child, covered by emergency blankets, reacts as she arrives, with other refugees and migrants, on the Greek island of Lesbos, At least five migrants including three children, died after four boats sank between Turkey and Greece, as rescue workers searched the sea for dozens more, the Greek coastguard said

13/27

Migrants wait under outside the Moria registration camp on the Lesbos. Over 400,000 people have landed on Greek islands from neighbouring Turkey since the beginning of the year

14/27

The bodies of Christian refugees are buried separately from Muslim refugees at the Agios Panteleimonas cemetery in Mytilene, Lesbos

15/27

Macedonian police officers control a crowd of refugees as they prepare to enter a camp after crossing the Greek border into Macedonia near Gevgelija

Getty Images

16/27

A refugee tries to force the entry to a camp as Macedonian police officers control a crowd after crossing the Greek border into Macedonia near Gevgelija

Getty Images

17/27

Refugees are seen aboard a Turkish fishing boat as they arrive on the Greek island of Lesbos after crossing a part of the Aegean Sea from the Turkish coast to Lesbos

Reuters

18/27

An elderly woman sings a lullaby to baby on a beach after arriving with other refugees on the Greek island of Lesbos after crossing the Aegean sea from Turkey

Getty Images

19/27

A man collapses as refugees make land from an overloaded rubber dinghy after crossing the Aegean see from Turkey, at the island of Lesbos

EPA

20/27

A girl reacts as refugees arrive by boat on the Greek island of Lesbos after crossing the Aegean sea from Turkey

Getty Images

21/27

Refugees make a show of hands as they queue after crossing the Greek border into Macedonia near Gevgelija

Getty Images

22/27

People help a wheelchair user board a train with others, heading towards Serbia, at the transit camp for refugees near the southern Macedonian town of Gevgelija

AP

23/27

Refugees board a train, after crossing the Greek-Macedonian border, near Gevgelija. Macedonia is a key transit country in the Balkans migration route into the EU, with thousands of asylum seekers - many of them from Syria, Afghanistan, Iraq and Somalia - entering the country every day

Getty Images

24/27

An aerial picture shows the "New Jungle" refugee camp where some 3,500 people live while they attempt to enter Britain, near the port of Calais, northern France

Getty Images

25/27

A Syrian girl reacts as she helped by a volunteer upon her arrival from Turkey on the Greek island of Lesbos, after having crossed the Aegean Sea

EPA

26/27

Refugees arrive by boat on the Greek island of Lesbos after crossing the Aegean sea from Turkey

Getty Images

27/27

Beds ready for use for migrants and refugees are prepared at a processing center on January 27, 2016 in Passau, Germany. The flow of migrants arriving in Passau has dropped to between 500 and 1,000 per day, down significantly from last November, when in the same region up to 6,000 migrants were arriving daily.
The proposal "has been branded petty and cruel, and some opponents have asked whether the government would also be taking out asylum seekers' gold fillings," Whyte said. The idea of seizing jewellery from people who are fleeing has a particularly bitter connotation in Europe, where the Nazis confiscated large amounts of gold and other valuables from Jews and others.
The Danish integration ministry emphasized, however, that current rules already required refugees with sufficient financial means to pay for their stay themselves. Although the seized valuables are supposed to pay for refugee-related expenditures, the financial impact could be of less consequence. Experts say the Danish government is more interested in sending a message.
"Europe currently receives a very high number of refugees," Denmark's integration ministry defended the law. "Denmark does take a share. However, [too many refugees] put pressure on the Danish society and make it more difficult to ensure a successful integration of those who come to Denmark."
"Refugees who have been granted a residence permit can make full use of the free Danish school, education (including tertiary education) and health system on the same level as everyone else in Denmark," the ministry said. Denmark also provides integration procedures that run up to three years and include language as well as job training, for instance. "The aim of the Danish integration effort is to support refugees in order for them to become participating and financially independent citizens," the statement emphasized.
However, critics say that Denmark has tried hard to portray itself as a destination few refugees would want to go to. Recently, the Danish government cut social benefits for refugees by up to 50 percent. Even after neighboring Sweden recently increased restrictions because it had been overwhelmed by the refugee influx, Denmark was quick to emphasize that its policies still remained far more restrictive, researcher Whyte said. "This is in line with a general Danish asylum policy of trying to maintain and communicate a less welcoming position to refugees than its neighboring countries," Whyte explained.
© Washington Post
Reuse content