The razor fences, closed borders and detention of refugees have been met with a chorus of mutual recrimination among Europe's leaders. Today, the continent is more divided than ever by the crisis, unable to agree on quotas, and unwilling to allow free movement between its member states.
A day after refugee relocation plans were stalled by EU interior ministers, and with many countries following Germany in closing their borders, the EU's top diplomat warned that Europe's credibility was on the line. Its foreign policy chief, Federica Mogherini, said the recent clumsy handling of the surge in refugees would hurt the EU's foreign policy effectiveness.
"Our lack of internal unity has an impact on our external actions and credibility," she said. Even a call from the German Chancellor, Angela Merkel, for a crisis meeting on the situation remains under review until Thursday.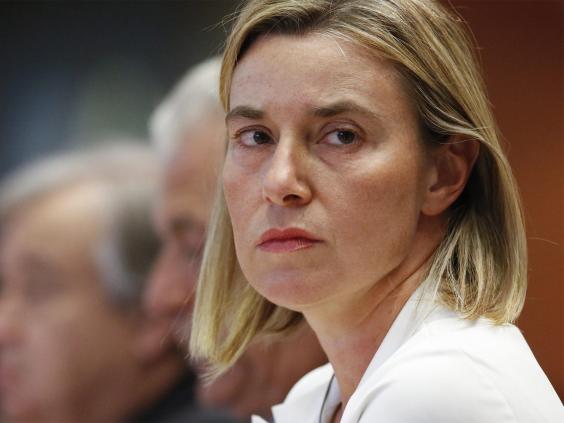 Speaking at a European Parliament debate, Ms Mogherini said governments were adopting local, short-term measures that ignored the bigger picture. "There is no illusion that this can be stopped with a fence or with a wall," she said, referring to Hungary's border fence with Serbia.
The EU's response was also criticised by Antonio Guterres, head of UNHCR, the United Nations refugee agency, who told the meeting that EU support for Syrian refugees was important in the fight against extremism. "In this battle of values, a Europe welcoming Syrians is something that helps to defeat the Islamic State [Isis]," he said.
Mr Guterres said Hungary's new border fence would make Serbia the centre of the refugee crisis. "There is a need for an emergency plan to support Serbia," he said, adding that it was "legally, morally and physically unacceptable" to turn back refugees from the EU into the Balkans.
Ms Merkel appeared gloomy about the prospects for a solution. Austria has joined Hungary in introducing border controls, two days after Germany did the same. The Hungarian government is now also considering extending its fence along the Romanian border. The response from Bucharest was swift. The fence was "not in line with the European spirit", said the Romanian foreign ministry. Serbian officials, meanwhile, reacted with equal dismay. Aleksandar Vulin, Serbia's minister in charge of tackling the crisis, told Reuters: "They will have to open the border."
Amnesty International said Hungary, under the leadership of its Prime Minister, Viktor Orban, was "showing the ugly face of Europe's shambolic response to the growing refugee crisis". Gauri van Gulik, Amnesty's deputy director for Europe, said the fence was an insult to people already traumatised by war and brutality. "While the EU seems paralysed, unable to find solutions, Hungary marches onwards in the wrong direction," she said.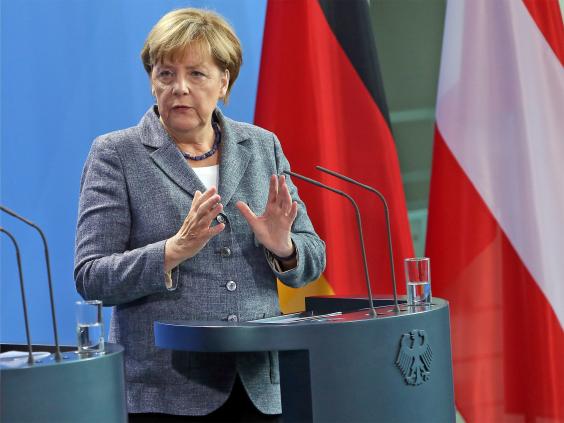 In Berlin, Ms Merkel and her Austrian counterpart Werner Faymann expressed their despair at the EU's failure to reach an agreement on quotas. "We cannot wait until mid-October," Ms Merkel said, referring to the planned date for a summit on refugees. "Germany, Austria and Sweden cannot solve the problem on their own." The two leaders said they had asked the EU Council President Donald Tusk to arrange an emergency EU refugee summit for next week. Mr Tusk, however, will announce the date of the meeting tomorrow.
That may prove too late. In the stretch of water between Turkey and Greece, another 22 people are said to have drowned when their boat sank. Ms Merkel said it was urgent that Italy and Greece set up processing "hotspots" that are intended to separate economic migrants from refugees. "Otherwise there can't be a fair distribution of migrants," she said. There are plans to redistribute 40,000 refugees from Italy and Greece to other EU countries.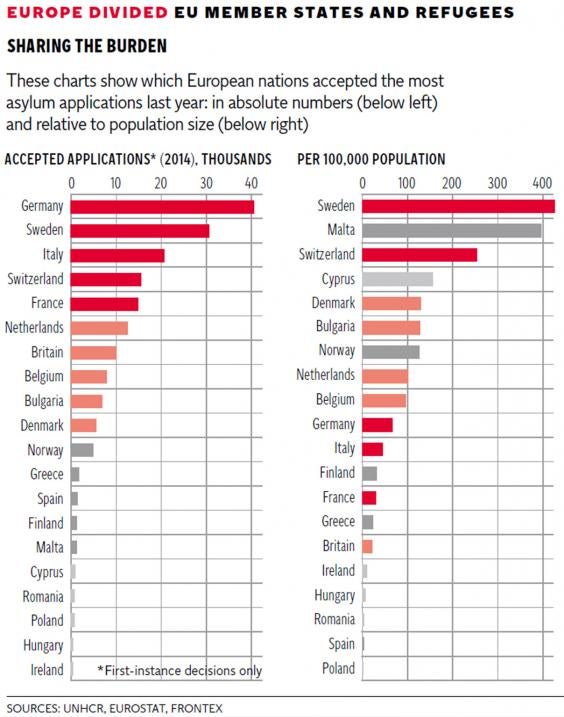 Ms Merkel's government has already upped its forecast for the number of refugees Germany will receive this year from 800,000 to one million – the largest number of any EU state. The EU's border agency says more than 500,000 migrants have arrived at the EU's borders this year, compared with 280,000 in 2014. The vast majority have come across the Mediterranean.
Monday night's failure of EU interior ministers to agree on anything more than a vague commitment to resolving the crisis has provoked fury in Berlin with Eastern European EU members singled out for their reluctance to share the burden. Sigmar Gabriel, Germany's Vice Chancellor and the leader of Ms Merkel's Social Democrat coalition partners, warned: "Europe has disgraced itself once again. The whole of Europe is at risk, Germany cannot be expected to solve the refugee problems of half the world." In a direct attack on Hungary, the Czech Republic, Slovakia, Poland, Romania and other Eastern Europeans who have rejected quotas, Mr Gabriel added: "Everyone joins in when it comes to handing out money but nobody participates when there is a responsibility to bear." The Czech Republic blamed Germany's "inconsistent policies" for the crisis.
Mr Gabriel's remarks were echoed by several MPs. Thomas de Maizière, Ms Merkel's Interior Minister, said it was time to consider imposing financial sanctions on EU states which refused to share the refugee burden. "Those countries that are refusing – the refugees simply pass them by," he said. "We need to talk about ways of exerting pressure. These are often countries that receive a lot of structural funds from the EU."
In graphics: Refugees in the EU
There was a similar mood of despair among the heads of Germany's 16 federal states who have complained that their ability to continue housing the refugee influx has reached breaking point. Ms Merkel is due to meet state leaders tonight in an effort to hammer out a funding and resources plan. "We would be well-advised not to place too many hopes on Europe," said Stephan Weil, the prime minister of the German state of Lower Saxony. "The government has to come up with a plan B."
Gabi Weller – a student and one of the hundreds of German voluntary workers who have hastened to the aid of refugees since the crisis began – told The Independent in Berlin: "It looks like the euphoria is over. Germany has been left on its own." The anti-immigrant Pegida (Patriotic Europeans Against Islamisation of the West) movement which attracted thousands to its rallies earlier this year is reported to be experiencing a rebirth as a result of the refugee crisis.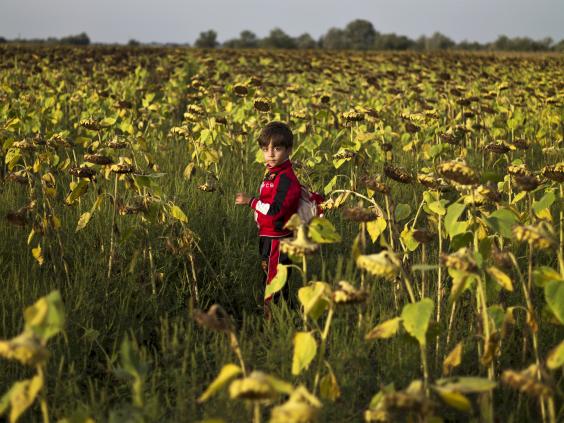 EU leaders were also criticised for claiming that the crisis was unpredictable. "Why did they think these well-educated Syrians would stay in camps in Turkey?" said Giles Merritt, who heads the influential Brussels think-tank, Friends of Europe. "The images of Europe, of our comfortable lives, combined with easier transport, make us an obvious target. But we need to recognise that this is not a temporary crisis. We have been waltzing around an immigration policy for 25 years now."
The British Labour MEP Claude Moraes, who chairs the European Parliament's Civil Liberties Committee, agreed that the EU's credibility was at stake. "It is shameful that some of the richest countries in the world cannot stand together and help those fleeing war and persecution in Syria," he said.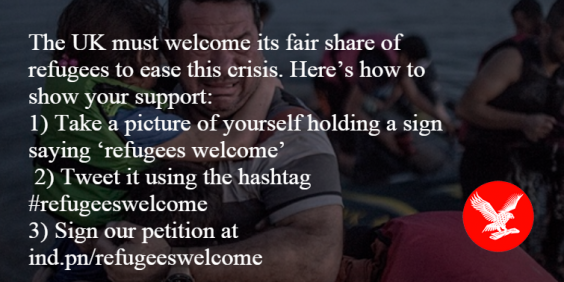 Click here to sign The Independent's Change.org petition
Reuse content