Despite the British Government's efforts to distinguish between "genuine" refugees and economic migrants, a report has found that the motivations for both groups to risk their lives in desperate attempts to reach Europe are often very similar.
The Overseas Development Institute (ODI) , a UK-based independent think tank urged European leaders to develop a broader understanding of what causes people to migrate in order to respond to the current crisis.
Its Why People Move report said: "The evidence reveals that the asylum-seekers and economic migrants often have similar reasons for choosing to make the dangerous journey to Europe and one person may fall into both of these categories at the same time.
"One common and crucial motivation is their search for a secure livelihood. Measures that aim to allow asylum seekers in, while restricting the entry of economic migrants, overlook the reasons why a particular person migrates, and are likely to increase irregular migration still further as migrants seek alternative – and often more dangerous – ways to reach European countries."
That analysis is not shared by the UK Government, which has pledged to resettle 20,000 Syrian refugees from United Nations camps bordering the country, rather than those who have already journeyed into Europe.
Of the more than 950,000 asylum seekers and migrants who have arrived on the continent so far this year, just under a half are Syrian according to figures from the UN's refugee agency (UNHCR).
Hundreds of thousands of people fleeing conflict and persecution in countries including Afghanistan, Iraq and Eritrea are excluded from the UK's policy, as is anyone deemed an "economic migrant".
David Cameron emphasised the distinction when he increased the UK's quota in response to public pressure in September.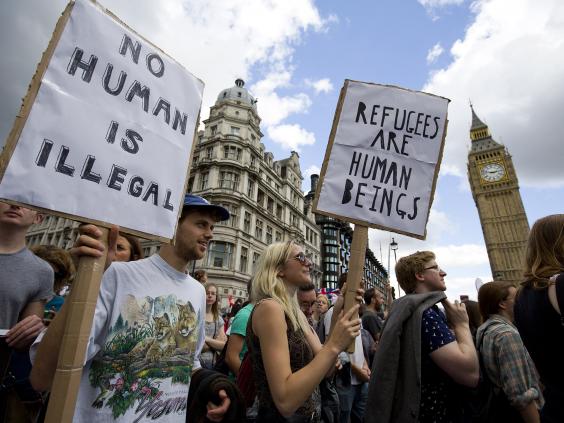 "For those economic migrants seeking a better life, we will continue to work to break the link between getting on a boat and getting settlement in Europe, discouraging those who don't have a genuine claim from embarking on these perilous and sometimes lethal journeys," the Prime Minister said.
"For those genuine refugees fleeing civil war, we will act with compassion and continue to provide sanctuary."
The ODI's report said that although safety and a better life are often cited as separate motives for migrants, that they usually cross over.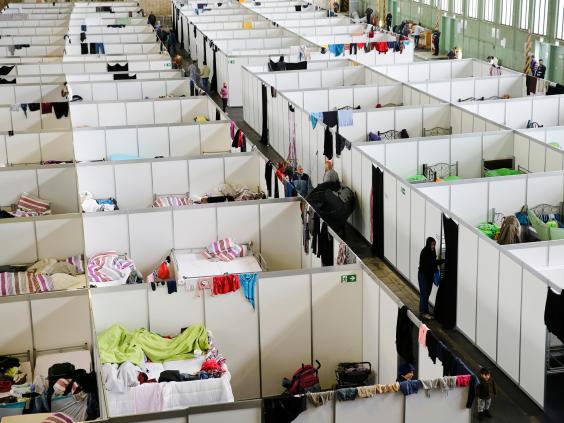 "One person's motives may change in nature and in importance during their journey, suggesting that categorising individuals as 'economic migrants' or 'asylum-seekers' does not reflect the complex and fluid reality of people's experience of migration," it concluded.
Numerous right-wing politicians have claimed that many of those arriving in Europe are attracted by countries' welfare policies and economies but the ODI argued that neither had a significant impact  on people's decision to leave their home countries.
"A person's need to leave their home – or flee from it in the face of extreme danger – is likely to be far more important to their decision to migrate than the lure of another country's welfare," it said.
However, the policies and rules of different destination countries, such as Germany's unlimited invitation to Syrian refugees earlier this year, was found to influence subsequent decisions.
The ODI's report said another factor contributing to the phenomenal rise in irregular migration is the growing "professionalisation" of people smugglers driving migrants through the Middle East, Africa and Europe.
Refugee crisis - in pictures
Refugee crisis - in pictures
1/27

A child looks through the fence at the Moria detention camp for migrants and refugees at the island of Lesbos on May 24, 2016.

AFP/Getty Images

2/27

Ahmad Zarour, 32, from Syria, reacts after his rescue by MOAS (Migrant Offshore Aid Station) while attempting to reach the Greek island of Agathonisi, Dodecanese, southeastern Agean Sea

3/27

Syrian migrants holding life vests gather onto a pebble beach in the Yesil liman district of Canakkale, northwestern Turkey, after being stopped by Turkish police in their attempt to reach the Greek island of Lesbos on 29 January 2016.

Getty Images

4/27

Refugees flash the 'V for victory' sign during a demonstration as they block the Greek-Macedonian border

5/27

Migrants have been braving sub zero temperatures as they cross the border from Macedonia into Serbia.

6/27

A sinking boat is seen behind a Turkish gendarme off the coast of Canakkale's Bademli district on January 30, 2016. At least 33 migrants drowned on January 30 when their boat sank in the Aegean Sea while trying to cross from Turkey to Greece.

Getty Images

7/27

A general view of a shelter for migrants inside a hangar of the former Tempelhof airport in Berlin, Germany

8/27

Refugees protest behind a fence against restrictions limiting passage at the Greek-Macedonian border, near Gevgelija. Since last week, Macedonia has restricted passage to northern Europe to only Syrians, Iraqis and Afghans who are considered war refugees. All other nationalities are deemed economic migrants and told to turn back. Macedonia has finished building a fence on its frontier with Greece becoming the latest country in Europe to build a border barrier aimed at checking the flow of refugees

9/27

A father and his child wait after being caught by Turkish gendarme on 27 January 2016 at Canakkale's Kucukkuyu district

10/27

Migrants make hand signals as they arrive into the southern Spanish port of Malaga on 27 January, 2016 after an inflatable boat carrying 55 Africans, seven of them women and six chidren, was rescued by the Spanish coast guard off the Spanish coast.

11/27

A refugee holds two children as dozens arrive on an overcrowded boat on the Greek island of Lesbos

12/27

A child, covered by emergency blankets, reacts as she arrives, with other refugees and migrants, on the Greek island of Lesbos, At least five migrants including three children, died after four boats sank between Turkey and Greece, as rescue workers searched the sea for dozens more, the Greek coastguard said

13/27

Migrants wait under outside the Moria registration camp on the Lesbos. Over 400,000 people have landed on Greek islands from neighbouring Turkey since the beginning of the year

14/27

The bodies of Christian refugees are buried separately from Muslim refugees at the Agios Panteleimonas cemetery in Mytilene, Lesbos

15/27

Macedonian police officers control a crowd of refugees as they prepare to enter a camp after crossing the Greek border into Macedonia near Gevgelija

Getty Images

16/27

A refugee tries to force the entry to a camp as Macedonian police officers control a crowd after crossing the Greek border into Macedonia near Gevgelija

Getty Images

17/27

Refugees are seen aboard a Turkish fishing boat as they arrive on the Greek island of Lesbos after crossing a part of the Aegean Sea from the Turkish coast to Lesbos

Reuters

18/27

An elderly woman sings a lullaby to baby on a beach after arriving with other refugees on the Greek island of Lesbos after crossing the Aegean sea from Turkey

Getty Images

19/27

A man collapses as refugees make land from an overloaded rubber dinghy after crossing the Aegean see from Turkey, at the island of Lesbos

EPA

20/27

A girl reacts as refugees arrive by boat on the Greek island of Lesbos after crossing the Aegean sea from Turkey

Getty Images

21/27

Refugees make a show of hands as they queue after crossing the Greek border into Macedonia near Gevgelija

Getty Images

22/27

People help a wheelchair user board a train with others, heading towards Serbia, at the transit camp for refugees near the southern Macedonian town of Gevgelija

AP

23/27

Refugees board a train, after crossing the Greek-Macedonian border, near Gevgelija. Macedonia is a key transit country in the Balkans migration route into the EU, with thousands of asylum seekers - many of them from Syria, Afghanistan, Iraq and Somalia - entering the country every day

Getty Images

24/27

An aerial picture shows the "New Jungle" refugee camp where some 3,500 people live while they attempt to enter Britain, near the port of Calais, northern France

Getty Images

25/27

A Syrian girl reacts as she helped by a volunteer upon her arrival from Turkey on the Greek island of Lesbos, after having crossed the Aegean Sea

EPA

26/27

Refugees arrive by boat on the Greek island of Lesbos after crossing the Aegean sea from Turkey

Getty Images

27/27

Beds ready for use for migrants and refugees are prepared at a processing center on January 27, 2016 in Passau, Germany. The flow of migrants arriving in Passau has dropped to between 500 and 1,000 per day, down significantly from last November, when in the same region up to 6,000 migrants were arriving daily.
A greater availability of information on the internet and the use of social media was also said to facilitate movement, with a "culture of migration" forming and being reinforced by existing networks.
Despite the onset of winter and tightening of borders in Hungary and other nations making the journey into Europe ever more difficult, the influx of people continues, with arrivals forecast to pass 1 million this year.
The crisis, as well as the unrelated threat of Isis terror attacks, have prompted tighter broder security throughout the European Union but the ODI fears this will only force asylum seekers to resort to increasingly desperate measures.
"There is strong evidence that while tightening border security may change migration routes, and often results in more people making more dangerous journeys, migration policies are unlikely to influence the actual number of people migrating," the report said.
Reuse content