European leaders are preparing to create a powerful EU-wide border protection force to deal with the refugee crisis engulfing the continent, The Independent understands.
Under plans being discussed by officials in Brussels, legal responsibility for deporting people deemed to be economic migrants would pass from the member states to the European Union.
The proposal – which would have legal force – will be discussed at the meeting of EU interior and justice ministers later this month.
At the same time the Commission will draw up a list of "safe countries of origin". Migrants from these countries would be returned, because the EU considers them to be sufficiently stable. The list is expected to include all the Balkan States, Pakistan, Bangladesh, Senegal and a number of other African countries.
The plan would mean that Frontex – the EU agency that currently acts as the liaison point for individual member states' border controls – would take on new legal responsibilities. It would be able to arrange the deportation of people deemed to be economic migrants from across the EU as well as possibly managing the relocation of refugees across Europe.
On 9 September, Jean-Claude Juncker, the European Commission President, will present a plan to relocate 120,000 Syrians, Iraqis and Eritreans who have already entered the EU to states across the union. This is in addition to the relocation of 40,000 asylum-seekers previously proposed.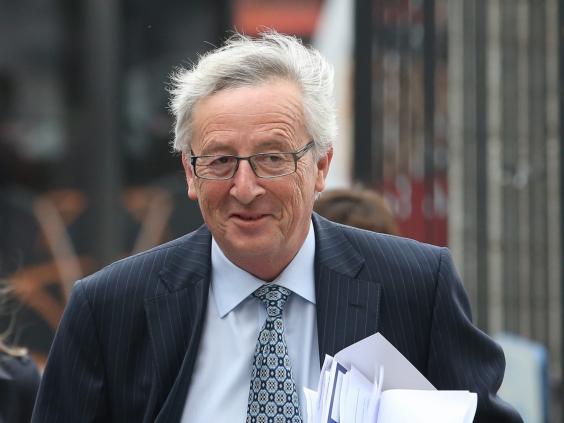 Britain is not expected to take part in the relocation programme as it has an opt-out on EU justice and home affairs issues under the Lisbon Treaty. David Cameron has pledged that the UK would welcome "thousands" of Syrian refugees under a separate scheme.
The EU plan will need to overcome the opposition of Spain and several East European countries which have previously opposed the redistribution of refugees. Two months ago EU leaders rejected Commission plans for a similar compulsory quota scheme and agreed to share out only 32,000 asylum-seekers – short of the original 40,000 target.
Mr Juncker's address is expected to kick off a move to agree a new plan ahead of an emergency meeting of EU justice and home affairs ministers on 14 September.
Frontex was established in 2004 to reinforce and streamline co-operation between national border authorities.
But under the new plan its responsibilities and powers would be hugely extended, which would bring closer the reality of a single European border force. It could still run into difficulties as the plan would need approval not just from member states but also the European Parliament.
However it is likely to be welcomed by some member states including the Hungarians, who are keen for a tougher line on immigration across the Continent.
"If we don't discuss the real issue, which is the border control, we can divert the discussion in the wrong direction," said Viktor Orban, the Hungarian Prime Minister. "Without providing strict border control, just to speak about a quota system – it's an invitation for those who would like to come. That's a problem."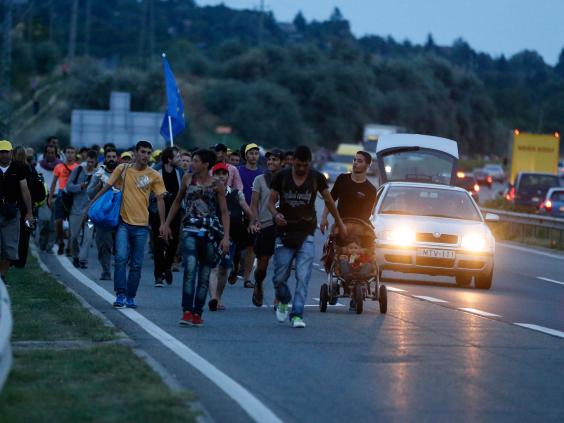 The political tensions undermining the EU's response to the refugee crisis were exposed at the start of a meeting of EU foreign ministers in Luxembourg on 4 September.
Countries such as Germany and Italy called for the EU rapidly to put in place a common asylum system or face the collapse of its cherished right to free movement.
"If we have learnt anything from the last three, four weeks it's that we won't overcome this crisis if we keep pointing fingers at each other," said Germany's Foreign Minister, Frank-Walter Steinmeier. He urged countries to back the joint push by France and Germany for a binding quota system for handling refugees.
But Italy's Foreign Minister Paolo Gentiloni said this would not fully address the crisis. "The problem is not so much about quotas," he said. "The real problem is that we need a common right of asylum." Current EU rules – known as the Dublin Regulation – which make refugees the responsibility of the first EU country they reach do not work any more, Mr Gentiloni said.
"Those fleeing wars or bloody dictatorships don't want to stay in the first country they reach. They want to come to Europe.
"If we go on with this conflict of everyone against the other we risk jeopardising free movement," he said, adding that "it is not by building walls that countries can stay out of this process".
Juncker to propose increase in refugee quotas
The European Commission President, Jean-Claude Juncker, is to propose an increased quota system next week for the relocation of refugees.
The new figure is expected to be 160,000 – up from the 40,000 previously agreed by a number of nations – with the burden distributed among the member states to ease the problems faced by Greece, Italy and Hungary.
The Refugee Council has called for the British Government to consider accepting tens of thousands of refugees "in order to make a significant difference to those struggling to survive in the region".
Refugees march from Hungary to Austria
Refugees march from Hungary to Austria
1/10 Refugees march from Hungary to Austria

Migrants walk in a long line along the highway near Budapest, Hungary, Friday, Sept. 4, 2015

AP

2/10 Refugees march from Hungary to Austria

Migrants walk on the railway tracks between Bicske and Szar, some 40 km west of Budapest, Hungary, 04 September 2015

EPA

3/10 Refugees march from Hungary to Austria

The destination for most of those walking is reportedly Austria

AP

4/10 Refugees march from Hungary to Austria

Most refugees have come to Hungary through the southern border with Serbia

AP

5/10 Refugees march from Hungary to Austria

People walk in a long line along the highway near Budapest, Hungary

AP

6/10 Refugees march from Hungary to Austria

Over 150,000 people seeking to enter Europe have reached Hungary this year

AP

7/10 Refugees march from Hungary to Austria

Refugees walk along Budaorsi Street on their way out of Budapest

EPA

8/10 Refugees march from Hungary to Austria

Refugees hold up an EU flag as they on the highway out of Budpest

AP

9/10 Refugees march from Hungary to Austria

Refugees exit Budapest

AP

10/10 Refugees march from Hungary to Austria

Hundreds of migrants walk after leaving the transit zone of the Budapest main train station

AFP
The United Nations High Commissioner for Refugees suggested that the number accepted by Britain could be around 4,000, before withdrawing the number and saying a firm figure was yet to be communicated. The UNHCR has said that more than 300,000 refugees and migrants have used the sea route across the Mediterranean so far this year with almost 200,000 of them landing in Greece and a further 110,000 in Italy.
The Italian government established the search-and-rescue operation Mare Nostrum in the Mediterranean in October 2013 but this was replaced last year by a smaller EU operation which largely ceased search-and-rescue missions.
Italy's Prime Minister, Matteo Renzi, and his ministers back the creation of an EU-wide immigration policy and an EU asylum law to ease the burden on countries on the front line.
Reuse content