Europe's efforts to stop the refugee crisis are failing to significantly reduce the number of people seeking asylum as migrants are forced on more dangerous and covert routes, a report has found.
The Overseas Development Institute (ODI), a UK-based independent think tank, predicted that almost 900,000 asylum applications will be lodged this year, compared to 1.26 million in 2015.
Leaders have hailed the apparent success of the EU-Turkey deal to stop crossings over the Aegean Sea and vowed to tackle people smuggling in Libya, while Hungary and Slovenia have erected vast fences along their borders and the UK is constructing a new wall in Calais.
But analysts warn the measures are not stopping the refugee crisis but worsening it, pushing desperate men, women and children from "overt" to "covert" routes that are even more difficult to trace.
Marta Foresti, interim executive director of the ODI, told The Independent the dramatic reduction in sea crossings to Europe – standing at more than 165,000 so far this year – does not tell the whole story.
An estimated 60 per cent of refugees and migrants are now arriving via hidden routes, almost double the proportion in 2015, making the flow more difficult for authorities to control.
"We don't know how they made it to the EU," Ms Foresti said. "The real risk is that by having this crisis mode reaction and being seen to erect borders, more people are coming by covert routes and governments are even less capable of controlling and monitoring the phenomenon."
"Overt" routes are sea crossings to Italy, Greece, Malta and Spain, while more hidden channels being used include land crossings hidden in smugglers' vehicles from Albania to Greece, and via Russia, Belarus, Moldova and Ukraine.
Other covert methods include travelling by plane using false documents, or over-staying visas. 
The ODI's report concluded that the €1.7 billion (£1.4 billion) spent by European countries on border controls on deterrent measures and further €15.3 billion (£13 billion) plunged into bilateral agreements and aid aiming to reduce the flow has had only a limited effect.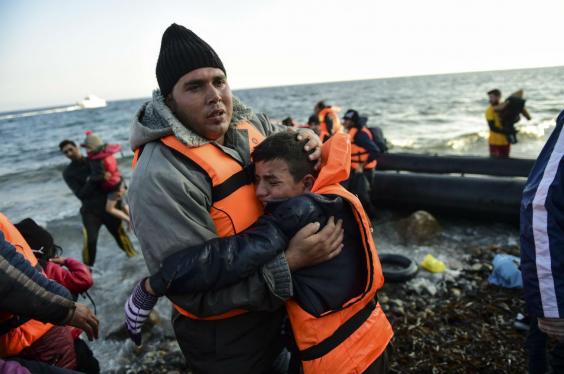 Like countless humanitarian groups, the institute is calling on more safe and legal pathways to Europe to be opened for refugees.
"It comes across as pretty radical in the current political context but it is a way governments could better monitor the flows and properly register migrants," Ms Foresti said.
"This is about solidarity and humanity, but it is also pragmatic."
The findings come as world leaders prepare for the United Nations General Assembly in New York next week.
A UN Summit on Refugees and Migrants on Monday will be followed by a separate summit on the issue hosted by Barack Obama the following day.
Human rights groups have been raising concern about the EU-Turkey deal, which sees all migrants arriving on Greek islands detained in camps and threatened with deportation if their asylum claims fail.
Oxfam warned millions of refugees are being forced to flee to countries ridden with conflict and insecurity, facing a struggle to access employment, healthcare and education while being left vulnerable to violence and abuse. 
Refugee crisis - in pictures
Refugee crisis - in pictures
1/27

A child looks through the fence at the Moria detention camp for migrants and refugees at the island of Lesbos on May 24, 2016.

AFP/Getty Images

2/27

Ahmad Zarour, 32, from Syria, reacts after his rescue by MOAS (Migrant Offshore Aid Station) while attempting to reach the Greek island of Agathonisi, Dodecanese, southeastern Agean Sea

3/27

Syrian migrants holding life vests gather onto a pebble beach in the Yesil liman district of Canakkale, northwestern Turkey, after being stopped by Turkish police in their attempt to reach the Greek island of Lesbos on 29 January 2016.

Getty Images

4/27

Refugees flash the 'V for victory' sign during a demonstration as they block the Greek-Macedonian border

5/27

Migrants have been braving sub zero temperatures as they cross the border from Macedonia into Serbia.

6/27

A sinking boat is seen behind a Turkish gendarme off the coast of Canakkale's Bademli district on January 30, 2016. At least 33 migrants drowned on January 30 when their boat sank in the Aegean Sea while trying to cross from Turkey to Greece.

Getty Images

7/27

A general view of a shelter for migrants inside a hangar of the former Tempelhof airport in Berlin, Germany

8/27

Refugees protest behind a fence against restrictions limiting passage at the Greek-Macedonian border, near Gevgelija. Since last week, Macedonia has restricted passage to northern Europe to only Syrians, Iraqis and Afghans who are considered war refugees. All other nationalities are deemed economic migrants and told to turn back. Macedonia has finished building a fence on its frontier with Greece becoming the latest country in Europe to build a border barrier aimed at checking the flow of refugees

9/27

A father and his child wait after being caught by Turkish gendarme on 27 January 2016 at Canakkale's Kucukkuyu district

10/27

Migrants make hand signals as they arrive into the southern Spanish port of Malaga on 27 January, 2016 after an inflatable boat carrying 55 Africans, seven of them women and six chidren, was rescued by the Spanish coast guard off the Spanish coast.

11/27

A refugee holds two children as dozens arrive on an overcrowded boat on the Greek island of Lesbos

12/27

A child, covered by emergency blankets, reacts as she arrives, with other refugees and migrants, on the Greek island of Lesbos, At least five migrants including three children, died after four boats sank between Turkey and Greece, as rescue workers searched the sea for dozens more, the Greek coastguard said

13/27

Migrants wait under outside the Moria registration camp on the Lesbos. Over 400,000 people have landed on Greek islands from neighbouring Turkey since the beginning of the year

14/27

The bodies of Christian refugees are buried separately from Muslim refugees at the Agios Panteleimonas cemetery in Mytilene, Lesbos

15/27

Macedonian police officers control a crowd of refugees as they prepare to enter a camp after crossing the Greek border into Macedonia near Gevgelija

Getty Images

16/27

A refugee tries to force the entry to a camp as Macedonian police officers control a crowd after crossing the Greek border into Macedonia near Gevgelija

Getty Images

17/27

Refugees are seen aboard a Turkish fishing boat as they arrive on the Greek island of Lesbos after crossing a part of the Aegean Sea from the Turkish coast to Lesbos

Reuters

18/27

An elderly woman sings a lullaby to baby on a beach after arriving with other refugees on the Greek island of Lesbos after crossing the Aegean sea from Turkey

Getty Images

19/27

A man collapses as refugees make land from an overloaded rubber dinghy after crossing the Aegean see from Turkey, at the island of Lesbos

EPA

20/27

A girl reacts as refugees arrive by boat on the Greek island of Lesbos after crossing the Aegean sea from Turkey

Getty Images

21/27

Refugees make a show of hands as they queue after crossing the Greek border into Macedonia near Gevgelija

Getty Images

22/27

People help a wheelchair user board a train with others, heading towards Serbia, at the transit camp for refugees near the southern Macedonian town of Gevgelija

AP

23/27

Refugees board a train, after crossing the Greek-Macedonian border, near Gevgelija. Macedonia is a key transit country in the Balkans migration route into the EU, with thousands of asylum seekers - many of them from Syria, Afghanistan, Iraq and Somalia - entering the country every day

Getty Images

24/27

An aerial picture shows the "New Jungle" refugee camp where some 3,500 people live while they attempt to enter Britain, near the port of Calais, northern France

Getty Images

25/27

A Syrian girl reacts as she helped by a volunteer upon her arrival from Turkey on the Greek island of Lesbos, after having crossed the Aegean Sea

EPA

26/27

Refugees arrive by boat on the Greek island of Lesbos after crossing the Aegean sea from Turkey

Getty Images

27/27

Beds ready for use for migrants and refugees are prepared at a processing center on January 27, 2016 in Passau, Germany. The flow of migrants arriving in Passau has dropped to between 500 and 1,000 per day, down significantly from last November, when in the same region up to 6,000 migrants were arriving daily.
Almost four million refugees and asylum seekers – almost 16 per cent of the world's total – have swapped one warzone for another, the a new report by the charity has found.
Almost 290,000 refugees entered Iraq last year, where the government is fighting Isis' insurgency, while more than 270,000 fled to Yemen – divided between rival governments, Isis and al-Qaeda in a bloody civil war.
Yasser al-Jassem, a Syrian refugee who was hunted by Bashar al-Assad's regime for deserting the army before being targeted by Isis militants who killed his brother, said Jordan and Lebanon were also unsafe because of the presence of regime soldiers and extremists.
He now lives in Manchester with his wife and two-year-old daughter after reaching the UK via Turkey, Greece and Calais.
"In Lebanon and Jordan the situation for refugees is miserable, it's not safe," Mr al-Jassem said.
"When I passed the Turkish border I started crying. 
"When I see Damascus I feel very sad. I don't want to stay in Europe, I just want a safe place for a while and then we go back to Syria. 
"I love my country, I love my city, I love my family and friends and I want to go back."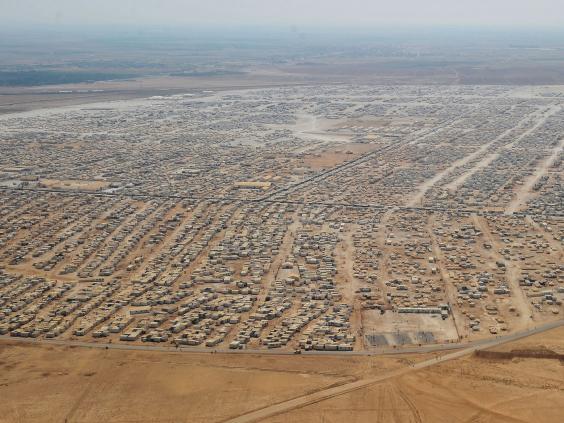 Maya Mailer, Oxfam's head of humanitarian policy, accused the UK and other European nations of "outsourcing borders" and shirking their responsibility towards refugees.
"Passing the buck seems to be the general trend," she added. "Asylum is a right under international law and it's being eroded."
Mark Goldring, the chief executive of Oxfam GB, said the fact that so many refugees have been fleeing to other conflict zones show how limited their options are.
"Families who have already been traumatised and torn apart and children who are travelling on their own deserve the chance of a safer future," he added.
"At a time when the world is coming together to try to find solutions to this crisis, it is profoundly important that the UK honours its proud history of helping refugees and shows the world we're willing to play our part."
The charity is also calling for legal routes to be opened for refugees and for global efforts towards a more comprehensive strategy on migration, as increased transparency on the cost of attempted deterrents.  
Ahmad al-Rashid, a refugee from Aleppo, said Syrians felt abandoned by the international community after taking in hundreds of thousands of people fleeing previous wars in Iraq and Afghanistan.
"It's a global responsibility now – it's not just for Lebanon or the UK or the US," he said.
"This crisis isn't going to go anywhere soon and we won't know what is going to happen next."