The Greek island of Kos had received thousands of refugees and migrants this year, before the images of the lifeless body of three-year-old Aylan al-Kurdi sparked outrage and shock around the world, again focusing attention on the journeys taken to the island. Alyan's family had taken a boat to reach Kos, but his body, with those of his brother, his mother and numerous others, ended up back on the beach near Bodrum in Turkey.
Yana (not her real name), 25, from Syria, is mother to two young children, a boy of 11 and a girl of 16 months. For days they have been sleeping in a tent pitched on a roadside in Kos, along with Yana's husband and a cousin. They, too, took a boat from Bodrum, and hope to make it to Germany. Here Yana explains their journey:
"We are refugees. We lived in the city of Deir Ezzor. At home there is war – rockets and planes dropping bombs. In Syria, we had no one to defend us against the fighting – no source of protection. In the evenings, we were forbidden to turn the lights on, because otherwise the military planes and helicopters above would bomb us. Then one day the rockets hit the house where we lived. As we escaped, my father was shot in the road.
We left Syria and travelled to Turkey, where we stayed for a month and 10 days. Then we took an overcrowded boat from Bodrum, on the Turkish coast, to Kos.
There were about 60 people on this boat, which was meant to hold a maximum of 10 to 15 people. There were eight children and babies on board, all gathered in the middle of the boat, with the adults all around the sides. It was so overcrowded that at one point my baby daughter couldn't breathe.
Migrants mingle with holidaymakers in Kos
Migrants mingle with holidaymakers in Kos
1/14 Boat migrants in Kos

Migrants watch a father and daughter cycle past as they wait outside a police station to receive temporary traveling papers

AP

2/14 Boat migrants in Kos

Tourists pass by a Syrian refugee sleeping on a bench at the coast of Kos island

EPA

3/14 Boat migrants in Kos

Afghan migrants stand in front of the police station as a woman runs past on 27 May

AFP/Getty Images

4/14 Boat migrants in Kos

An Afghan immigrant sleeps on a bench outside a local police station as tourists cycle by

Reuters

5/14 Boat migrants in Kos

An Afghan family heads to the port of Kos with Athens as a destination on Wednesday

AP

6/14 Boat migrants in Kos

Baloch, from Pakistan, wears a blanket as he waits outside the police station

AP

7/14 Boat migrants in Kos

Migrants buy goods from from a van, on the island of Kos

AP

8/14 Boat migrants in Kos

Immigrants staying in a deserted hotel on the Greek island of Kos look at newly-arrived refugees

Reuters

9/14 Boat migrants in Kos

Afghan migrants wash next to a deserted hotel, where hundreds have found temporary shelter

AFP/Getty Images

10/14 Boat migrants in Kos

Afghan children inside a room of an abandoned hotel on the island of Kos

EPA

11/14 Boat migrants in Kos

A migrant hangs his clothes on a fence of an abandoned hotel

AP

12/14 Boat migrants in Kos

An Afghan woman sits with her child at a dock at the port of Kos

AP

13/14 Boat migrants in Kos

Afghan immigrants land at a beach after landing in a dinghy on 27 May

Reuters

14/14 Boat migrants in Kos

A dinghy overcrowded with migrants is towed into Kos as the influx looks set to continue

Reuters
The crossing took 40 minutes – it was 40 minutes of nightmare. I was so scared, it was as if I saw death. I had to keep my eyes closed. The water was entering the boat and everyone got wet, the children too.
When we arrived on Kos, all our clothes were wet, but we had nothing else to wear, because we had thrown our entire luggage into the sea to make more room on the boat.
I wouldn't make that journey again. Impossible. We took this horrific, dangerous journey because we wanted to make our children's lives easier, safer and better. There is no future in Syria for our children.
We still have family in Syria: my mother, brother and sister are there. They couldn't escape because they don't have the money. It costs a lot of money to get here illegally. We paid the "facilitators" €3,000 (£2,200) for the four of us to make this journey. We hope my mother, brother and sister can escape to be with us.
We were able to contact our family in Syria via [the messaging service] WhatsApp. But it is very dangerous for my family in Syria to access the internet, because Daesh [Islamic State] has stopped all internet access. But there are some secret places where it can be accessed, and my brother managed to go there to learn that we had arrived safely.
Daesh have total control of the city. They take our houses, they take farmers' land, and they say they are now the state. My brother told me that five days ago that Daesh commanded that all women must stay inside their houses and not go out.
As we arrived in Kos with nothing, we have had to buy everything here for ourselves – the tent, which cost €50, clothes for the children, nappies – everything we need. We hope to travel to Germany. [The family will first need to make their way to Athens.] We hope there we will be able to find work and a safe home. Everything we have done has been for our children.
But when the war is over, I want to go back to Damascus – it is beautiful there. We have seen Turkey, we have seen Greece, we are heading to Germany, but I don't want to stay there for ever. I want to return to my Syria. In my mind I have all my memories of life in Syria – it was the best life ever."
Yana spoke to Médecins Sans Frontières (MSF) who are working on the island to providing mobile medical consultations and distributing non-food items (like tents) to refugees staying out in the parks and public places.
This newspaper has started a campaign for the UK to welcome a fair share of refugees.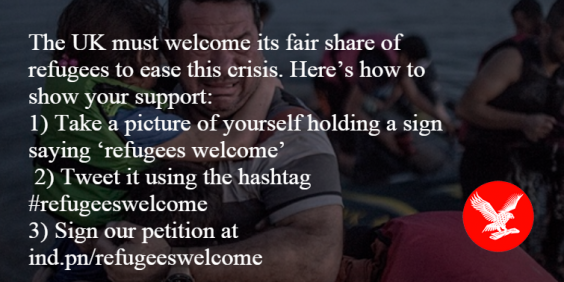 Click here to sign The Independent's petition
Reuse content