Inside a converted Oktoberfest beer tent at the back of Passau's train station 300 bewildered and exhausted refugees sat penned behind steel barriers as they awaited so-called "Fast ID" registration.
They were the latest to arrive in the German town on Austria's border which has become one of the main entry points for migrants. As two young voluntary workers tried to hand out drinks, a group of Syrians and their small children suddenly stood up and started to move towards the beer tent door and a waiting bus outside.
But this act of apparent insubordination was too much for one uniformed police officer, who leapt on to a bench and screamed: "Sit down! Don't move!" Worn out by weeks of refugee duty, his temper had snapped. The refugee children started crying.
Passau's railway station has a sign proclaiming: "Refugees Welcome". But apart from the police, there was no one to greet the thousands of migrants arriving this week. "It's not like a month ago when lots of ordinary people would come and applaud when they arrived," admitted Commissioner Albert Poerschke, the city's police spokesman on refugees. "The welcome culture seems to have evaporated. We waiting for the rest of Europe to help us solve the crisis," he told The Independent.
The absence of this "welcome culture", which Chancellor Angela Merkel called for at the start of the refugee crisis in September was also palpable on the streets of Passau – an idyllic 18th-century Danube town dubbed "Bavaria's Venice". Anton, a hotel receptionist, who did not want to reveal his surname was adamant: "Of course we have to help them, but I think we will lose our German culture if they don't stop coming in. It is too much. Maybe we would build a wall around Passau," he told The Independent. 
Since Germany started introducing police controls on its borders with Austria and the Czech Republic in mid-September, the Bavarian border towns of Passau and Rosenheim have borne the brunt of Germany's refugee influx. According to a leaked government report, the number of asylum applications is expected to reach 1.5 million this year – almost double the estimated 800,000.
World news in pictures
World news in pictures
1/30 7 October 2015

Undercover Israeli security personnel (R) and Israeli soldiers detain a wounded Palestinian protester during clashes near the Jewish settlement of Bet El, near the West Bank city of Ramallah

Reuters

2/30 7 October 2015

The leaves of a tree have partially changed to display its autumn colors near the Eiffel Tower in Paris, France

Reuters

3/30 7 October 2015

An Afghan National Army (ANA) officer takes part in a training exercise at the Kabul Military Training Centre in Afghanistan

Reuters

4/30 6 October 2015

People create a human peace sign during an event to celebrate what would have been the 75th birthday of former Beatle musician John Lennon, organised by his widow Yoko Ono and the John Lennon Educational Tour Bus, in Central Park, New York

Reuters

5/30 6 October 2015

Railroad passenger cars from a derailed Amtrak passenger train are surrounded by foliage, in Northfield. The train, the Vermonter, was headed from Vermont to Washington, when it apparently struck rocks that were on the tracks. No life-threatening injuries were reported

AP

6/30 6 October 2015

A picture taken from the hill village of Buqaata in the Israeli-annexed Syrian Golan Heights shows flames and smoke ascending from alleged shelling by Syrian government forces on Isis group's positions near the Syrian village of Jubata al-Khashab

Getty Images

7/30 6 October 2015

A man makes his way through floodwaters in the parking lot of The Citadel Beach Club on Isle of Palms. The Charleston and surrounding areas are still struggling with flood waters due to a slow moving storm system

AP

8/30 5 October 2015

A man carrying his bicycle tries to make his way after floods in Biot, near Cannes, southeastern France

9/30 5 October 2015

A general view shows the part of the skyline of Dubai covered in an early morning fog

Getty Images

10/30 5 October 2015

People wear house models during a march held on World Habitat Day in central Phnom Penh. Former residents of Boeung Kak lake, Borei Keila neighbourhood and other communities affected by private corporation developers gathered as they called on the Cambodian government to stop evicting them from their homes, according to local media

Reuters

11/30 4 October 2015

Hot air balloons drift through the sky during the 2015 Albuquerque International Balloon Fiesta in Albuquerque, New Mexico

Reuters

12/30 4 October 2015

Palestinian youth burn tyres during clashes with Israeli soldiers close to the Jewish settlement of Bet El, in the West Bank city of Ramallah, after Israel barred Palestinians from Jerusalem's Old City as tensions mounted following attacks that killed two Israelis and wounded a child

13/30 4 October 2015

Pope Francis leads a mass for the opening of the synod on the family on October 4, 2015 at St Peter's basilica in Vatican. Pope Francis opened a gathering of bishops intended to review Catholic teaching on the family against a backdrop of controversy over homosexuality. The church's second synod on the family opened in a tense atmosphere the day after a senior priest announced he was gay and accused the Vatican of "institutionalised homophobia"

Getty Images

14/30 4 October 2015

An exhibit titled 'Blue Tears' is on display during the Beijing Design Week at 751D Park, in Beijing, China. The annual Beijing Design Week themed 'City of Design, Smart City, Industrial Integration' this year, showcasing both international and local designers, is held in various parts of the capital city and runs until 7 October

EPA

15/30 3 October 2015

A farmer harvests in a crop field in Yili, Xinjiang Autonomous Region. The world's largest makers of tractors and combines are finding a rare opportunity for growth in China despite a sharp slowdown in the world's No. 2 economy, with big farm machines in demand as the rural labor force shrinks and plot sizes grow

Reuters

16/30 3 October 2015

Bavarian mountain farmers pass the chapel of St. Bartholomae on Lake Koenigssee while returning their cattle from summer pastures near Berchtesgaden, southern Germany. The pastures can only be reached by crossing the lake

AP

17/30 3 October 2015

A buck stands with does in the late afternoon autumn sunlight in Phoenix Park, Dublin, as the rutting season begins

PA

18/30 2 October 2015

A woman falls into the water with her child as they disembark off a dinghi as refugees and migrants arrive at the Greek island of Lesbos after crossing the Aegean sea from Turkey

Getty Images

19/30 2 October 2015

An Indian man wearing body paint attends an election rally held by the Bhartiya Janta Party (BJP) in Banka district of Bihar. India is by far the largest democracy in the world, with 551 million people voting in last year's general election, a turnout of 66.38 percent

Getty Images

20/30 2 October 2015

A BASE jumper leaps from the 300-metre high Kuala Lumpur Tower during the International Tower Jump in which more than 100 people take part, on a hazy day in Kuala Lumpur, Malaysia. Slash-and-burn agriculture in neighbouring Indonesia has blanketed Malaysia and Singapore in a choking haze for weeks

Reuters

21/30 1 October 2015

Umpqua Community College alumnus Donice Smith (L) is embraced after she said one of her former teachers was shot dead, near the site of a mass shooting at Umpqua Community College in Roseburg,Oregon. A gunman opened fire at a community college in southern Oregon, killing 13 people and wounding some 20 others before he was shot to death by police, state and county officials said, in the latest mass killing to rock a U.S. school

Reuters

22/30 1 October 2015

A helicopter hovers over a skyscraper which caught fire in Sharjah, United Arab Emiratesr hovers over a skyscraper which caught fire in Sharjah, United Arab Emirates

AP

23/30 1 October 2015

Demonstrators affiliated with various political parties take part in the anti-India protest in Kathmandu, Nepal. Tension between Nepal and India has spiked since Nepal adopted a new constitution last week, upsetting southern minority groups who fear being marginalised in a new federal structure. Indian oil trucks stopped crossing into Nepal because of protests in the south, prompting authorities to try to limit the use of cars and save fuel

Reuters

24/30 1 October 2015

New cars of German car maker Volkswagen (VW) stand ready for shipping next to the Volkswagen plant in Emden, northwestern Germany. Volkswagen, the world's biggest carmaker by sales, has admitted that up to 11 million diesel cars worldwide are fitted with devices that can switch on pollution controls when they detect the car is undergoing testing

Getty Images

25/30 30 September 2015

Ultra-Orthodox Jews cover their heads with their prayer shawls and carry the 'four species' during special prayers at the Western Wall, Judaism's holiest site, as they recite the Birkat Cohanim or Priestly Blessing in Jerusalem, Israel. The Cohenim are believed to be direct descendants of the priests at the ancient temples. Tens of thousands of Jews flocked to the Western Wall, Judaism's holiest site, to take part in Succot prayers

26/30 30 September 2015

Hot air balloons are prepared for a flight as others take off during an international hot air balloon festival at Maayan Harod National park in northern Israel

27/30 30 September 2015

An Indian construction worker brushes his teeth as he sits next to a mobile water tanker in front of an under construction residential building complex in Gurgaon, a suburb of New Delhi, India

28/30 29 September 2015

A Palestinian man stands by a door at the golden dome of the Dome of the Rock mosque on the Al-Aqsa mosque compound, in Jerusalem's Old City

29/30 29 September 2015

A local resident collects stones from the Xindian river after Typhoon Dujuan passed in the New Taipei City. Super typhoon Dujuan killed two and left more than 300 injured in Taiwan before making landfall in China

30/30 29 September 2015

A man hangs Chinese national flags as decorations at a park, ahead of China's National Day, in Beijing
Bavaria alone has taken in 225,000 refugees since the beginning of September. Almost half have passed through Passau, which is accepting between 1,000 and 5,000 new arrivals each day. Jürgen Dupper, the city's Social Democrat mayor describes the town's predicament as "very, very dramatic" and has demanded better border controls. Yet the influx shows no sign of abating. 
A survey of Syrian refugees who have made it to Germany concluded that the main reason for their flight was fear of President Bashar al-Assad. More than 90 per cent were fleeing the fighting, with two-thirds blaming the Assad government. Only 32 per cent said they were fleeing Isis. 
One-third of the refugees arrive in Germany by train; the rest enter from Austria by road, and often on foot. The Austrians are reported to be handing each refugee a map showing where the German border is. "Many ask us whether they are in Australia," an Austrian police spokesman was quoted as saying. "About 80 percent of the Syrian and Afghan refugees don't know where or what Austria is. That's why they want to go to Germany," he added.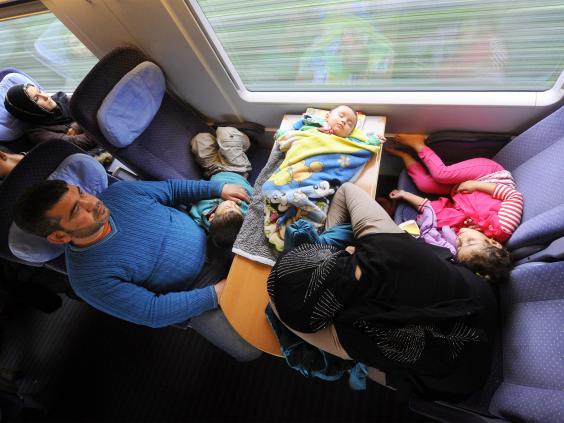 But opinion polls suggest the German public is becoming increasingly frustrated at what many see as the failure of Ms Merkel's government to stem the influx. A survey published on Monday by Germany's Market and Social Research group showed that 59 per cent of Germans thought Ms Merkel was wrong to allow refugees to arrive unhindered from Hungary at the end of August. A month ago 66 percent thought the Chancellor was doing the right thing. The polls also show that a large majority of Germans now want the influx stopped. 
Ms Merkel is also under intense political pressure to end her "open door" refugee policy. This week an open letter signed by 34 of her conservative MPs and state politicians complained that the refugee crisis was becoming unbearable. On Tuesday, Ms Merkel announced plans to set up a special refugee crisis unit. 
Whether the measure will better the lot of Syrian refugees like 30-year-old Ali Nabo is questionable. After a three-week journey with his wife and three young daughters from the Syrian city of Homs, he stood in a filthy coat in the Oktoberfest beer tent. He and his family had to ditch all their belongings during their sea crossing from Turkey to Greece as they feared their rubber boat would sink. Now he was worried he would be separated from his wife and children. What seemed like the first big smile for a long time shone from his face when a policeman reassured him: "We don't split up families."
* An operation to intercept and seize vessels used by smugglers controlling the trafficking of migrants across the Mediterranean has begun. The second phase of the European Union's Operation Sophia targets the vessels rather than focusing on surveillance and rescues. But questions have already been raised about its likely effectiveness because of doubts that the EU has committed enough ships and manpower to tackle the smugglers.
Reuse content