It was an aluminium factory. Then it became a municipal recycling centre. Now, the echoing warehouse on the Greek island of Chios is processing people.
Opened last weekend after a huge rush to be ready in time for an EU summit on Thursday, the hilltop facility is one of five "hotspots" set up on the islands at the behest of Brussels. By registering and fingerprinting the arrivals, authorities hope to impose some order after the chaotic scenes of last summer, when a million people arrived in Europe by sea alone – 800,000 of them from Greece via Turkey. But the idea remains dogged by both practical problems and huge unanswered questions about what happens next. 
The setting for the Chios "hotspot" is beautiful – a drive up from the coast twists past lemon and orange trees and verges dotted with anemones. The centre is less charming: a concrete hulk surrounded by tall wire fencing.
Beyond the gates is a giant, dusty warehouse that reverberates to the sound of chatter in Arabic, Kurdish and Farsi. Having arrived on dinghies hours earlier, hundreds of weary parents from Syria, Iraq, Afghanistan and Iran cluster together on chairs while their children make mischief at their feet. The elderly recline on wooden pallets with blankets pulled up around their necks. Everyone says that they want to go to Germany.
Organised into numbered groups, everyone waits their turn to file along steel barriers and into cabins where police officers from across Europe verify their identity and put them into a database. It is part of a drive by EU leaders to tighten security, after it emerged the ringleader of the Paris attacks passed through the island of Leros.
Such was the hurry to get this place ready that workmen are still drilling inside and outside the hangar. There are no staff to clean and on the first day, there was not enough water for the toilets. EU border staff say that their computers are not yet properly hooked up to the databases they need.
Despite these glitches, the Chios hotspot – along with one that opened in Lesbos in October – is the one faring best out of four centres declared "ready to function" by the Greek Defence Minister on Tuesday. 
In Samos, aid workers say there is no electricity and staff have been working in the dark. On Kos, everything has been held up by protests from locals who are worried and angry about the impact on tourism. On the first day in Leros, 600 people arrived and were promptly sent to an old camp because there were no staff to run the new hotspot.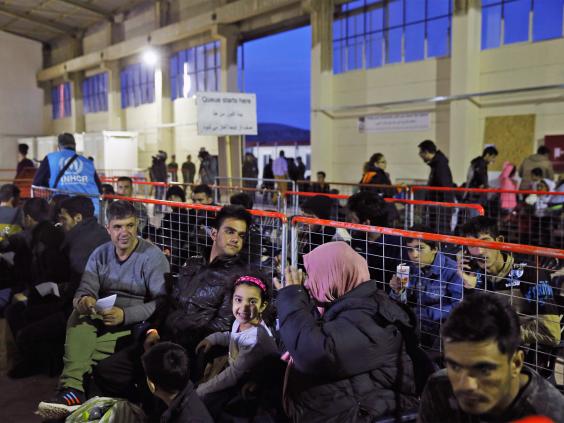 European officials asked Greece to build hotspots last autumn, but for months nothing happened. Amid threats that Greece could be kicked out of the Schengen open border zone, on 31 January came a sudden scramble. With just two weeks to get the job done, the Greek government called in the army. In Chios the task fell to Lt-Col Lolos Charalambos, who would clearly rather be almost anywhere other than here.
"It's much easier for me to be a commander in a camp with my soldiers," he says wistfully. But he believes that he completed his mission successfully and is pleased to see that the refugees and migrants are calm and relatively relaxed. "I look at their faces and I see they are OK – that's the satisfaction for us."
World news in pictures
World news in pictures
1/30 17 August 2016

Indonesian students play traditional drums called "Dol" from Bengkulu province as they participate in the Indonesian Independence day ceremony in Jakarta

AFP/Getty Images

2/30 17 August 2016

A woman attempts to cover a tear gas canister fired by police at a crowd in Srinagar protesting against the recent killings in Kashmir

REUTERS

3/30 17 August 2016

Participants struggle to reach the prizes on the top of greasy slippery poles in Jakarta, as part of Indonesia's celebrations to mark its 71st independent day anniversary

AFP/Getty Images

4/30 16 August 2016

An air tanker drops fire retardant on the Blue Cut wildfire in Lytle Creek, California. The fire is currently 9,000 plus acres, with 700 personnel on scene. Fifty-seven engines, 8 crews, 8 air tankers, 2 Very Large Air Tankers (VLATS), with additional firefighters and equipment on order

AFP/Getty Images

5/30 16 August 2016

Free Syrian army fighters stand atop of a hill as the moon is seen in the background in the south of Nawa city, in Deraa Governorate, Syria

REUTERS

6/30 16 August 2016

A Palestinian youth is being evacuated after he was wounded during clashes with Israeli soldiers conducting searches in the Palestinian al-Fawwar refugee camp, south of the West Bank city of Hebron

AFP/Getty Images

7/30 16 August 2016

AFP/Getty Images

8/30 16 August 2016

Mine workers sing as they wait for the commemoration to get under way near Marikana in Rustenburg, South Africa. On 16 August 2012 police shot and killed 34 Lonmin striking miners, apparently while trying to disperse them and end their strike. Ten people, including two police officers and two Lonmin security guards, were killed in the preceding week

AP

9/30 16 August 2016

People look at a crater caused by a Saudi-led coalition air strike at the yard of a hospital operated by Medecins Sans Frontieres in the Abs district of Hajja province, Yemen

REUTERS

10/30 15 August 2016

People cool off at a swimming pool in Daying county, China

REUTERS

11/30 15 August 2016

Turkish soldiers from a military guard of honor carry coffins during a mass burial ceremony for Turkish Cypriots who went missing in 1974 and whose remains have been found by the Committee on missing people in Cyprus (CMP), at a cemetery in the village of Tashkent (Vouno) in the self-declared Turkish Republic of Northern Cyprus. More than 30 Turkish Cypriots, who had disappeared in Tochni near the coastal southern city of Limassol in August 1974 and were found in 2014 in a mass grave in the village, were buried during the ceremony

AFP/Getty Images

12/30 15 August 2016

Indian paramilitary soldiers hug each other as they react to the news of killing of two suspected rebels in a gun-battle in the Nowhatta neighborhood of Srinagar, Indian controlled Kashmir. Suspected separatist rebels and government troops were engaged in two gun battles in Indian-controlled Kashmir despite a complete security lockdown in the disputed region as India celebrated its independence from British rule

AP

13/30 14 August 2016

A spectator poses ahead of the Women's Marathon during the athletics event at the Rio 2016 Olympic Games at Sambodromo in Rio de Janeiro

AFP/Getty Images

14/30 14 August 2016

Family members of Sylville Smith gather where he was shot and killed by police in Milwaukee. Police say a black man whose killing touched off arson and rock-throwing, was shot by a black officer after turning toward him with a gun in his hand

AP

15/30 14 August 2016

Men carry a dog, wearing a costume and seated on a stool, as a form of respect as they believe that dogs found water for their ancestors, during a local festival for the Miao ethnic minority in Jianhe county, Guizhou Province, China

REUTERS

16/30 14 August 2016

A truck burns in the town of Lower Lake, California. A wildfire destroyed at least four homes and forced thousands of people in two Northern California towns to flee as flames jumped a road and moved into populated areas

AP

17/30 14 August 2016

Kurdish Peshmerga forces fire a rocket toward Islamic State militants on the southeast of Mosul , Iraq

REUTERS

18/30 14 August 2016

An armed boy walks as he attends a gathering held by tribesmen loyal to the Houthi movement to show support to a political council formed by the movement and the General People's Congress party to unilaterally rule Yemen by both groups in Sanaa

REUTERS

19/30 13 August 2016

A jockey takes part in a traditional cattle race or "Pacu Jawi", to mark the end of the rice harvest in Tanah Datar, West Sumatra, Indonesia

REUTERS

20/30 13 August 2016

Rescue workers carry a survivor on a stretcher, after he was extracted from a collapsed wall in an informal settler house, just beside the city jail building in Manila

AFP/Getty Images

21/30 13 August 2016

Revellers take part in the Monsoon Holi Madrid festival in Madrid, Spain

REUTERS

22/30 13 August 2016

Revellers chat on Havana's Malecon seafront before performing at a carnival parade, Cuba

REUTERS

23/30 13 August 2016

A man fights against the active front of a forest fire near Arouca, Portugal

REUTERS

24/30 12 August 2016

A meteor streaks past stars in the night sky above medieval tombstones in Radmilje near Stolac, south of Sarajevo, Bosnia and Herzegovina

REUTERS

25/30 12 August 2016

An injured man receives first aid after two bombs exploded in the Thai seaside resort of Hua Hin

Reuters

26/30 12 August 2016

Children try to push an injured and weak dolphin back into the water after it washed ashore during bad weather and high tide on a beach in Cilacap, Central Java, Indonesia

REUTERS

27/30 12 August 2016

A man collects coconuts and other items thrown as offerings by worshippers in the Sabarmati river, a day after the "Dashama" festival in Ahmedabad, India

REUTERS

28/30 11 August 2016

An injured riot policeman is helped by comrades during clashes with independent miners against Bolivia's President Evo Morales' government policies, in Mantecani near La Paz, Bolivia

REUTERS

29/30 11 August 2016

A team equipped with anti mosquito spray packs walks through the Koumassi district of Abidjan during an operation aimed at preventing the spread of the zika virus in Côte d'Ivoire

AFP/Getty Images

30/30 11 August 2016

An Indian policeman uses a slingshot during clashes with demonstrators following a protest in Srinagar against the recent killings in Kashmir

REUTERS
For all the fanfare, few believe that these facilities will solve the vast challenge of the biggest refugee crisis since the Second World War. For a start, there is the question of numbers. The capacity of the Chios hotspot is 1,000 people but on Thursday at least 1,400 people arrived. The island was forced to use the old town centre camps for overspill.
Despite initiatives to encourage people to stay in Turkey and crack down on smuggling routes, that influx is expected to increase further as the weather warms up and the seas calm down. Even bigger than the practical problems are the many unanswered questions about the role these centres will play in controlling the flow of people towards the rest of Europe.
Many expect that the border with Macedonia – already closed to all but Syrians, Afghans and Iraqis – will soon completely shut. Joe Kuper, a Londoner running the UN refugee agency's response in Chios, warns that a backlog could quickly build up in a country still facing the fallout from the catastrophic 2009 debt crisis. "This is why it is important that the Greek authorities are prepared and have in place a contingency plan to receive and support refugees," he says.
Whether people stay put or seek alternative, riskier routes depends partly on their view of the likelihood of making it to Europe in a more regulated fashion. EU states have promised to relocate 160,000 asylum-seekers from Greece and Italy. So far, just 497 people have been taken.
There also needs to be a way to turn back those deemed ineligible to enter the EU. Last year, only 33,590 people were returned either voluntarily or by force. In December, a group of 31 Pakistanis was dispatched to Islamabad, only to be sent straight back after their government said that they had been illegally deported.
Alexis Tsipras, the Greek Prime Minister, has pleaded for help on returns to stop Greece becoming a "warehouse for human souls".
Mr Tsipras has met with Angela Merkel and François Hollande amid growing concern about Greece's "lack of control" over thousands of migrants crossing its borders. Officials said leaders at the talks argued over conflicting national reactions to the migrant influx, and the potential collapse of Europe's border-free travel. 
The European Commission has given Greece three months to restore order on its borders, but few believe Athens will be able to meet the deadline. At present, the Chios hotspot is not acting as a detention centre – after being registered, the newcomers are given a temporary visa and allowed to buy ferry tickets to the mainland. But, given the wire fences and the hardening mood in Europe, some believe that could soon be the purpose of the hotspots.
Reuse content