It was an aluminium factory. Then it became a municipal recycling centre. Now, the echoing warehouse on the Greek island of Chios is processing people.
Opened last weekend after a huge rush to be ready in time for an EU summit on Thursday, the hilltop facility is one of five "hotspots" set up on the islands at the behest of Brussels. By registering and fingerprinting the arrivals, authorities hope to impose some order after the chaotic scenes of last summer, when a million people arrived in Europe by sea alone – 800,000 of them from Greece via Turkey. But the idea remains dogged by both practical problems and huge unanswered questions about what happens next. 
The setting for the Chios "hotspot" is beautiful – a drive up from the coast twists past lemon and orange trees and verges dotted with anemones. The centre is less charming: a concrete hulk surrounded by tall wire fencing.
Beyond the gates is a giant, dusty warehouse that reverberates to the sound of chatter in Arabic, Kurdish and Farsi. Having arrived on dinghies hours earlier, hundreds of weary parents from Syria, Iraq, Afghanistan and Iran cluster together on chairs while their children make mischief at their feet. The elderly recline on wooden pallets with blankets pulled up around their necks. Everyone says that they want to go to Germany.
Organised into numbered groups, everyone waits their turn to file along steel barriers and into cabins where police officers from across Europe verify their identity and put them into a database. It is part of a drive by EU leaders to tighten security, after it emerged the ringleader of the Paris attacks passed through the island of Leros.
Such was the hurry to get this place ready that workmen are still drilling inside and outside the hangar. There are no staff to clean and on the first day, there was not enough water for the toilets. EU border staff say that their computers are not yet properly hooked up to the databases they need.
Despite these glitches, the Chios hotspot – along with one that opened in Lesbos in October – is the one faring best out of four centres declared "ready to function" by the Greek Defence Minister on Tuesday. 
In Samos, aid workers say there is no electricity and staff have been working in the dark. On Kos, everything has been held up by protests from locals who are worried and angry about the impact on tourism. On the first day in Leros, 600 people arrived and were promptly sent to an old camp because there were no staff to run the new hotspot.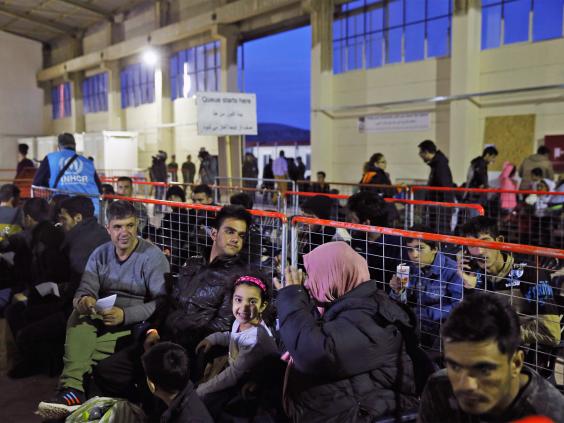 European officials asked Greece to build hotspots last autumn, but for months nothing happened. Amid threats that Greece could be kicked out of the Schengen open border zone, on 31 January came a sudden scramble. With just two weeks to get the job done, the Greek government called in the army. In Chios the task fell to Lt-Col Lolos Charalambos, who would clearly rather be almost anywhere other than here.
"It's much easier for me to be a commander in a camp with my soldiers," he says wistfully. But he believes that he completed his mission successfully and is pleased to see that the refugees and migrants are calm and relatively relaxed. "I look at their faces and I see they are OK – that's the satisfaction for us."
World news in pictures
World news in pictures
1/30 25 May 2016

Riot police stand guard behind a fire as refinery workers hold a blockade of the oil depot of Douchy-Les-Mines to protest against the government's proposed labour reforms

Getty

2/30 25 May 2016

Vehicles are stuck in a sinkhole near Ponte Vecchio. A sinkhole measuring about 200 meters long and seven meters wide opened up in central Florence

EPA

3/30 24 May 2016

Protesters picket outside the event site before Republican U.S. presidential candidate Donald Trump begins a rally with supporters in Albuquerque, New Mexico

Reuters

4/30 24 May 2016

An Indian policeman uses a baton to disperse demonstrators during a protest by government employees demanding their long pending arrears and a regularisation of their temporary jobs, according to protesters, in Srinagar

Reuters

5/30 23 May 2016

Confiscated rare and protected wildlife products such as these stuffed Sumatran tiger skins are burned and destroyed during a ceremony by government forestry and wildlife officials in Banda Aceh, Indonesia

Reuters

6/30 23 May 2016

A woman leads a school pupil away from tear gas and a burning barricade in Kibera slum, during a demonstration of opposition supporters protesting for a change of leadership ahead of a vote due next years in Nairobi

Getty Images

7/30 23 May 2016

A crane destroys over one million pirated music, movie and software CDs and DVDs in a campaign against piracy organised by the government in Algiers, Algeria

Reuters

8/30 23 May 2016

Shi'ite fighters forces launch a rocket towards Islamic State militants on the outskirts Falluja, Iraq

Reuters

9/30 22 May 2016

Yemenis take part in celebrations marking the 26th anniversary of Yemen's 1990 reunification in the capital Sanaa

Getty Images

10/30 22 May 2016

Indonesian soldiers carry resident's belongings as they aid in evacuation efforts from a village impacted by the Mount Sinabung eruption at Gamber Village in North Sumatra. At least six people were killed and two others were seriously wounded after the Mount Sinabung volcano in North Sumatra province of western Indonesia erupted

EPA

11/30 21 May 2016

Demonstrators clash with riot police in the surroundings of the Congress in Valparaiso, while Chilean President Michelle Bachelet delivers her annual message to the nation

Getty Images

12/30 21 May 2016

The Egyptian military spokesman released pictures of debris that the search teams found in the sea after the EgyptAir Airbus A320 crashed in the Mediterranean

Getty Images

13/30 21 May 2016

Sri Lankan flood victims push a trishaw through floodwaters in the Kolonnawa suburb of Colombo

Getty Images

14/30 20 May 2016

A protester write on the facade of the Ministry of Justice building with color spray during an anti-government protest in Skopje, in a series of protests dubbed Colourful Revolution. Crisis-hit Macedonia postponed elections due next month, after the European Union called on Skopje to delay the polls to ensure they could take place freely and fairly

Getty Images

15/30 20 May 2016

Members of the Ukrainian national guard "Azov" regiment and activists of the Azov civil corp take part in a protest against local elections in pro-Russian rebel-held areas of eastern Ukraine under the Minsk peace agreement, in Kiev

Reuters

16/30 19 May 2016

Families of passengers who were flying in an EgyptAir plane that vanished from radar en route from Paris to Cairo react as they wait outside a services hall at Cairo airport

Getty Images

17/30 18 May 2016

A man clashes with policemen during a protest against new emergency powers decreed this week by President Nicolas Maduro in Caracas. Public outrage was expected to spill onto the streets of Venezuela, with planned nationwide protests marking a new low point in Maduro's unpopular rule

Getty Images

18/30 18 May 2016

A police car explodes after being set on fire during an unauthorized counter-demonstration against police violence in Paris, as Police across France demonstrate today against the "anti-cop hatred" they say they have endured during a wave of anti-government protests since early March

Getty Images

19/30 18 May 2016

Sri Lankan military personnel take part in relief and rescue efforts following a landslide in the village of Bulathkohupitiya. Rescue workers recovered the bodies of 17 villagers buried in landslides in Sri Lanka after three days of torrential rain. The disaster hit two small villages in Kegalle, a mountainous area northeast of Colombo, and takes the overall death toll from flooding and landslides in recent days to 36

Getty Images

20/30 18 May 2016

A protester against visiting Zhang Dejiang, the chairman of China's National People's Congress, confronts police in Hong Kong

Reuters

21/30 18 May 2016

Chicks dyed to draw attention are offered for sale at a small poultry market in Jakarta, Indonesia

Reuters

22/30 17 May 2016

A man throws a fire extingusher at Parliamentary security behind a closed door after members of Julius Malema's Economic Freedom Fighters (EFF) were evicted from Parliament during President Jacob Zuma's question and answer session in Cape Town, South Africa

Reuters

23/30 17 May 2016

Supporters of Federal Alliance, a coalition of Madhes-based parties and other ethnic political parties and organizations, protest against the constitution near the Prime Minister's official residence in Kathmandu, Nepal

Reuters

24/30 17 May 2016

Members of a Sri Lankan Army rescue team carry a woman to safety through floodwaters in the suburb of Kaduwela in capital Colombo. Emergency workers in Sri Lanka found the bodies of a woman and two children killed in a landslide, taking the toll from two days of heavy rain to 11, with thousands more forced to flee their homes

Getty Images

25/30 16 May 2016

Protesters light flares and wave flags marching through a street, during an anti-government protest in Skopje, in series of protests dubbed "Colorful Revolution". Macedonia has been politically gridlocked for two years but the crisis rose a notch on 12 April when President Gjorge Ivanov halted a probe into more than 50 public figures suspected of involvement in corruption and a wire-tapping scandal. The move triggered street protests against Ivanov and the ruling party's leader, Nikola Gruevski. Fresh demonstrations drew several thousand, mostly young people who demanded Ivanov resignation

Getty Images

26/30 16 May 2016

Kenyan riot police officers raise batons over a man during a demonstration of Kenya's opposition supporters in Nairobi. Opposition protestors led by former Prime Minister Raila Odinga gathered outside the Indepedent Electoral and Boundaries Comission building to demand the dismissal of IEBC commissioners, after alleged bias towards the ruling Jubillee Alliance Party

Getty Images

27/30 16 May 2016

Pilgrims gather around an statue of the virgin Mary as it is carried during a procession in the village of El Rocio, southern Spain. El Rocio pilgrimage, the largest in Spain, gathers hundreds of thousands of devotees in traditional outfits converging in a burst of colour as they make their way on horseback and onboard decorated carriages across the Andalusian countryside

Getty Images

28/30 15 May 2016

A clothing shop displays its merchandise beside a damaged building in the rebel-controlled area of Maaret al-Numan town in Idlib province, Syria

Reuters

29/30 15 May 2016

A police dog jumps through a burning ring during a show in Guiyang, China

Reuters

30/30 14 May 2016

Participants march during the Belgian Gay Pride parade in Brussels

AP
For all the fanfare, few believe that these facilities will solve the vast challenge of the biggest refugee crisis since the Second World War. For a start, there is the question of numbers. The capacity of the Chios hotspot is 1,000 people but on Thursday at least 1,400 people arrived. The island was forced to use the old town centre camps for overspill.
Despite initiatives to encourage people to stay in Turkey and crack down on smuggling routes, that influx is expected to increase further as the weather warms up and the seas calm down. Even bigger than the practical problems are the many unanswered questions about the role these centres will play in controlling the flow of people towards the rest of Europe.
Many expect that the border with Macedonia – already closed to all but Syrians, Afghans and Iraqis – will soon completely shut. Joe Kuper, a Londoner running the UN refugee agency's response in Chios, warns that a backlog could quickly build up in a country still facing the fallout from the catastrophic 2009 debt crisis. "This is why it is important that the Greek authorities are prepared and have in place a contingency plan to receive and support refugees," he says.
Whether people stay put or seek alternative, riskier routes depends partly on their view of the likelihood of making it to Europe in a more regulated fashion. EU states have promised to relocate 160,000 asylum-seekers from Greece and Italy. So far, just 497 people have been taken.
There also needs to be a way to turn back those deemed ineligible to enter the EU. Last year, only 33,590 people were returned either voluntarily or by force. In December, a group of 31 Pakistanis was dispatched to Islamabad, only to be sent straight back after their government said that they had been illegally deported.
Alexis Tsipras, the Greek Prime Minister, has pleaded for help on returns to stop Greece becoming a "warehouse for human souls".
Mr Tsipras has met with Angela Merkel and François Hollande amid growing concern about Greece's "lack of control" over thousands of migrants crossing its borders. Officials said leaders at the talks argued over conflicting national reactions to the migrant influx, and the potential collapse of Europe's border-free travel. 
The European Commission has given Greece three months to restore order on its borders, but few believe Athens will be able to meet the deadline. At present, the Chios hotspot is not acting as a detention centre – after being registered, the newcomers are given a temporary visa and allowed to buy ferry tickets to the mainland. But, given the wire fences and the hardening mood in Europe, some believe that could soon be the purpose of the hotspots.