It was an aluminium factory. Then it became a municipal recycling centre. Now, the echoing warehouse on the Greek island of Chios is processing people.
Opened last weekend after a huge rush to be ready in time for an EU summit on Thursday, the hilltop facility is one of five "hotspots" set up on the islands at the behest of Brussels. By registering and fingerprinting the arrivals, authorities hope to impose some order after the chaotic scenes of last summer, when a million people arrived in Europe by sea alone – 800,000 of them from Greece via Turkey. But the idea remains dogged by both practical problems and huge unanswered questions about what happens next. 
The setting for the Chios "hotspot" is beautiful – a drive up from the coast twists past lemon and orange trees and verges dotted with anemones. The centre is less charming: a concrete hulk surrounded by tall wire fencing.
Beyond the gates is a giant, dusty warehouse that reverberates to the sound of chatter in Arabic, Kurdish and Farsi. Having arrived on dinghies hours earlier, hundreds of weary parents from Syria, Iraq, Afghanistan and Iran cluster together on chairs while their children make mischief at their feet. The elderly recline on wooden pallets with blankets pulled up around their necks. Everyone says that they want to go to Germany.
Organised into numbered groups, everyone waits their turn to file along steel barriers and into cabins where police officers from across Europe verify their identity and put them into a database. It is part of a drive by EU leaders to tighten security, after it emerged the ringleader of the Paris attacks passed through the island of Leros.
Such was the hurry to get this place ready that workmen are still drilling inside and outside the hangar. There are no staff to clean and on the first day, there was not enough water for the toilets. EU border staff say that their computers are not yet properly hooked up to the databases they need.
Despite these glitches, the Chios hotspot – along with one that opened in Lesbos in October – is the one faring best out of four centres declared "ready to function" by the Greek Defence Minister on Tuesday. 
In Samos, aid workers say there is no electricity and staff have been working in the dark. On Kos, everything has been held up by protests from locals who are worried and angry about the impact on tourism. On the first day in Leros, 600 people arrived and were promptly sent to an old camp because there were no staff to run the new hotspot.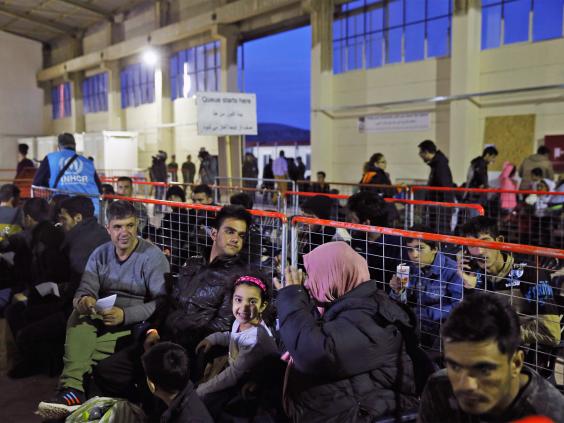 European officials asked Greece to build hotspots last autumn, but for months nothing happened. Amid threats that Greece could be kicked out of the Schengen open border zone, on 31 January came a sudden scramble. With just two weeks to get the job done, the Greek government called in the army. In Chios the task fell to Lt-Col Lolos Charalambos, who would clearly rather be almost anywhere other than here.
"It's much easier for me to be a commander in a camp with my soldiers," he says wistfully. But he believes that he completed his mission successfully and is pleased to see that the refugees and migrants are calm and relatively relaxed. "I look at their faces and I see they are OK – that's the satisfaction for us."
World news in pictures
World news in pictures
1/29 23 March 2017

The Brandenburg Gate is illuminated with the colours of the British flag to show solidarity with the victims of the recent attack in London, in Berlin, Germany

Reuters

2/29 21 March 2017

A Nepalese woman carries a metal container locally known as 'gagri' containing fresh water during the early morning one day before World Water Day in Bhakatpur, Nepal

EPA

3/29 21 March 2017

World Water Day is held annually on 22 March as a means of focusing attention on the importance of freshwater and advocating for the sustainable management of freshwater resources

EPA

4/29 21 March 2017

Filipino fishermen arrange a fishing net next to a sewage pipe at a fishing village in the town of Bacoor, Cavite province, Philippines

EPA

5/29 20 March 2017

High-rise buildings are partly covered by heavy fog at Hong Kong's Victoria Harbour

AP

6/29 20 March 2017

Libyan fishermen rescue migrants from a sinking dinghy off the Libyan coastal town of Zawiyah, east of the capital, as they attempted to cross from the Mediterranean to Europe

Getty Images

7/29 20 March 2017

Migrants wait to be rescued from a sinking dingey off the Libyan coastal town of Zawiyah, east of the capital

Getty Images

8/29 19 March 2017

Lebanese activists from the Civilian motionless, and from various parties wave national flags during a protest against new high taxes in front of the Lebanese government palace in Beirut , Lebanon

EPA

9/29 19 March 2017

People march to protest the regional Catalan government's push to break away from the rest of Spain, in Barcelona, Spain

AP

10/29 19 March 2017

An activist lays half-naked with fake blood in a cage during a protest for animal rights, against the suffering and murdering of animals and against animal testing in Athens, Greece

EPA

11/29 18 March 2017

Passengers wait at Orly airport southern terminal after a shooting incident near Paris, France

Reuters

12/29 16 March 2017

Wearing Coyote masks and business suits and waving signs against Canada Goose and their use of fur, PETA members gather outside the New York Stock Exchange

Getty Images

13/29 16 March 2017

View of the Tocqueville high school after a shooting has taken place injuring at least eight people, in Grasse, southern France

Reuters

14/29 16 March 2017

Suspects with their hands tied in plastic straps walk past residents during a raid by the Philippine Drug Enforcement Agency (PDEA) at an informal settlers' area inside a public cemetery in Manila

Getty Images

15/29 16 March 2017

A SpaceX Falcon 9 rocket launches from Kennedy Space Center, over Cocoa Beach and Cape Canaveral skyline in Florida

AP

16/29 16 March 2017

French Police officers secure the scene near the Paris offices of the International Monetary Fund (IMF) in Paris, after a letter bomb exploded in the premises

Getty Images

17/29 16 March 2017

A man poses as crying firebrand anti-Islam lawmaker Geert Wilders during a small demonstration outside parliament in The Hague, Netherlands

AP

18/29 15 March 2017

Acting Assistant Attorney General Mary McCord, speaks during a news conference at the Justice Department in Washington

AP

19/29 14 March 2017

A four-month-old Syrian baby receives treatment at a make-shift hospital following reported air strikes in the rebel-held district of Barzeh, on the north-eastern outskirts of the capital Damascus

Getty Images

20/29 14 March 2017

Miguel Angel Munoz faces a 25-year prison sentence for the alleged murder in 2015 of the US tourist Denise Pikka Thiem, who was hiking the Santiago pilgrim trail

Getty Images

21/29 14 March 2017

Malaysian censors have reportedly cut out a 'gay moment' in the Disney film 'Beauty and the Beast' before agreeing to its release in the Muslim-majority nation

Getty Images

22/29 14 March 2017

Tibetan spiritual leader the Dalai Lama sits on his ceremonial chair during a religious talk at the Tsuglakhang temple in Dharmsala, India

AP

23/29 14 March 2017

Members of the Iraqi forces prepare to fly a drone armed with grenades in the fight against Islamic State (IS) group jihadists in the northern Iraqi city of Mosul

Getty Images

24/29 14 March 2017

A member of the Iraqi forces carries two grenades carrying feathers, which are to be fired from a drone in the fight against Islamic State (IS) group jihadists in the northern Iraqi city of Mosul

Getty Images

25/29 13 March 2017

Members of the Iraqi forces advance towards the Old City in western Mosul, during an offensive to retake the city from Islamic State (IS) group fighters

Getty Images

26/29 13 March 2017

US President Donald J. Trump holds up a note and drawing depicting him that was created by the child of Greg Knox of Ohio, during a meeting on healthcare in the Roosevelt Room of the White House in Washington, DC

EPA

27/29 13 March 2017

Relatives hold up placards with pictures of victims as they gather in commemoration on the first anniversary of the March 13 terror attack at the former site of the bombing in central Ankara

Getty Images

28/29 12 March 2017

People celebrate Holi festival at a temple in Vrindavan, Uttar Pradesh, India

Rex

29/29 12 March 2017

A Sadhu or Hindu holy man with his face smeared with powdered colours looks on during Holi festival celebrations at Sri Laxmi Narayan Temple in Amritsar, India

EPA
For all the fanfare, few believe that these facilities will solve the vast challenge of the biggest refugee crisis since the Second World War. For a start, there is the question of numbers. The capacity of the Chios hotspot is 1,000 people but on Thursday at least 1,400 people arrived. The island was forced to use the old town centre camps for overspill.
Despite initiatives to encourage people to stay in Turkey and crack down on smuggling routes, that influx is expected to increase further as the weather warms up and the seas calm down. Even bigger than the practical problems are the many unanswered questions about the role these centres will play in controlling the flow of people towards the rest of Europe.
Many expect that the border with Macedonia – already closed to all but Syrians, Afghans and Iraqis – will soon completely shut. Joe Kuper, a Londoner running the UN refugee agency's response in Chios, warns that a backlog could quickly build up in a country still facing the fallout from the catastrophic 2009 debt crisis. "This is why it is important that the Greek authorities are prepared and have in place a contingency plan to receive and support refugees," he says.
Whether people stay put or seek alternative, riskier routes depends partly on their view of the likelihood of making it to Europe in a more regulated fashion. EU states have promised to relocate 160,000 asylum-seekers from Greece and Italy. So far, just 497 people have been taken.
There also needs to be a way to turn back those deemed ineligible to enter the EU. Last year, only 33,590 people were returned either voluntarily or by force. In December, a group of 31 Pakistanis was dispatched to Islamabad, only to be sent straight back after their government said that they had been illegally deported.
Alexis Tsipras, the Greek Prime Minister, has pleaded for help on returns to stop Greece becoming a "warehouse for human souls".
Mr Tsipras has met with Angela Merkel and François Hollande amid growing concern about Greece's "lack of control" over thousands of migrants crossing its borders. Officials said leaders at the talks argued over conflicting national reactions to the migrant influx, and the potential collapse of Europe's border-free travel. 
The European Commission has given Greece three months to restore order on its borders, but few believe Athens will be able to meet the deadline. At present, the Chios hotspot is not acting as a detention centre – after being registered, the newcomers are given a temporary visa and allowed to buy ferry tickets to the mainland. But, given the wire fences and the hardening mood in Europe, some believe that could soon be the purpose of the hotspots.