It was an aluminium factory. Then it became a municipal recycling centre. Now, the echoing warehouse on the Greek island of Chios is processing people.
Opened last weekend after a huge rush to be ready in time for an EU summit on Thursday, the hilltop facility is one of five "hotspots" set up on the islands at the behest of Brussels. By registering and fingerprinting the arrivals, authorities hope to impose some order after the chaotic scenes of last summer, when a million people arrived in Europe by sea alone – 800,000 of them from Greece via Turkey. But the idea remains dogged by both practical problems and huge unanswered questions about what happens next. 
The setting for the Chios "hotspot" is beautiful – a drive up from the coast twists past lemon and orange trees and verges dotted with anemones. The centre is less charming: a concrete hulk surrounded by tall wire fencing.
Beyond the gates is a giant, dusty warehouse that reverberates to the sound of chatter in Arabic, Kurdish and Farsi. Having arrived on dinghies hours earlier, hundreds of weary parents from Syria, Iraq, Afghanistan and Iran cluster together on chairs while their children make mischief at their feet. The elderly recline on wooden pallets with blankets pulled up around their necks. Everyone says that they want to go to Germany.
Organised into numbered groups, everyone waits their turn to file along steel barriers and into cabins where police officers from across Europe verify their identity and put them into a database. It is part of a drive by EU leaders to tighten security, after it emerged the ringleader of the Paris attacks passed through the island of Leros.
Such was the hurry to get this place ready that workmen are still drilling inside and outside the hangar. There are no staff to clean and on the first day, there was not enough water for the toilets. EU border staff say that their computers are not yet properly hooked up to the databases they need.
Despite these glitches, the Chios hotspot – along with one that opened in Lesbos in October – is the one faring best out of four centres declared "ready to function" by the Greek Defence Minister on Tuesday. 
In Samos, aid workers say there is no electricity and staff have been working in the dark. On Kos, everything has been held up by protests from locals who are worried and angry about the impact on tourism. On the first day in Leros, 600 people arrived and were promptly sent to an old camp because there were no staff to run the new hotspot.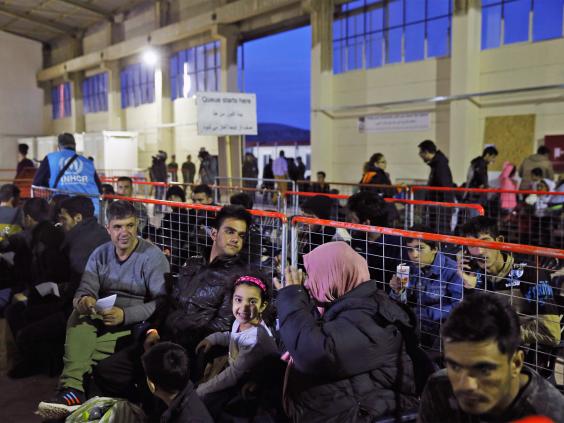 European officials asked Greece to build hotspots last autumn, but for months nothing happened. Amid threats that Greece could be kicked out of the Schengen open border zone, on 31 January came a sudden scramble. With just two weeks to get the job done, the Greek government called in the army. In Chios the task fell to Lt-Col Lolos Charalambos, who would clearly rather be almost anywhere other than here.
"It's much easier for me to be a commander in a camp with my soldiers," he says wistfully. But he believes that he completed his mission successfully and is pleased to see that the refugees and migrants are calm and relatively relaxed. "I look at their faces and I see they are OK – that's the satisfaction for us."
World news in pictures
World news in pictures
1/30 24 June 2016

A rider rears up on his horse while surrounded by a cheering crowd during the traditional Fiesta of Sant Joan (Saint John) in downtown Ciutadella, on the island of Menorca, Spain

REUTERS

2/30 24 June 2016

A man throws a bucket of water at a motorcyclist as residents join in a water-splashing frenzy to honor their patron St. John the Baptist's Feast Day in San Juan, Metro Manila, Philippines

REUTERS

3/30 23 June 2016

Migrant workers supporting Myanmar Foreign Minister and State Counselor Aung San Suu Kyi wave to her during a meeting at the coastal fishery centre of Samut Sakhon, Thailand

REUTERS

4/30 23 June 2016

A general view shows the financial district of Lujiazui in Shanghai

AFP/Getty Images

5/30 23 June 2016

A cat walks past Muslim women offering afternoon prayers at a mosque at the shrine of Sufi Saint Khawaja Naqashband during the holy month of Ramadan in Srinagar

REUTERS

6/30 23 June 2016

A test launch of ground-to-ground medium long-range ballistic rocket Hwasong-10 in North Korea

REUTERS

7/30 22 June 2016

Family members cry near coffins containing the bodies of Nepali nationals, who were killed when a suicide bomber struck a minibus in Kabul, lined up after being flown from Afghanistan at Tribhuvan International Airport in Kathmandu, Nepal

REUTERS

8/30 22 June 2016

Villagers carry banners which read "Plead the central government to help Wukan" (in red) and "Wukan villagers don't believe Lin Zuluan took bribes" during a protest in Wukan, China's Guangdong province

REUTERS

9/30 21 June 2016

A plane drops retardant on a wildfire as it attacks the flames on a hillside in the San Gabriel mountains near Monrovia, California

REUTERS

10/30 21 June 2016

Aymara indigenous hold up their hands to receive the first rays of sunlight in a New Year's ritual in the ruins of the ancient city Tiwanaku, Bolivia. Bolivia's Aymara Indians are celebrating the year 5,524 as well as the Southern Hemisphere's winter solstice, which marks the start of a new agricultural cycle

AP

11/30 21 June 2016

A resident making his way through a flooded area in a village in Poyang county, in southeast China's Jiangxi province

AFP/Getty Images

12/30 20 June 2016

Seagulls fly as the full moon rises behind the ancient marble Temple of Poseidon at Cape Sounion, southeast of Athens, on the eve of the summer solstice

AP

13/30 20 June 2016

An aerial view shows people practising yoga on a glass sightseeing platform ahead of the International Day of Yoga, on the outskirts of Beijing, China

REUTERS

14/30 20 June 2016

Dessana indigenous shaman Raimundo Dessana holds the Olympic Torch during a ritual at the Tupe Reservation in the outskirts of Manaus, Amazonas, Brazi

AFP/Getty Images

15/30 20 June 2016

An emu runs to escape an approaching wildfire as it burns near Potrero, California

REUTERS

16/30 20 June 2016

Wales' supporters cheer downtown Toulouse, before the Euro 2016 football match of Russia vs Wales

AFP/Getty Images

17/30 19 June 2016

A rescuer grabs a rope to prevent a raft carrying residents from being flushed away as residents are evacuated from a flooded area in Jiujiang, China

REUTERS

18/30 19 June 2016

Palestinians scuffle with an Israeli border policeman as Israeli troops demolish sheds belonging to Palestinians near the West Bank village of Yatta, south of Hebron

REUTERS

19/30 19 June 2016

People hold placards reading "A kiss against hate", "Rome loves Europe" as they gathered in front of the Colosseum to send a message of affection, sealed with a kiss to Britain, before next week's referendum, in Rome, Italy

REUTERS

20/30 19 June 2016

People perform dragon dance and present it in a shape of the Chinese character "father" to celebrate Father's Day in Yueyang, China

REUTERS

21/30 19 June 2016

A humming bird is seen landing on a bird feeder at a public square in Santiago, Chile

REUTERS

22/30 18 June 2016

A reveller participates in Regenbogenparade gay pride parade in Vienna, Austria

REUTERS

23/30 18 June 2016

Mohammed Tofeeq holds his 10-month-old daughter, Gulshan Tofeeq, while he prays at the grave of his wife Muqadas Tofeeq, who local police say was killed by her mother, in Butrawala village on the outskirts of Gujranwala in Pakistan. Police have arrested the mother of Muqadas Tofeeq who is accused of killing her pregnant daughter for marrying against the wishes of her family. Violence against women is not uncommon in Pakistan where nearly 1,000 women are killed each year in so-called "honor killings" for violating conservative norms on love and marriage

AP

24/30 17 June 2016

A relative of a an Indian man convicted for the 2002 Gujarat riots cries after the court announced the lengths of the sentences in Ahmadabad, India. An Indian court has sentenced 11 people to life in prison for murder in one of the many deadly religious riots that swept across the western state of Gujarat in 2002, leaving more than 1,000 dead. Special Court Judge P. B. Desai rejected the demand for death penalty as the prosecution failed to prove charges of criminal conspiracy against the defendants. The judge also sentenced 12 defendants to seven years in prison and one to 10 years in prison in the case

AP

25/30 17 June 2016

Police officers hug as they pay homage to the two police officials killed by an extremist claiming allegiance to IS, during a ceremony in Versailles, near Paris. Police commander Jean-Baptiste Salvaing and his companion, police administrator Jessica Schneider were stabbed by attacker Larossi Abballa, who was killed in a police raid

AP

26/30 17 June 2016

A long exposure photograph shows star trails in the night sky over a camp in Altyn-Emel national park, in Almaty region, Kazakhstan

REUTERS

27/30 16 June 2016

A member of the Indian LGBT community attends a vigil in Mumbai, in solidarity with the victims of the Orlando mass shooting

AFP/Getty Images

28/30 16 June 2016

Dockers hold up flares during a protest against what they say is a lack of job stability in Lisbon, Portugal

REUTERS

29/30 16 June 2016

New recruit "Pepper" the robot, a humanoid robot designed to welcome and take care of visitors and patients, holds the hand of a new born baby next to his mother at AZ Damiaan hospital in Ostend, Belgium

REUTERS

30/30 16 June 2016

Souad Hamidi, 19, removes the niqab she said she had been forced to wear since 2014, after U.S.-backed Syria Democratic Forces took control of her village Am Adasa in northern Syria from Islamic State fighters, in the outskirts of Manbij, Aleppo province, Syria

REUTERS
For all the fanfare, few believe that these facilities will solve the vast challenge of the biggest refugee crisis since the Second World War. For a start, there is the question of numbers. The capacity of the Chios hotspot is 1,000 people but on Thursday at least 1,400 people arrived. The island was forced to use the old town centre camps for overspill.
Despite initiatives to encourage people to stay in Turkey and crack down on smuggling routes, that influx is expected to increase further as the weather warms up and the seas calm down. Even bigger than the practical problems are the many unanswered questions about the role these centres will play in controlling the flow of people towards the rest of Europe.
Many expect that the border with Macedonia – already closed to all but Syrians, Afghans and Iraqis – will soon completely shut. Joe Kuper, a Londoner running the UN refugee agency's response in Chios, warns that a backlog could quickly build up in a country still facing the fallout from the catastrophic 2009 debt crisis. "This is why it is important that the Greek authorities are prepared and have in place a contingency plan to receive and support refugees," he says.
Whether people stay put or seek alternative, riskier routes depends partly on their view of the likelihood of making it to Europe in a more regulated fashion. EU states have promised to relocate 160,000 asylum-seekers from Greece and Italy. So far, just 497 people have been taken.
There also needs to be a way to turn back those deemed ineligible to enter the EU. Last year, only 33,590 people were returned either voluntarily or by force. In December, a group of 31 Pakistanis was dispatched to Islamabad, only to be sent straight back after their government said that they had been illegally deported.
Alexis Tsipras, the Greek Prime Minister, has pleaded for help on returns to stop Greece becoming a "warehouse for human souls".
Mr Tsipras has met with Angela Merkel and François Hollande amid growing concern about Greece's "lack of control" over thousands of migrants crossing its borders. Officials said leaders at the talks argued over conflicting national reactions to the migrant influx, and the potential collapse of Europe's border-free travel. 
The European Commission has given Greece three months to restore order on its borders, but few believe Athens will be able to meet the deadline. At present, the Chios hotspot is not acting as a detention centre – after being registered, the newcomers are given a temporary visa and allowed to buy ferry tickets to the mainland. But, given the wire fences and the hardening mood in Europe, some believe that could soon be the purpose of the hotspots.