A far-right mob armed with Molotov cocktails and rocks has attacked a refugee camp where hundreds of men, women and children are being held in Greece.
A Syrian asylum seeker was seriously injured in the violence at Souda on the island of Chios, where two volunteers were also beaten by a 30-strong gang as fires swept through the tents, destroying shelters used by 100 people.
Footage showed United Nations-branded tents burning as refugees attempted to stamp out flames in the darkness, with masked men armed with baseball bats prowling the camp.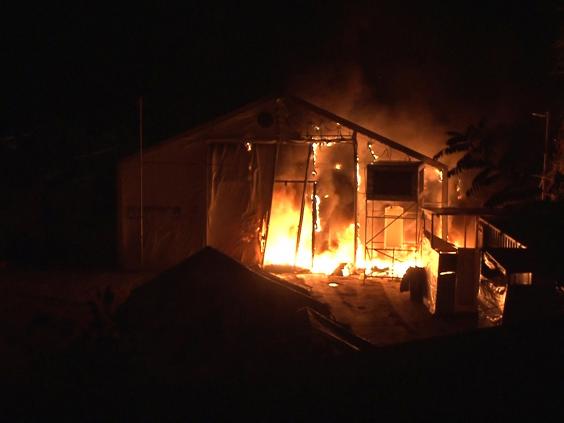 Boulders and firebombs were launched from a medieval fort that overlooks the camp, police said. One rock seriously injured a Syrian man when it was thrown from above. 
The UN Refugee Agency (UNHCR) said there had been several other violent incidents earlier in the week, leaving residents too scared to return to the site as winter temperatures plummet.
"I strongly condemn any acts of violence, resulting both in the local population and the refugees being seriously hurt," said Philippe Leclerc, the UNHCR's representative in Greece. "All perpetrators of such acts should be found and brought to justice."
He called on local authorities, who operate Souda, to prevent future attacks by reinforcing security and to increase efforts to find alternative accommodation for families sleeping in tents for several months while waiting for their claims to be processed.
The UN is already providing hostels and apartments for more than 300 of the most vulnerable asylum seekers and has transferred 400 more to the Greek mainland since the end of September.
Family-sized tents are being built for the victims of the fires, with aid workers distributing emergency blankets, sleeping bags and hygiene kits.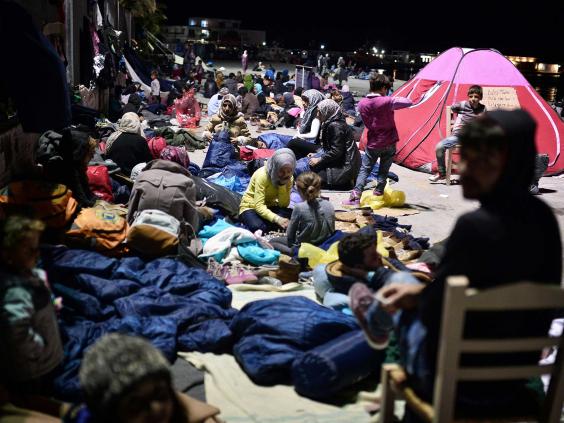 The attacks followed several disturbances at the Souda camp in recent months and came just days after members of Golden Dawn, a far-right Greek party accused of nao-Nazi links, visited Chios and called for migrants to be removed.
A local official said the island was "seething" over the presence of about 4,000 refugees and migrants across three camps.
"We cannot exclude that far-right groups are seeking to exploit local anger," he told AFP.
Thursday's attack was being viewed by local media as a reprisal for events on the previous evening, when groups of migrants broke into an off-licence and stole fireworks from another shop, setting them off to target local homes and cars.
Three Algerian teenagers and an Iraqi man in his forties were among 37 people detained over ensuing clashes between migrants, local residents and the police.
Chios is one of several Greek islands holding more than 16,000 migrants and refugees as part of the conditions of the controversial EU-Turkey deal.
The island camps have an official capacity of fewer than 7,500, with aid agencies warning of overcrowded and unsanitary conditions.
Refugee crisis - in pictures
Refugee crisis - in pictures
1/27

A child looks through the fence at the Moria detention camp for migrants and refugees at the island of Lesbos on May 24, 2016.

AFP/Getty Images

2/27

Ahmad Zarour, 32, from Syria, reacts after his rescue by MOAS (Migrant Offshore Aid Station) while attempting to reach the Greek island of Agathonisi, Dodecanese, southeastern Agean Sea

3/27

Syrian migrants holding life vests gather onto a pebble beach in the Yesil liman district of Canakkale, northwestern Turkey, after being stopped by Turkish police in their attempt to reach the Greek island of Lesbos on 29 January 2016.

Getty Images

4/27

Refugees flash the 'V for victory' sign during a demonstration as they block the Greek-Macedonian border

5/27

Migrants have been braving sub zero temperatures as they cross the border from Macedonia into Serbia.

6/27

A sinking boat is seen behind a Turkish gendarme off the coast of Canakkale's Bademli district on January 30, 2016. At least 33 migrants drowned on January 30 when their boat sank in the Aegean Sea while trying to cross from Turkey to Greece.

Getty Images

7/27

A general view of a shelter for migrants inside a hangar of the former Tempelhof airport in Berlin, Germany

8/27

Refugees protest behind a fence against restrictions limiting passage at the Greek-Macedonian border, near Gevgelija. Since last week, Macedonia has restricted passage to northern Europe to only Syrians, Iraqis and Afghans who are considered war refugees. All other nationalities are deemed economic migrants and told to turn back. Macedonia has finished building a fence on its frontier with Greece becoming the latest country in Europe to build a border barrier aimed at checking the flow of refugees

9/27

A father and his child wait after being caught by Turkish gendarme on 27 January 2016 at Canakkale's Kucukkuyu district

10/27

Migrants make hand signals as they arrive into the southern Spanish port of Malaga on 27 January, 2016 after an inflatable boat carrying 55 Africans, seven of them women and six chidren, was rescued by the Spanish coast guard off the Spanish coast.

11/27

A refugee holds two children as dozens arrive on an overcrowded boat on the Greek island of Lesbos

12/27

A child, covered by emergency blankets, reacts as she arrives, with other refugees and migrants, on the Greek island of Lesbos, At least five migrants including three children, died after four boats sank between Turkey and Greece, as rescue workers searched the sea for dozens more, the Greek coastguard said

13/27

Migrants wait under outside the Moria registration camp on the Lesbos. Over 400,000 people have landed on Greek islands from neighbouring Turkey since the beginning of the year

14/27

The bodies of Christian refugees are buried separately from Muslim refugees at the Agios Panteleimonas cemetery in Mytilene, Lesbos

15/27

Macedonian police officers control a crowd of refugees as they prepare to enter a camp after crossing the Greek border into Macedonia near Gevgelija

Getty Images

16/27

A refugee tries to force the entry to a camp as Macedonian police officers control a crowd after crossing the Greek border into Macedonia near Gevgelija

Getty Images

17/27

Refugees are seen aboard a Turkish fishing boat as they arrive on the Greek island of Lesbos after crossing a part of the Aegean Sea from the Turkish coast to Lesbos

Reuters

18/27

An elderly woman sings a lullaby to baby on a beach after arriving with other refugees on the Greek island of Lesbos after crossing the Aegean sea from Turkey

Getty Images

19/27

A man collapses as refugees make land from an overloaded rubber dinghy after crossing the Aegean see from Turkey, at the island of Lesbos

EPA

20/27

A girl reacts as refugees arrive by boat on the Greek island of Lesbos after crossing the Aegean sea from Turkey

Getty Images

21/27

Refugees make a show of hands as they queue after crossing the Greek border into Macedonia near Gevgelija

Getty Images

22/27

People help a wheelchair user board a train with others, heading towards Serbia, at the transit camp for refugees near the southern Macedonian town of Gevgelija

AP

23/27

Refugees board a train, after crossing the Greek-Macedonian border, near Gevgelija. Macedonia is a key transit country in the Balkans migration route into the EU, with thousands of asylum seekers - many of them from Syria, Afghanistan, Iraq and Somalia - entering the country every day

Getty Images

24/27

An aerial picture shows the "New Jungle" refugee camp where some 3,500 people live while they attempt to enter Britain, near the port of Calais, northern France

Getty Images

25/27

A Syrian girl reacts as she helped by a volunteer upon her arrival from Turkey on the Greek island of Lesbos, after having crossed the Aegean Sea

EPA

26/27

Refugees arrive by boat on the Greek island of Lesbos after crossing the Aegean sea from Turkey

Getty Images

27/27

Beds ready for use for migrants and refugees are prepared at a processing center on January 27, 2016 in Passau, Germany. The flow of migrants arriving in Passau has dropped to between 500 and 1,000 per day, down significantly from last November, when in the same region up to 6,000 migrants were arriving daily.
Médecins Sans Frontières (MSF) said more than 50,000 people were living in substandard conditions across the country, including victims of violence and torture, those with chronic diseases and psychiatric disorders, disabled people, unaccompanied children, pregnant women and newborn babies.
"The people we work with have been through unimaginable trauma in their home countries and on the journey to Greece," said Christina Sideri, an MSF psychologist. 
"For them, being blocked in Greece is like being in an open-air prison. Moreover, the asylum process is so slow that many will have their first asylum appointment in April, May next year. 
"This delay and the uncertainty this means for their future is devastating." 
Tensions are running high among migrants unable to continue their journeys to Western Europe, with 61,000 people trapped in Greece by a series of border closures through the Balkans.
Many face deportation back to Turkey if their asylum claims are not accepted, as part of the March agreement, with Britain and several other European nations refusing to resettle those arriving in Italy and Greece according to quotas.
Additional reporting by agencies
Reuse content