Almost 11,000 refugees have been rescued in the Mediterranean Sea in just 48 hours as thousands of migrants continue desperate attempts to reach Europe.
At least 50 bodies have been recovered so far, with 20 suffocating in the hold of an overcrowded fishing boat and others drowning.
A pregnant woman was among the dead counted on Monday and Tuesday, while three other women who were saved had given birth within 24 hours of being picked up by an Italian coast guard vessel.
The women and their three babies were reported to be in good health as they were transported to Sicily with other survivors.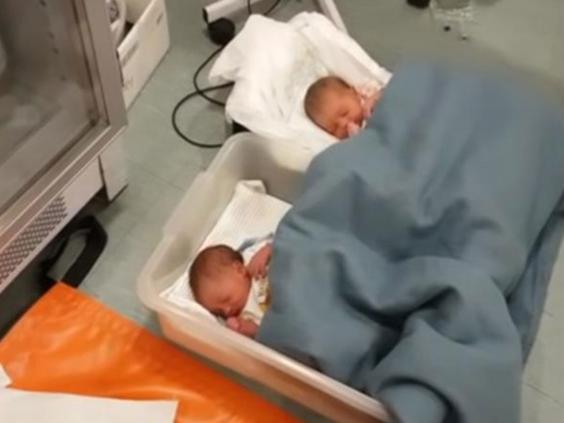 Officials said more than 4,650 migrants were rescued off the Libyan coast from 33 boats on Tuesday, bringing the total to nearly 11,000 from the start of the week.
Most were in flimsy rubber dinghies but 1,000 refugees were packed on to a single wooden boat, with many crammed in the hold so tightly they could not breathe.
A photographer working for the AFP news agency on a recue vessel counted 22 bodies taken off the vessel and told local media he feared more remained inside.
It was the latest in a series of disasters seeing refugees suffocate on the long journey from Libya, which lies 180 miles from the Italian island of Lampedusa at its closest point to Europe.
Last year, The Independent revealed a disturbing trend among people traffickers locking African migrants who paid less for the treacherous journey below decks, to load Middle Eastern passengers charged a higher rate above board.
At least 100 asylum seekers were massacred by traffickers in 2014 after they tried to escape deadly petrol fumes spreading in a locked hold, while many more have died during sinkings after being unable to escape the rising water.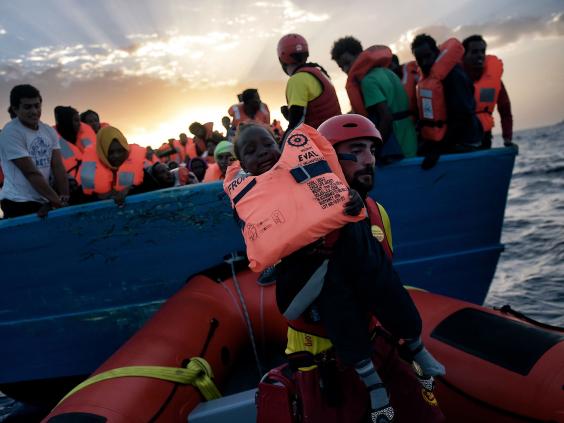 The Migrant Offshore Aid Station (MOAS) and Italian Red Cross were among the agencies responding to the tragedy, rescuing 778 migrants on their two ships.
Aid workers said a spell of bad weather on Libya's coast had caused a backlog for people smugglers, causing them to send at least 72 vessels towards Europe from the same area in a short space of time.
"These mass departures put the lives of migrants trying to cross the sea at further risk, complicating rescue operations considerably" said MOAS director Pete Sweetnam. 
"The numbers we are seeing, and in particular the constant increase in the number of deaths, clearly shows that this crisis needs alternative and sustainable solution beyond the existing search-and-rescue missions."
The group said the true number of deaths in sea crossings to Europe, counted at 3,521 this year alone by the United Nations, may never be known as 2016 remains on course to be the deadliest year on record.
On Monday, Doctors Without Borders (MSF) described horrific scenes in chaotic rescues of 11 separate boats over seven hours, including the death of a pregnant woman.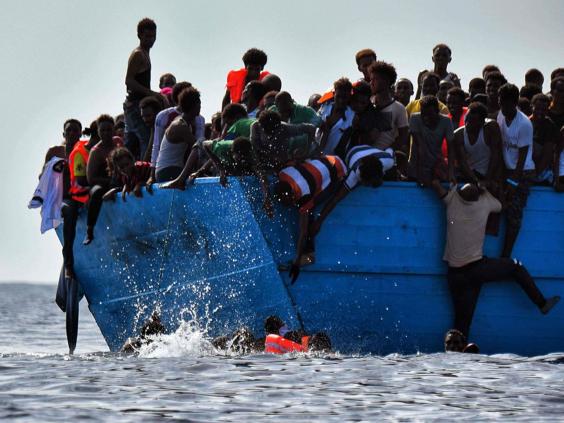 "When we arrived to our second rescue this morning, people were in the water and some were close to drowning. It was a horrific site", said Nicolas Papachrysostomou, MSF's field coordinator on the Dignity I vessel. 
"People were frightened and many of them were suffering from fuel burns, particularly women and children. 
"Devastatingly, as we were heading to the [medical evacuation point] our critical patient, a pregnant woman, died. 
"It is just unacceptable that in 2016, these people are left with no other choice than making this dramatic and deadly journey."   
It is common for women and girls to be raped by people smugglers during their journey to Libya, frequently arriving at their destination several months pregnant.
Footage released by the Italian coastguard showed men, women, children and babies backed on to dozens of boats before being rescued, passing out on the deck from exhaustion and days without food and water.
With the migrant route over the Aegean Sea virtually closed by the controversial EU-Turkey deal, which is seeing refugees intercepted, detained in Greece and threatened with deportation,  the Central Mediterranean has once again become the dominant route to Europe.
Refugee crisis - in pictures
Refugee crisis - in pictures
1/27

A child looks through the fence at the Moria detention camp for migrants and refugees at the island of Lesbos on May 24, 2016.

AFP/Getty Images

2/27

Ahmad Zarour, 32, from Syria, reacts after his rescue by MOAS (Migrant Offshore Aid Station) while attempting to reach the Greek island of Agathonisi, Dodecanese, southeastern Agean Sea

3/27

Syrian migrants holding life vests gather onto a pebble beach in the Yesil liman district of Canakkale, northwestern Turkey, after being stopped by Turkish police in their attempt to reach the Greek island of Lesbos on 29 January 2016.

Getty Images

4/27

Refugees flash the 'V for victory' sign during a demonstration as they block the Greek-Macedonian border

5/27

Migrants have been braving sub zero temperatures as they cross the border from Macedonia into Serbia.

6/27

A sinking boat is seen behind a Turkish gendarme off the coast of Canakkale's Bademli district on January 30, 2016. At least 33 migrants drowned on January 30 when their boat sank in the Aegean Sea while trying to cross from Turkey to Greece.

Getty Images

7/27

A general view of a shelter for migrants inside a hangar of the former Tempelhof airport in Berlin, Germany

8/27

Refugees protest behind a fence against restrictions limiting passage at the Greek-Macedonian border, near Gevgelija. Since last week, Macedonia has restricted passage to northern Europe to only Syrians, Iraqis and Afghans who are considered war refugees. All other nationalities are deemed economic migrants and told to turn back. Macedonia has finished building a fence on its frontier with Greece becoming the latest country in Europe to build a border barrier aimed at checking the flow of refugees

9/27

A father and his child wait after being caught by Turkish gendarme on 27 January 2016 at Canakkale's Kucukkuyu district

10/27

Migrants make hand signals as they arrive into the southern Spanish port of Malaga on 27 January, 2016 after an inflatable boat carrying 55 Africans, seven of them women and six chidren, was rescued by the Spanish coast guard off the Spanish coast.

11/27

A refugee holds two children as dozens arrive on an overcrowded boat on the Greek island of Lesbos

12/27

A child, covered by emergency blankets, reacts as she arrives, with other refugees and migrants, on the Greek island of Lesbos, At least five migrants including three children, died after four boats sank between Turkey and Greece, as rescue workers searched the sea for dozens more, the Greek coastguard said

13/27

Migrants wait under outside the Moria registration camp on the Lesbos. Over 400,000 people have landed on Greek islands from neighbouring Turkey since the beginning of the year

14/27

The bodies of Christian refugees are buried separately from Muslim refugees at the Agios Panteleimonas cemetery in Mytilene, Lesbos

15/27

Macedonian police officers control a crowd of refugees as they prepare to enter a camp after crossing the Greek border into Macedonia near Gevgelija

Getty Images

16/27

A refugee tries to force the entry to a camp as Macedonian police officers control a crowd after crossing the Greek border into Macedonia near Gevgelija

Getty Images

17/27

Refugees are seen aboard a Turkish fishing boat as they arrive on the Greek island of Lesbos after crossing a part of the Aegean Sea from the Turkish coast to Lesbos

Reuters

18/27

An elderly woman sings a lullaby to baby on a beach after arriving with other refugees on the Greek island of Lesbos after crossing the Aegean sea from Turkey

Getty Images

19/27

A man collapses as refugees make land from an overloaded rubber dinghy after crossing the Aegean see from Turkey, at the island of Lesbos

EPA

20/27

A girl reacts as refugees arrive by boat on the Greek island of Lesbos after crossing the Aegean sea from Turkey

Getty Images

21/27

Refugees make a show of hands as they queue after crossing the Greek border into Macedonia near Gevgelija

Getty Images

22/27

People help a wheelchair user board a train with others, heading towards Serbia, at the transit camp for refugees near the southern Macedonian town of Gevgelija

AP

23/27

Refugees board a train, after crossing the Greek-Macedonian border, near Gevgelija. Macedonia is a key transit country in the Balkans migration route into the EU, with thousands of asylum seekers - many of them from Syria, Afghanistan, Iraq and Somalia - entering the country every day

Getty Images

24/27

An aerial picture shows the "New Jungle" refugee camp where some 3,500 people live while they attempt to enter Britain, near the port of Calais, northern France

Getty Images

25/27

A Syrian girl reacts as she helped by a volunteer upon her arrival from Turkey on the Greek island of Lesbos, after having crossed the Aegean Sea

EPA

26/27

Refugees arrive by boat on the Greek island of Lesbos after crossing the Aegean sea from Turkey

Getty Images

27/27

Beds ready for use for migrants and refugees are prepared at a processing center on January 27, 2016 in Passau, Germany. The flow of migrants arriving in Passau has dropped to between 500 and 1,000 per day, down significantly from last November, when in the same region up to 6,000 migrants were arriving daily.
Ruthless traffickers exploiting widespread lawlessness since the Libyan civil war have made the country the launching point for most of the treacherous journey, making the patch of sea the deadliest crossing in the world.
At least 142,000 migrants have reached Italy since the start of the year – compared to 154,000 in the entire of 2015 - and around 3,100 have died making the perilous trip. 
The vast majority of refugees reaching the country come from African nations including Nigeria, Eritrea, Guinea, Gambia, Sudan, the Ivory Coast and Somalia.
The European Union temporarily waived a regulation requiring asylum seekers to be registered in their country of arrival as the refugee crisis mounted last year, with Italian authorities continuing to struggle to identify, fingerprint and accommodate those arriving.
Plans were drawn up to distribute asylum seekers around the EU according to a quota system but many countries, including the UK, have refused to take part in the scheme.
Francesco Rocca, president of the Italian Red Cross, said: "Without clear solutions to the migration phenomenon at a European and international level, the tragedy of the loss of human life at sea will continue, as our teams can sadly testify. 
"It is not the sea that kills migrants, but rather the world's indifference to their plight."

Reuse content