The United Nations refugee agency has been forced to step in to save scores of "orphan" children from detention in filthy police cells on the Greek island of Kos after its complaints at the squalid conditions went unheeded.
Children as young as 11 who arrived by boat from Turkey without their parents or other adult relatives have been held for weeks at a time in cells smeared in faeces, alongside adult criminals, while Greek authorities determined where to relocate them.
Greek officials say they are obliged to keep the children securely for their own safety as legal minors. But volunteers from a non-governmental organisation that visits prisoners at Kos's central police station every day said they were shocked by the "medieval" conditions there.
They are provided with only one meal a day, in addition to fresh fruit and water that is supplied by charities and aid agencies, and on at least one occasion children in police detention went for two days without food. They are not allowed to go outside and are handcuffed if they are moved to a different location, several witnesses said.
"It's really filthy," one volunteer, who asked not to be named, told The Independent. "There are bare electrical wires sticking out of the ceiling… There is shit on the floor and it is running out of the cell. They have to reach out through bars to receive their food. This is not normal in Europe."
The United Nations High Commissioner for Refugees (UNHCR) has been warning the Greek government and local authorities about the poor conditions since it developed a presence on the island in May. Hard-pressed Greek officials have been battling to cope with the influx of tens of thousands of refugees and migrants arriving by boat from Turkey, often at the rate of more than 1,000 a week.
Now the UN body has intervened, and has reached an agreement with Kos's public prosecutor that such children will in future be placed in the care of an NGO, which will run its own shelter for them with UN funding.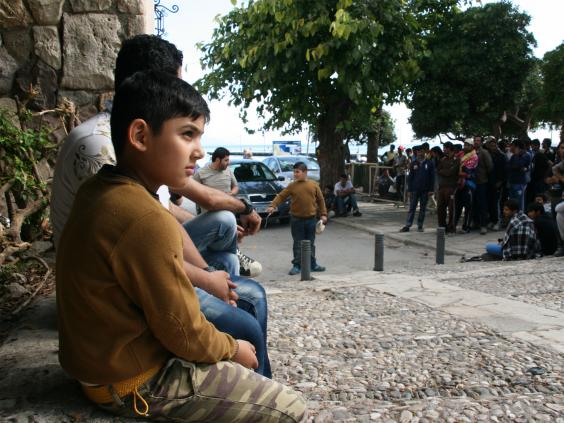 "Clearly [custody] remains a state responsibility. However, given the fact that is not happening at the speed needed for the numbers of refugees arriving in Greece, the UN has been happy to step in and help," said Marco Procaccini, director of the UNHCR office on the island.
At present a total of 11 children aged between 12 and 17 are being held in two Kos police stations, The Independent has been told.
The UN Convention on the Rights of the Child states that children are entitled to special protection and help if they are refugees and should not be placed in prison with adults. While EU agreements lay out guidelines for the protection of unaccompanied minors, each country has its own specific legislation.
We keep them there for their own safety
According to Greek law, those claiming asylum who cannot be matched up with relatives are automatically placed in the custody of the public prosecutor until they can be put under the supervision of a suitable legal guardian. In practice, this means they are handed over to the police while they wait to be placed at a long-term care facility elsewhere in Greece. This can take anything between a few days and several weeks, Mr Procaccini said.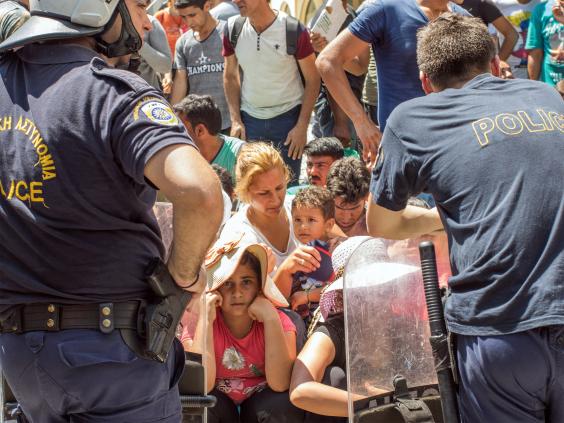 Tim Ubhi, the clinical director of the British organisation Children's E-Hospital, who visited the police cell three times during a recent visit to help refugees on the island, said the conditions were very poor. "It's a horrible cell," he said. "It's like a medieval dungeon – there's no other way to describe it."
Mr Ubhi said that the conditions in which the children are held may have a devastating impact on them. "From a physical and a psychological point of view, as well as emotionally, this is quite disturbing," he said.
Since May the UNHCR has encouraged police to transfer some teenagers from Kos town police station to another, 12 miles outside, where they are incarcerated in a single room but are at least separate from other prisoners. They remain locked in for most of the day.
"They don't let them out because they are under 18," said  Sevastianos Marangos, head of Kos's Civil Protection Office. "We keep them there for their own safety."
Refugee crisis - in pictures
Refugee crisis - in pictures
1/27

A child looks through the fence at the Moria detention camp for migrants and refugees at the island of Lesbos on May 24, 2016.

AFP/Getty Images

2/27

Ahmad Zarour, 32, from Syria, reacts after his rescue by MOAS (Migrant Offshore Aid Station) while attempting to reach the Greek island of Agathonisi, Dodecanese, southeastern Agean Sea

3/27

Syrian migrants holding life vests gather onto a pebble beach in the Yesil liman district of Canakkale, northwestern Turkey, after being stopped by Turkish police in their attempt to reach the Greek island of Lesbos on 29 January 2016.

Getty Images

4/27

Refugees flash the 'V for victory' sign during a demonstration as they block the Greek-Macedonian border

5/27

Migrants have been braving sub zero temperatures as they cross the border from Macedonia into Serbia.

6/27

A sinking boat is seen behind a Turkish gendarme off the coast of Canakkale's Bademli district on January 30, 2016. At least 33 migrants drowned on January 30 when their boat sank in the Aegean Sea while trying to cross from Turkey to Greece.

Getty Images

7/27

A general view of a shelter for migrants inside a hangar of the former Tempelhof airport in Berlin, Germany

8/27

Refugees protest behind a fence against restrictions limiting passage at the Greek-Macedonian border, near Gevgelija. Since last week, Macedonia has restricted passage to northern Europe to only Syrians, Iraqis and Afghans who are considered war refugees. All other nationalities are deemed economic migrants and told to turn back. Macedonia has finished building a fence on its frontier with Greece becoming the latest country in Europe to build a border barrier aimed at checking the flow of refugees

9/27

A father and his child wait after being caught by Turkish gendarme on 27 January 2016 at Canakkale's Kucukkuyu district

10/27

Migrants make hand signals as they arrive into the southern Spanish port of Malaga on 27 January, 2016 after an inflatable boat carrying 55 Africans, seven of them women and six chidren, was rescued by the Spanish coast guard off the Spanish coast.

11/27

A refugee holds two children as dozens arrive on an overcrowded boat on the Greek island of Lesbos

12/27

A child, covered by emergency blankets, reacts as she arrives, with other refugees and migrants, on the Greek island of Lesbos, At least five migrants including three children, died after four boats sank between Turkey and Greece, as rescue workers searched the sea for dozens more, the Greek coastguard said

13/27

Migrants wait under outside the Moria registration camp on the Lesbos. Over 400,000 people have landed on Greek islands from neighbouring Turkey since the beginning of the year

14/27

The bodies of Christian refugees are buried separately from Muslim refugees at the Agios Panteleimonas cemetery in Mytilene, Lesbos

15/27

Macedonian police officers control a crowd of refugees as they prepare to enter a camp after crossing the Greek border into Macedonia near Gevgelija

Getty Images

16/27

A refugee tries to force the entry to a camp as Macedonian police officers control a crowd after crossing the Greek border into Macedonia near Gevgelija

Getty Images

17/27

Refugees are seen aboard a Turkish fishing boat as they arrive on the Greek island of Lesbos after crossing a part of the Aegean Sea from the Turkish coast to Lesbos

Reuters

18/27

An elderly woman sings a lullaby to baby on a beach after arriving with other refugees on the Greek island of Lesbos after crossing the Aegean sea from Turkey

Getty Images

19/27

A man collapses as refugees make land from an overloaded rubber dinghy after crossing the Aegean see from Turkey, at the island of Lesbos

EPA

20/27

A girl reacts as refugees arrive by boat on the Greek island of Lesbos after crossing the Aegean sea from Turkey

Getty Images

21/27

Refugees make a show of hands as they queue after crossing the Greek border into Macedonia near Gevgelija

Getty Images

22/27

People help a wheelchair user board a train with others, heading towards Serbia, at the transit camp for refugees near the southern Macedonian town of Gevgelija

AP

23/27

Refugees board a train, after crossing the Greek-Macedonian border, near Gevgelija. Macedonia is a key transit country in the Balkans migration route into the EU, with thousands of asylum seekers - many of them from Syria, Afghanistan, Iraq and Somalia - entering the country every day

Getty Images

24/27

An aerial picture shows the "New Jungle" refugee camp where some 3,500 people live while they attempt to enter Britain, near the port of Calais, northern France

Getty Images

25/27

A Syrian girl reacts as she helped by a volunteer upon her arrival from Turkey on the Greek island of Lesbos, after having crossed the Aegean Sea

EPA

26/27

Refugees arrive by boat on the Greek island of Lesbos after crossing the Aegean sea from Turkey

Getty Images

27/27

Beds ready for use for migrants and refugees are prepared at a processing center on January 27, 2016 in Passau, Germany. The flow of migrants arriving in Passau has dropped to between 500 and 1,000 per day, down significantly from last November, when in the same region up to 6,000 migrants were arriving daily.
But others are still being held in the central police cell. On Wednesday there were seven there, alongside more than a dozen adults. "They are not looking good," said a volunteer who had visited the cell several days in a row. "You can see it in their eyes."
Mr Marangos said Kos had been unprepared for the volume of refugees who began arriving in the spring. He said the island, which has a population of 30,947, has not received enough funding or additional staff to meet the refugees' needs. More than 42,000 have arrived on the island this year, with 337 in a single day last weekend.
"This problem was faced for the first time in Kos," Mr Marangos said. "We have tried the best we could to keep the island clean and safe."
Stella Nanou, public information officer for UNHCR in Greece, said the practice of detaining children in police custody while they await transfer to longer-term care was being repeated in other parts of the country. The UNHCR has repeatedly warned the government about its capacity to accommodate unaccompanied minors seeking asylum, most recently in April this year.