Police are blocking aid to one of France's largest refugee camps, prompting a desperate appeal for help amid rapidly deteriorating conditions.
At least 24 hours of constant heavy rain have devastated the camp at Grande-Synthe near Dunkirk, and volunteers say local officers are refusing to allow them access to the camp with supplies to rebuild it.
Following a by-law put in place by the Dunkirk authorities at the end of December, the only aid allowed into the camp is food and clothing carried by hand.
Even before the recent storms, conditions at Grande-Synthe were described as "far worse" than those in the infamous Calais Jungle.
Two videos shot in the aftermath of the storm by volunteer Rowan Farrell show the impact of the rains on the camp.
Mud and debris swamp the pathways and tents lie collapsed in filthy water.
"Even after four months in Calais, I was very shocked by what I saw in Dunkirk yesterday," Mr Farrell said.
Another vid from Dunkirk, Grand Synth camp. Path leading up to a central open area that was once a football field.

Posted by Rowan Farrell on Monday, 4 January 2016
Out of an estimated 3,000 residents in the camp, 200 have already been forced out of their tents, and more are expected to collapse within the next fortnight. 
At the start of the New Year, the French government pledged to spend £1.1million building a new camp near Dunkirk, where they plan to relocate the inhabitants of Grande-Synthe.
However, it will be several weeks at least before the new camp is ready to receive any refugees, and the current residents of Grande-Synthe alone will fill it almost to capacity. 
Refugee crisis - in pictures
Refugee crisis - in pictures
1/27

A child looks through the fence at the Moria detention camp for migrants and refugees at the island of Lesbos on May 24, 2016.

AFP/Getty Images

2/27

Ahmad Zarour, 32, from Syria, reacts after his rescue by MOAS (Migrant Offshore Aid Station) while attempting to reach the Greek island of Agathonisi, Dodecanese, southeastern Agean Sea

3/27

Syrian migrants holding life vests gather onto a pebble beach in the Yesil liman district of Canakkale, northwestern Turkey, after being stopped by Turkish police in their attempt to reach the Greek island of Lesbos on 29 January 2016.

Getty Images

4/27

Refugees flash the 'V for victory' sign during a demonstration as they block the Greek-Macedonian border

5/27

Migrants have been braving sub zero temperatures as they cross the border from Macedonia into Serbia.

6/27

A sinking boat is seen behind a Turkish gendarme off the coast of Canakkale's Bademli district on January 30, 2016. At least 33 migrants drowned on January 30 when their boat sank in the Aegean Sea while trying to cross from Turkey to Greece.

Getty Images

7/27

A general view of a shelter for migrants inside a hangar of the former Tempelhof airport in Berlin, Germany

8/27

Refugees protest behind a fence against restrictions limiting passage at the Greek-Macedonian border, near Gevgelija. Since last week, Macedonia has restricted passage to northern Europe to only Syrians, Iraqis and Afghans who are considered war refugees. All other nationalities are deemed economic migrants and told to turn back. Macedonia has finished building a fence on its frontier with Greece becoming the latest country in Europe to build a border barrier aimed at checking the flow of refugees

9/27

A father and his child wait after being caught by Turkish gendarme on 27 January 2016 at Canakkale's Kucukkuyu district

10/27

Migrants make hand signals as they arrive into the southern Spanish port of Malaga on 27 January, 2016 after an inflatable boat carrying 55 Africans, seven of them women and six chidren, was rescued by the Spanish coast guard off the Spanish coast.

11/27

A refugee holds two children as dozens arrive on an overcrowded boat on the Greek island of Lesbos

12/27

A child, covered by emergency blankets, reacts as she arrives, with other refugees and migrants, on the Greek island of Lesbos, At least five migrants including three children, died after four boats sank between Turkey and Greece, as rescue workers searched the sea for dozens more, the Greek coastguard said

13/27

Migrants wait under outside the Moria registration camp on the Lesbos. Over 400,000 people have landed on Greek islands from neighbouring Turkey since the beginning of the year

14/27

The bodies of Christian refugees are buried separately from Muslim refugees at the Agios Panteleimonas cemetery in Mytilene, Lesbos

15/27

Macedonian police officers control a crowd of refugees as they prepare to enter a camp after crossing the Greek border into Macedonia near Gevgelija

Getty Images

16/27

A refugee tries to force the entry to a camp as Macedonian police officers control a crowd after crossing the Greek border into Macedonia near Gevgelija

Getty Images

17/27

Refugees are seen aboard a Turkish fishing boat as they arrive on the Greek island of Lesbos after crossing a part of the Aegean Sea from the Turkish coast to Lesbos

Reuters

18/27

An elderly woman sings a lullaby to baby on a beach after arriving with other refugees on the Greek island of Lesbos after crossing the Aegean sea from Turkey

Getty Images

19/27

A man collapses as refugees make land from an overloaded rubber dinghy after crossing the Aegean see from Turkey, at the island of Lesbos

EPA

20/27

A girl reacts as refugees arrive by boat on the Greek island of Lesbos after crossing the Aegean sea from Turkey

Getty Images

21/27

Refugees make a show of hands as they queue after crossing the Greek border into Macedonia near Gevgelija

Getty Images

22/27

People help a wheelchair user board a train with others, heading towards Serbia, at the transit camp for refugees near the southern Macedonian town of Gevgelija

AP

23/27

Refugees board a train, after crossing the Greek-Macedonian border, near Gevgelija. Macedonia is a key transit country in the Balkans migration route into the EU, with thousands of asylum seekers - many of them from Syria, Afghanistan, Iraq and Somalia - entering the country every day

Getty Images

24/27

An aerial picture shows the "New Jungle" refugee camp where some 3,500 people live while they attempt to enter Britain, near the port of Calais, northern France

Getty Images

25/27

A Syrian girl reacts as she helped by a volunteer upon her arrival from Turkey on the Greek island of Lesbos, after having crossed the Aegean Sea

EPA

26/27

Refugees arrive by boat on the Greek island of Lesbos after crossing the Aegean sea from Turkey

Getty Images

27/27

Beds ready for use for migrants and refugees are prepared at a processing center on January 27, 2016 in Passau, Germany. The flow of migrants arriving in Passau has dropped to between 500 and 1,000 per day, down significantly from last November, when in the same region up to 6,000 migrants were arriving daily.
Phoenix Clough is one of just eight long-term volunteers currently based at Grande-Synthe and said authorities' refusal to allow in of tents, wood, tarpaulins and even sleeping bags and blankets was making an bad situation much worse.
She said: "The Gendarmerie [a branch of France's armed forces which carry out police duties] and the mayor's office are preventing anything from entering into the camp.
"One Friday evening, we were told that we couldn't come into the camp with any vehicles without a pass. That meant there was no food taken in all weekend.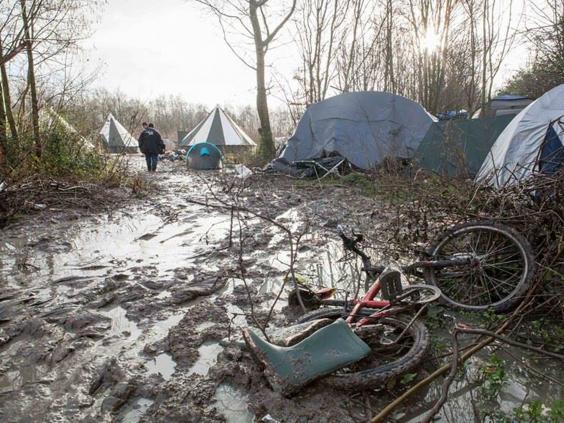 "Then the police told us that the few passes we have are fake because they're photocopied, even though they were issued and photocopied by the mayor's office.
"They're saying that they don't want the camp to grow, but it doesn't change the fact that it's at least a month before the new camp opens.
"We are in the depths of winter now. There's worse weather coming and there is no contingency plan and no structure in place."
She said volunteers believed the new camp was far too small to keep up with demand.
"There's contingency for approximately 300 people more to arrive, and in their mind that's enough space for new arrivals. There will be two communal spaces and that's it: what about distribution centres, kitchens, women's and children's centres? And what about the immediate needs of these people?"
Charities Médecins Sans Frontières and Médecins du Monde maintain a part-time presence in the camp.
But volunteers working at the camp say the large NGOs are waiting for the new government-sponsored camp to open, and are unable to cope with the immediate problems faced by the refugees in Grande-Synthe.
"Even though there are two well-respected long-term groups here, nobody's even in charge of medical care in the camp," Ms Clough said.
"They're as powerless as we are. We need a proper infrastructure and we need one now."
"Imagine an earthquake or a flood in Haiti and the whole world rushes there to help: that's what's happening here and now in France, and no one is doing anything. British subculture and festival circuit people who are stepping up to help, because nobody else is."
The only professional medical support available at the camp over the 48 hours following the storm was provided by Hands International, who have begun the process of administering vaccines to all the inhabitants.
They reported that 96 out of 100 initial recipients of the flu vaccine were suffering from scabies, and that many of the refugees they treated were also coughing up blood.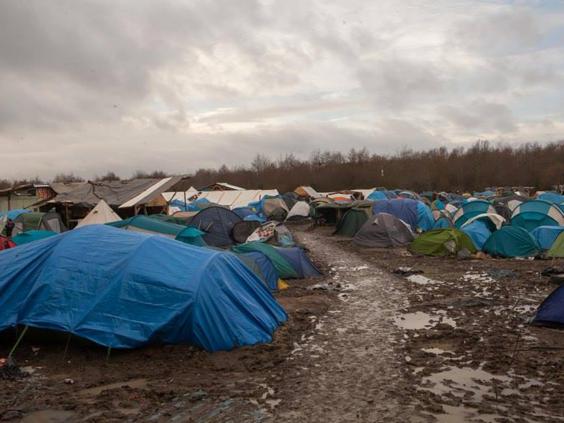 At the moment, there is one toilet for every 150 refugees at Grande-Synthe, and just eight taps concentrated in one wash-station serving the whole camp - or one tap per every 400 inhabitants.
Even in the most extreme conditions, experts advise a maximum of no more than 20 people per toilet. 
Volunteers on the ground in Dunkirk have released a statement detailing the most urgent needs of the refugees at the camp. The document also contains contact details for anyone who feels they can help meet any of these needs.
As well as demanding an end to restrictions on the delivery of aid and construction materials, they are pleading for more aid, volunteers, resources and donations.
Stocks are already running dangerously low at the main distribution centre in Calais, where they are running out of shoes and blankets. There were only 15 volunteers working at the centre last weekend, down from a high of 200. 
There is an urgent need for a warehouse to open near Dunkirk, as otherwise the volunteers will have to turn away bulk donations or watch them be dumped in muddy fields.
"There is one available," Ms Clough said, "but they want 50,000 euros before they'll open it, and the first thing we'll have to do is buy a generator to run the roller shutter doors."
The volunteers also highlight the need for direct financial donations, more long-term volunteers, increased medical cover, an industrial washing and drying service in the local area, child welfare specialists and individuals with legal and human rights training.
"And we desperately need someone to run PR and admin," Ms Clough adds.
"We're just so absolutely swamped.  And we're the only thing coming between these people and death."
Reuse content