More than 66,000 people have signed up to march through London to demand "positive change" in Britain's stance towards refugees.
Protesters will mass two days before Theresa May attends emergency EU talks on the continuing crisis as political pressure continues to mount on the UK.
David Cameron is expected to announce a new strategy over the coming days, although he has not publicly committed to accepting more refugees.
Outrage over the deaths of thousands of desperate men, women and children trying to reach Europe has been galvanised by photos of Aylan Kurdi, a three-year-old Syrian boy who drowned when his family's boat capsized on the way to Greece.
Organisers of the Solidarity with Refugees march said people fleeing conflict must be allowed to reach Europe safely, rather than entrusting their lives to ruthless smugglers.
Ros Ereira and Abdulaziz Almashi wrote on Facebook: "There needs to be either official safe transport provided, or if people could apply for asylum from outside the EU they would be able to enter by official routes.
"We need to prioritise the fast processing of asylum claims from people from particularly dangerous regions, such as Syria.
"We can't allow any EU countries to close their borders or build fences. There needs to be Europe-wide consensus on providing help where it is so desperately needed, relieving pressure on the Mediterranean countries."
Refugees Welcome: Supporters back The Independent's campaign
Refugees Welcome: Supporters back The Independent's campaign
1/15 Sean O'Grady

Twitter

2/15 Jamie Merrill

Twitter

3/15 Mollie Goodfellow and Marie Le Conte

Twitter

4/15 Naomi Westland

Twitter

5/15 DJ Kooper

Twitter

6/15 Zuhura Plummer

Twitter

7/15 Christine Gingter

Twitter

8/15 Andy Kavanagh

Twitter

9/15 Martijn van Calcar

Twitter

10/15 Dan O

Twitter

11/15 Kerry F

Twitter

12/15 Eulette

Twitter

13/15 Sarah

Twitter

14/15 Barefoot Mower

Twitter

15/15 Swim Deep

Twitter
The pair said that the Home Secretary must meet her counterparts with knowledge that the "conviction that the British people she represents are open to helping refugees".
"We can't continue to allow thousands to die trying to reach the EU and their legal right to claim asylum," their statement added.
Another petition, started by Zoe Fritz, has gathered more than 200 signatories who say they are personally willing to house Syrian refugees.
"We must persuade the Government that there are those who wish policy to change and are willing to offer space in their homes to facilitate that change," Ms Fritz wrote.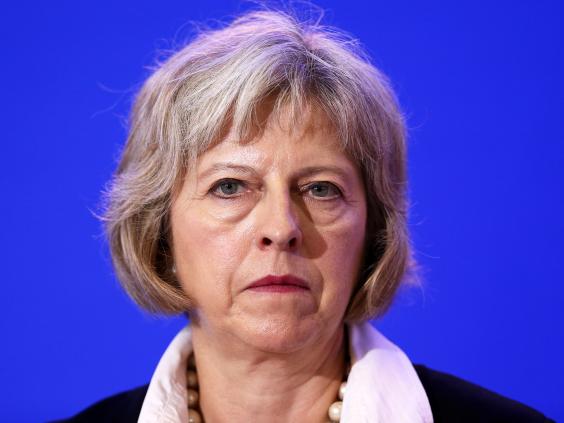 Similar schemes have gained huge support in Iceland and Germany.
More than 245,000 people have signed a petition started by this newspaper asking the Prime Minister to allow Britain to accept a fair share of refugees, and thousands more have shared photos of themselves on social media as part of the Refugees Welcome campaign.
Scottish First Minister Nicola Sturgeon, Liberal Democrat leader Tim Farron and Natalie Bennett, the leader of the Green Party, are among those adding pressure on the Prime Minister to act.
Mr Cameron is expected to come forward with new plans within the next few days that could see thousands more Syrians come to the UK, despite his previous assertion that "taking more and more refugees" was not the answer.
Any extra asylum seekers accepted are expected to come from UN camps bordering Syria, rather from among people already in Europe.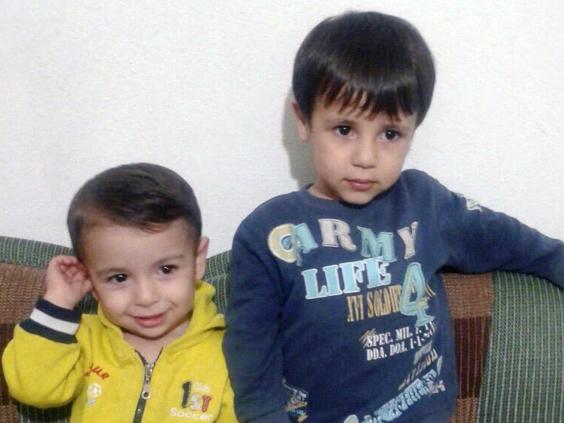 The Prime Minister told reporters yesterday that he was "deeply moved" by the photos of Aylan's body and that Britain's response to the crisis was "under review", promising the UK would fulfil its "moral responsibilities".
Pressure was further ramped up yesterday by a joint declaration by the leaders of Germany and France, proposing a system of "compulsory and permanent" residence for refugees across Europe.
Angela Merkel, the German Chancellor, has been a leading voice in calling for European states to share the burden as her country prepares to accept 800,000 refugees this year.
But previous proposals for compulsory national quotas were met with resistance by several EU members, including Hungary and other eastern nations on the land route used by people migrating through the Balkans.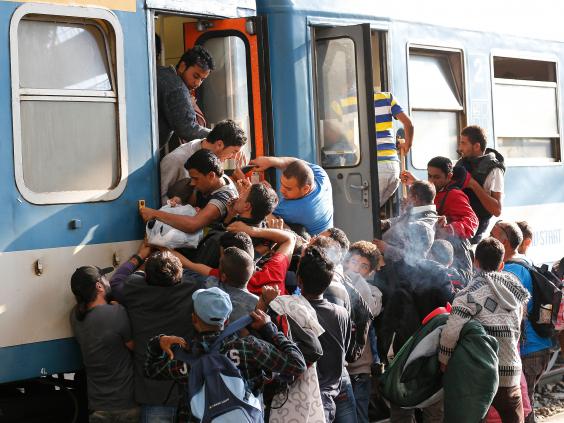 Britain has so far declined to join a UN scheme for resettling the most vulnerable refugees, instead setting up its own programme that has admitted around 216 over the past year. Some 5,000 Syrians have been granted asylum in the last four years.
By contrast, Germany has accepted 35,000 vulnerable Syrians through the UN scheme, Canada more than 10,000, Australia 5,600 and Switzerland 3,500.
The UN's high commissioner for refugees, Antonio Guterres, said today that this "piecemeal approach" cannot continue.
"No country can do it alone, and no country can refuse to do its part," he added.
"The only way to solve this problem is for the Union and all member states to implement a common strategy, based on responsibility, solidarity and trust."
This newspaper has started a campaign for the UK to welcome a fair share of refugees.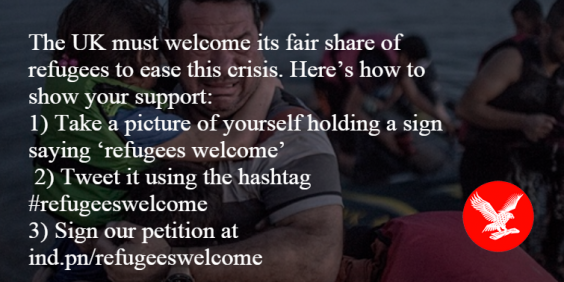 Click here to sign The Independent's petition
Additional reporting by PA
Reuse content