The planned closure of Russia Today's UK bank accounts is "part of a coordinated and Europe-wide policy of harassment against organisations associated with Russia", according to a think tank. 
The announcement that NatWest on Monday would no longer hold the Kremlin-backed broadcaster as a client was "politically inspired", claimed John Laughland, the Institute of Democracy and Cooperation's Director of Studies, based in Paris. 
"My suspicion is that it was politically inspired. I know of other organisations associated with Russia that have also had difficulties with their bank, whose bank accounts are going to be closed," Mr Laughland told The Independent.
"RT is the thorn in the side of Western governments, they are very cross about RT, they are often attacked, it's often mentioned as part of a disinformation campaign by the West," he added.
Speaking to RT on Monday, Mr Laughland claimed one of the "real political motives" behind the move was the UK's desire, led by Foreign Secretary Boris Johnson, to increase sanctions on Russia while in the process of leaving the EU.
Mr Laughland said the Syrian conflict had made the "information war" between the West and Russia more acute than ever. 
"There is an information war going on and with the Syria crisis and the Aleppo offensive it has become even more acute than before," he told The Independent. 
"There's been no discussion of the military side of the campaign, everyone's got whipped up into an awful lather about it saying Russia is committing war crimes and so on. 
RT has a very muscular editorial policy, it often chooses its stories to rebut what the Western media is saying," he added.
The broadcasting regulator Ofcom has launched several investigations into the Moscow-backed RT in recent years.
In 2015, RT was sanctioned by the regulator after it was found to have "misled" viewers four times in its reporting on the Ukraine and Syria conflicts.
Earlier this year, Ofcom announced an investigation into an RT report accusing the Turkish government of genocide against the Kurds.
"We're investigating whether the programme's discussions regarding the actions and the policies of the Turkish government breached our impartiality rules," an Ofcom spokesman said at the time.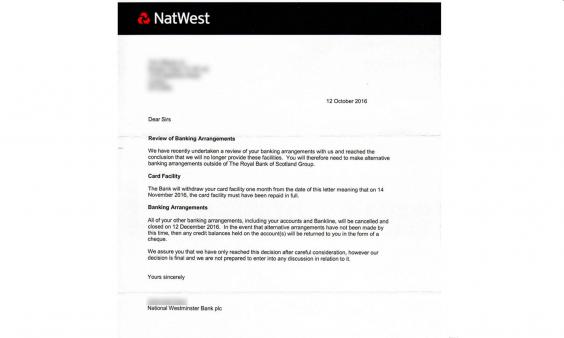 In a statement over the apparent closure of the accounts Natwest said: "We are reviewing the situation and are contacting the customer to discuss this further. The bank accounts remain open and are still operative."
A spokesperson for Russia Today said: "RT has received a letter from Natwest, part of the Royal Bank of Scotland Group, which has a significant shareholding by the UK Government, informing it that its UK banking facilities with the bank will be withdrawn without explanation or redress. 
"This decision is incomprehensible, and without warning.
"It is, however, not at odds with the countless measures that have been undertaken in the UK and Europe over the last few years to ostracize, shout down, or downright impede the work of RT.
"RT UK will continue its operations uninterrupted."
Reuse content