It was a hot summer's day when government inspectors drove down the long dirt track leading to Alexander Brodowski's remote farm to slaughter and burn his  400 pigs.
Some 150 miles south of Moscow, beyond the small hamlet of Lev Tolstoi and living in fields surrounded by birch woods, his herd could scarcely have been more isolated; in spring and autumn the road turns to all but impassable mud and for five months each year, it is frozen.
Yet the authorities determined that the pigs should be culled as part of a drive to prevent the spread of African swine fever, an infectious disease that has flared repeatedly in Russia in recent years.
The move last year, which all but destroyed Brodowski's small sausage-making company, was the last act of a long game of cat and mouse between the farmer and the authorities. For two years, inspectors had made regular visits, each time finding a new violation of sanitary regulations and threatening to close the farm if modifications were not made within days.
Pig farmers across the country have had to watch helplessly as their animals are slaughtered. The compensation available – around £80 per pig – does not cover the animals' market value, let alone the loss of his business, Brodowski said. And he has yet to receive anything at all: he is suing for the money, but the local courts have so far refused to accept his paperwork. In his view, the inspectors intentionally drove his business into the ground.
His story is one of many such tales from small farmers struggling to stay afloat in Russia. On the face of it, conditions for Russian agriculture are the best in years: last year President Vladimir Putin responded to Western sanctions on Russia over events in Ukraine by banning imports of food from the West worth some $9bn (£5.8bn) per year, eliminating many foreign competitors.
A sharp fall in the value of the rouble has raised the cost of foreign products not affected by the embargo, further helping local producers. And, egged on by talk of an agricultural revival, some patriotic Russians have responded to Putin's call by taking up farming to help free their country from dependence on foreign foods.
But not all farmers have benefited. A handful of large companies run by well-connected multimillionaire tycoons have been able to stack the deck in their own favour, said Roman Golomovzy, whose own chicken and duck farm sends out a few dozen hand-packaged birds per day.
These industrial-scale businesses get government aid and cheaper loans. They are more insulated from predatory officials. And they can lobby for laws that suit them. They have earned record profits over the last year. Many small farmers failed to cash in. "Big agribusiness has won," he said.
Golomovzy's own farm is a single-storey, breeze-block barn near a dishevelled village, 100 miles south-west of Moscow. Standing behind a tall, corrugated metal fence, the building is tended by an Uzbek family who live on site, airing their brightly coloured linen on wooden fences next to a vegetable patch. To one side stand the remnants of a defunct Soviet-era milking shed. To the other, overgrown by weeds that stretch into the distance, are the skeletons of two disused warehouses. Two wolves were recently shot in the forest, Golomovzy said, though he added that such sightings were a rarity.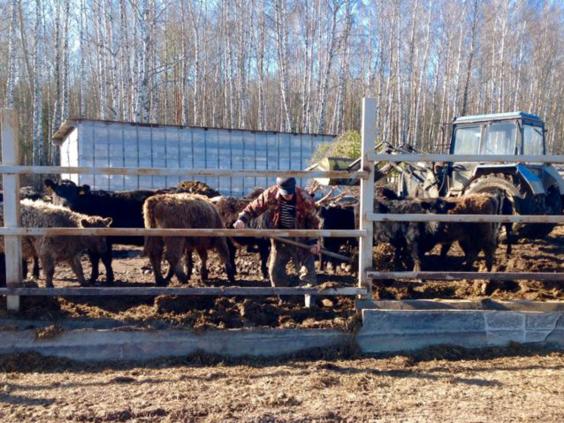 He has had the sanitary conditions on his poultry farm carefully verified by officials, but still fears that he could easily be caught out at any time by checks on the small print of rules that are more appropriate to large-scale battery farms. The blood of his slaughtered birds washes out into the weeds. The nearest stream is far away, but inspectors could easily claim he was endangering the water source, he said, and shut him down in a day. Faced with this threat, Golomovzy is not banking on his farm's long-term survival.
Big businesses serve many of the government's interests. The problems of a single large farm are easier to solve than those of many small ones; they pay taxes on their profits; and they produce large quantities of cheap food, addressing one of the Kremlin's key aims, food security. But large companies offer little for the Russian countryside. Industrial agriculture employs fewer people and funnels profits back to corporate headquarters in the city, depriving rural areas of income.
Despite its vast land mass, Russia is a net food importer. Its agriculture has still not recovered from the collapse of the Soviet Union. Last year Russia had 10 per cent fewer farm animals, produced 45 per cent less milk and grew 30 per cent less crops than in the last year of Communist Party rule in 1990, official data shows. The drive south from Moscow to Tula revealed acre after acre of birch and pine forest, and fallow land.
Vladimir Krotov rears Hereford cows in the Tula region, 100 miles south of Moscow. Near his farm in Azhovka, where an Uzbek cowherd watches over his 1,000 acres of land, the farmer pointed to an empty expanse of grassland in the distance. This was once a major Soviet farm, the result of decades of collectivised labour.
But like many others across the country, it failed to adjust to the market forces unleashed after Communism fell. Outside a row of nearby wooden houses were the remnants of the farm: an ancient tractor; a vintage threshing machine. When the farm went belly-up in the 1990s, each worker took what they could and the rest was left behind.
Only people without young children romanticise the countryside, said Golomovzy, while few want to bring up a family in a village. Rural schools and hospitals degenerated following the Soviet collapse and most people left for the cities. Alcoholism is common among those who remain, living conditions are hard and the families of all three of the farmers visited by The Independent live in cities for much of the year.
The government has begun to make more effort to help smaller farmers, Krotov said. State-funded aid schemes have appeared, and measures have been brought in to spur landowners either to use their land or sell it, he said. Small farming is viable, he insisted. The government has pledged 3.2 billion roubles (£32m) in subsidies for small farmers across Russia this year. But many of those who believed in Russia's agricultural revival have been disappointed. Anastasia Dolgopolova, a 19-year-old student, began farming last year in the Kursk region – near the border with Ukraine – where the richer soil favours cash crops over animal farming. In July she posted on YouTube a video message to President Vladimir Putin, in which she said she had been inspired by the sanctions imposed on Russia last year to "help my country".
Standing in a field on her farm, she said she had counted on the promise of government aid, but the municipal authorities "clearly told me that no one needed my farm and help was out of the question". She said the regional governor pledged aid, but it was never delivered. Her applications for loans from two state-owned Russian banks and for a special state grant for small farmers were all rebuffed. According to Brodowski, whose farm also failed to secure aid, the price of getting a grant is a kickback.
Dolgopolova said she had sown her fields with the help of neighbouring farmers. But now she had no energy and no money left to harvest the crop.
Rather than sell it "for pennies" to middlemen, she announced that she had used the last of her cash to buy some flammable liquid. She would burn the fields, she said, as a lesson to other patriotic wannabe farmers foolish enough to believe that the government would help them revive the countryside.
She failed to do so. A few days later, President Putin's press secretary declared her story untrue. Soon after that, a local court seized the fields, saying the crops must be harvested and sold to pay off her family's farming debts.
Reuse content