The West must stand up to Russia over Ukraine or Europe could descend into a major war for the first time since 1945, diplomats warned today as efforts to negotiate peace hung by a thread.
As the German Chancellor, Angela Merkel, prepared to brief Barack Obama in Washington on Monday about the state of the negotiations, a former US ambassador to Ukraine predicted that Estonia and the other Baltic states – all members of Nato – could be Vladimir Putin's next targets if he is allowed to hold on to territory won by force.
Ms Merkel, who strongly opposes arming Ukraine, spent the weekend desperately trying to negotiate with Mr Putin. In a four-way phone call yesterday afternoon, the German and Russian leaders agreed with the French President, François Hollande, and his Ukrainian counterpart, Petro Poroshenko, that they would meet in the Belarusian capital, Minsk, on Wednesday.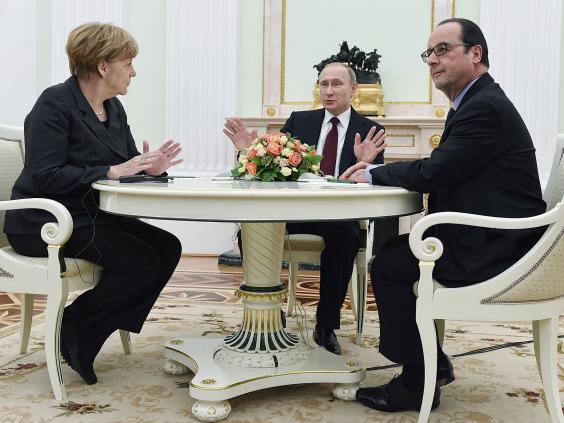 The Estonian President, Toomas Hendrik Ilves, compared Western inaction against Russia with the appeasement of Adolf Hilter in 1938, when Nazi Germany was alllowed to seize parts of the former Czechoslovakia.
"We know from history that appeasement will never satisfy those that are being appeased," he said. "Munich '38 I think should be a lesson to all of us even today."
British Foreign Secretary Philip Hammond accused Mr Putin of "acting like some mid-20th century tyrant", while the French Foreign Minister, Jean-Yves Le Drian, said he would "fear the worst" if peace talks this week failed.
Ukraine crisis: A timeline of the conflict
Ukraine crisis: A timeline of the conflict
1/22 30 November 2013

Public support grows for the "Euromaidan" anti-government protesters in Kiev demonstrating against Yanukovych's refusal to sign the EU Association Agreement as images of them injured by police crackdown spread.

EPA

2/22 20 February 2014

Kiev sees its worst day of violence for almost 70 years as at least 88 people are killed in 48 hours, with uniformed snipers shooting at protesters from rooftops.

AFP/Getty Images

3/22 22 February 2014

Yanukovych flees the country after protest leaders and politicians agree to form a new government and hold elections. The imprisoned former Prime Minister, Yulia Tymoshenko, is freed from prison and protesters take control of Presidential administration buildings, including Mr Yanukovych's residence.

Genya Savilov/AFP/Getty Imageses

4/22 27 February 2014

Pro-Russian militias seize government buildings in Crimea and the new Ukrainian government vows to prevent the country breaking up as the Crimean Parliament sets a referendum on secession from Ukraine in May.

Sean Gallup/Getty Images

5/22 16 March 2014

Crimea votes overwhelmingly to secede from Ukraine and join Russia in a ballot condemned by the US and Europe as illegal. Russian troops had moved into the peninsula weeks before after pro-Russian separatists occupied buildings.

EPA

6/22 6 April 2014

Pro-Russian rebels seize government buildings in the eastern cities of Donetsk, Luhansk and Kharkiv, calling for a referendum on independence and claiming independent republic. Ukraine authorities regain control of Kharkiv buildings on 8 April after launching an "anti-terror operation" but the rest remain out of their control.

EPA/PHOTOMIG

7/22 7 June 2014

Petro Poroshenko is sworn in as Ukraine's president, calling on separatists to lay down their arms and end the fighting and later orders the creation of humanitarian corridors, since violated, to allow civilians to flee war zones.

Getty Images

8/22 27 June 2014

The EU signs an association agreement with Ukraine, along with Georgia and Moldova, eight months after protests over the abandonment of the deal sparked the crisis.

LOUISA GOULIAMAKI/AFP/Getty Images

9/22 17 July 2014

Malaysian Airlines flight MH17 is shot down over eastern Ukraine, killing all 298 people on board. Ukrainian intelligence officials claim it was hit by rebels using a Buk surface-to-air launcher in an apparent accident.

10/22 22 August 2014

A Russian aid convoy of more than 100 lorries enters eastern Ukraine and makes drop in rebel-controlled Luhansk without Government permission, sparking allegations of a "direct violation of international law".

Reuters/Alexander Demianchuk

11/22 29 August 2014

Nato releases satellite images appearing to show Russian soldiers, artillery and armoured vehicles engaged in military operations in eastern Ukraine.

Nato

12/22 8 September 2014

Russia warns that it could block flights through its airspace if the EU goes ahead with new sanctions over the ongoing crisis and conflict

EPA

13/22 17 September 2014

Despite the cease-fire and a law passed by the Ukrainian parliament on Tuesday granting greater autonomy to rebel-held parts of the east, civilian casualties continued to rise, adding to the estimated 3,000 people killed

Reuters

14/22 16 November 2014

The fragile ceasefire gives way to an increased wave of military activity as artillery fire continues to rock the eastern Ukraine's pro-Russian rebel bastion of Donetsk

Getty

15/22 26 December 2014

A new round of ceasefire talks, scheduled on neutral ground in the Belariusian capital Minsk, are called off

AFP/Getty

16/22 12 January 2015

Soldiers in Debaltseve were forced to prepare heavy defences around the city; despite a brief respite to the fighting in eastern Ukraine, hostilities in Donetsk resumed at a level not seen since September 2014

AFP/Getty

17/22 21 January 2015

13 people are killed during shelling of bus in the rebel-held city of Donetsk

Reuters

18/22 24 January 2015

Ten people were killed after pro-Russian separatists bombarded the east Ukrainian port city of Mariupol

AP

19/22 2 February 2015

There was a dangerous shift in tempo as rebels bolstered troop numbers against government forces

AFP/Getty

20/22 11 February 2015

European leaders meet in Minsk and agree on a ceasefire in eastern Ukraine beginning on February 14. From left to right: Belarus President Alexander Lukashenko, Russian President Vladimir Putin, German Chancellor Angela Merkel, France's President Francois Hollande and Ukrainian President Petro Poroshenko.

MAXIM MALINOVSKY | AFP | Getty Images

21/22 13 February 2015

Pro-Russian rebels in the city of Gorlivka, in the Donetsk region, fire missiles at Ukrainian forces in Debaltseve. Fighting continued in Debaltseve for a number of days after the Minsk ceasefire began.

ANDREY BORODULIN | AFP | Getty Images

22/22 18 February 2015

Ukrainian soldiers repair the bullet-shattered windshield of their truck as their withdraw from the strategic town of Debaltseve. Following intense shelling from pro-Russian rebels, Ukrainian forces began to leave the town in the early hours of February 18.

Brendan Hoffman | Getty Images
Last night, reports put the death toll from the conflict at 50,000 – 10 times previous estimates.
The US has considered sending weapons to Ukraine, but the UK, Germany and France oppose arming Kiev's forces, saying this could lead to an escalation of the fighting.
Writing in The Independent today, Lord Ashdown, the former Liberal Democrat leader, urges the West to use "military diplomacy", while avoiding direct conflict.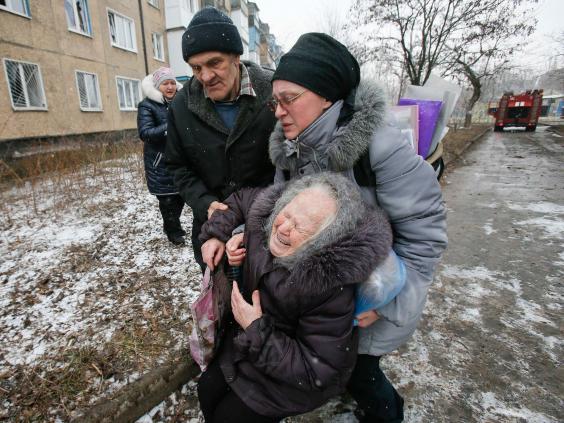 "The right reaction to the Russian arming of the Ukrainian rebels is to make it clear we are prepared to do the same for the Ukrainian government," he writes. "Start small, slow and unaggressively – with communications and intelligence equipment for example."
But a hardline with the Kremlin over Ukraine should be matched with efforts to build a strategic partnership with Moscow in the fight against Isis and Islamist terrorism, Lord Ashdown adds.
The worst-case scenario facing Europe was outlined today by John Herbst, former US ambassador to Ukraine, who said it was time to send military help to Ukraine.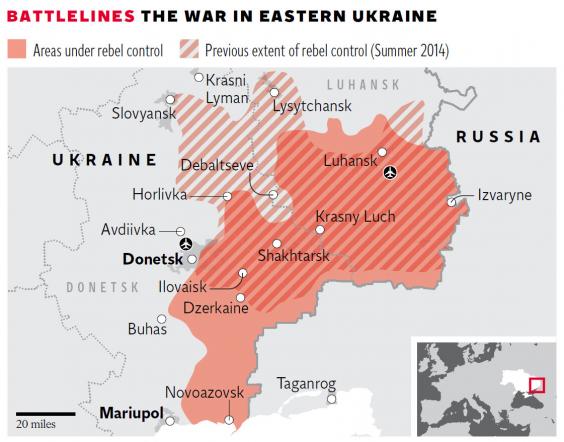 "I think that those who argue  against helping Ukraine defend itself against a much bigger and stronger aggressor do not understand the strategic stakes," Mr Herbst said.
"[Putin's] statements, his provocations against the Baltic states, against Kazakhstan, indicate his goals are greater than Ukraine. If we don't stop Mr Putin in Ukraine, we may be dealing with him in Estonia. I'm not saying we will, but he has given indication that this could happen. The most important national security challenge in the world today is a rogue Kremlin and we need to stop him and Ukraine is the place to do it."
Mr Ilves told Sky News that while he was not yet afraid of a Russian invasion, action must be taken to halt its "reckless and irresponsible behaviour throughout our region".
The peace summit due to take place in Minsk on Wednesday was described by Mr Hammond as "one of the last opportunities that Russia will have to avoid further significant damage to its economy" if the world is forced to increase its sanctions against the Kremlin.
He said any peace deal would have to include a Russian withdrawal from Crimea, which it annexed from Ukraine following a disputed referendum.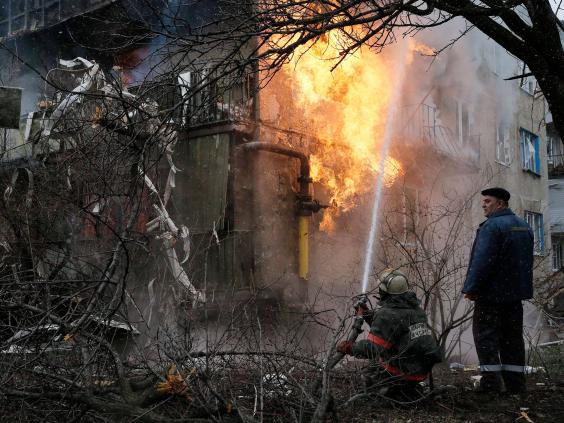 "Don't make it sound like that is an outrageous thing for us to demand," Mr Hammond said. "This man has sent troops across an international border and occupied another country's territory acting like some mid-20th century tyrant.
"We do not see any reason to tolerate this kind of outrageous and outdated behaviour from the Kremlin."
Mr Putin, Ukrainian President Petro Poroshenko, German Chancellor Angela Merkel and French President François Hollande are all due to take part in the Minsk summit. However, Mr Putin, who has repeatedly talked peace while his forces carry out attacks on the ground, suggested that the negotiations might not actually happen. "We will be aiming for Wednesday, if by that time we are able to agree on a number of the positions that we recently have been discussing intensely," he said.
The mixed messages from Moscow continued with Foreign Minister Sergey Lavrov saying Russia expected "important decisions" would be made at the meeting.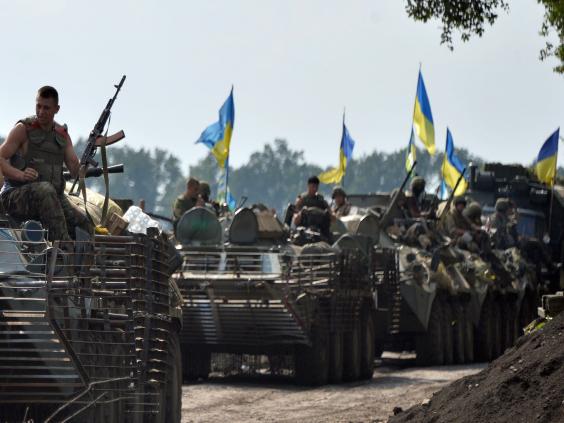 Ms Merkel is expected to brief US President Barack Obama on the state of negotiations during a previously scheduled trip to Washington today.
Dismissing talk of a transatlantic rift, US Secretary of State John Kerry said today that America and its European allies were "united in our diplomacy" on Ukraine. "There is no division, there is no split," he said.
US Senator John McCain, said "defensive arms" should be sent to the Kiev government as a matter of urgency. "The Ukrainians are being slaughtered and we're sending them blankets and meals. Blankets don't do well against Russian tanks," he said. 
Germany's Frankfurter Allgemeine Sonntagszeitung newspaper reported today that German intelligence estimated up to 50,000 soldiers and civilians had been killed during the conflict, nearly 10 times higher than Kiev's estimate. "The official figures are clearly too low and not credible," a source said.
Reuse content