A father who is hoping to move back to New Zealand so his Down's syndrome baby has better care has received over $180,000 (£117,000) in donations on a Gofundme page set up to help him raise his son.
Samuel Forrest, of Armenia, said he appealed for funds to move his son Leo after being told he had Down's syndrome.
"When I walked into the [hospital] room they all turned to me and said 'Leo has Down's syndrome," he told ABC News. "I had a few moments of shock."
"They took me in see him and I looked at this guy and I said, he's beautiful - he's perfect and I'm absolutely keeping him."
Mr Forrest says he began making plans to move back to his native country of New Zealand with Leo shortly after receiving the news.
In the meantime, he set up a fundraising page to gather enough money for the move and to care for his son as a single parent. His page has received hundreds of thousands of dollars within just nine days from supporters across the globe.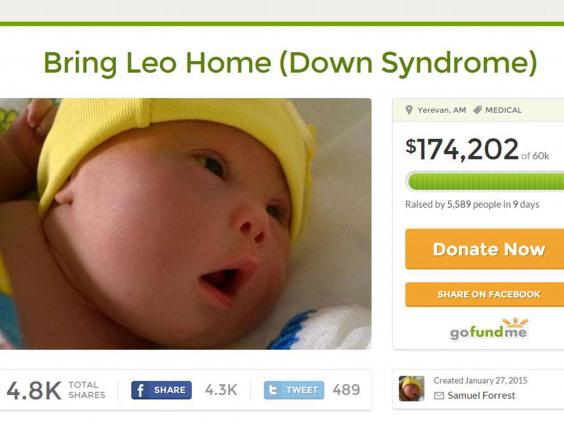 Writing on the Bring Leo Home page, Mr Forrest said he was "stunned beyond words" at the generosity shown by those donating from around the world.
"Some of the additional funds that we have raised will be used to secure better living conditions in Auckland, and to give Leo higher quality opportunities when it comes to education - a good home and school cost money, but Leo will have all that and more, thanks to you," he wrote.
"We will use some of the money you've given to fund facilities and programs here in Armenia that will support future parents to keep their kids despite all disabilities, and to help better care for the special ones who end up away from their Mum and Dad."
Mr Forrest says he has been working with disability awareness groups to encourage a better awareness among parents of children with disabilities.
"As a child with Down's syndrome, that becomes somewhat of a label," he said. "If we can get around this label, we'll see that they're normal. They're a little different from us, but they're still normal."