On a frigid night in this industrial city, three local men pulled up to a curb in a beat-up van sporting the stars and bars of the American Confederacy (because, they said, they just liked the look of it). Soon, they joined a dozen other beefy vigilantes gathering on a sidewalk for their first patrol to keep "our women" safe.
These are the Soldiers of Odin, a new far-right citizens group sprouting chapters across Finland. Its members are multiplying as this northern nation becomes a case study in the fear and suspicion gripping Europe after multiple sexual assaults allegedly committed by asylum seekers and others on New Year's Eve.
Those incidents, in cities across central and northern Europe, included hundreds of complaints of sexual harassment in Cologne, Germany, as well as 15 alleged sex-related crimes in the Finnish capital, Helsinki. They have quickly altered the debate over a record wave of asylum seekers arriving in Europe from the Middle East, Africa and Asia. Fresh barriers to new migrants are going up from Sweden to Greece.
Germany has announced moves meant to delay refugees from bringing in close family members for at least two years, and to reject and deport more asylum seekers arriving from North Africa. The Danish Parliament backed a measure allowing seizures of cash and valuables from migrants.
Citing sexual harassment of women, some public pools and nightclubs in Germany have begun banning men who live in asylum shelters. Vigilante groups are taking to the streets. And Europeans are fretting on social media about an unfolding culture clash with the newcomers. Suddenly, many are asking an uncomfortable question: Do asylum seekers — more specifically, some of the men from conservative Muslim nations — pose an inherent threat to liberated and casually dressed Western women?
"These refugees do not respect our women," said Ilkka, a 33-year-old sprinkler installer who would give only his first name. "I have four daughters, and they used to be safe in Finland. We need to do something about it."
Critics say the danger is vastly exaggerated, and they denounce the attacks as the work of a few bad characters. Yet even asylum seekers concede that some in their ranks have a steep learning curve to accept progressive Western European norms, especially regarding women. New reports of sex crimes suspected to have been committed by asylum seekers are now emerging in Finland, including several alleged rapes that predate the New Year's Eve crime wave.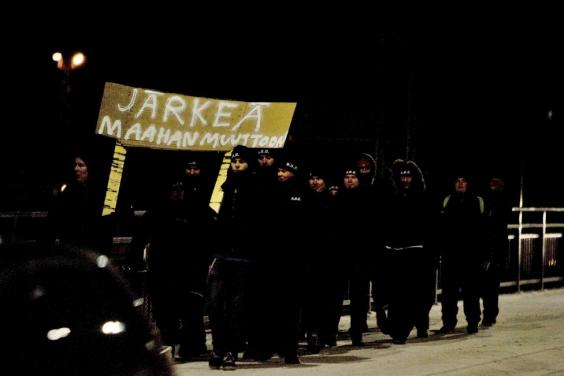 In neighboring Sweden, a 22-year-old female aid worker was stabbed to death last week by a 15-year-old migrant, authorities said. Her death sparked a fresh debate about the security threat posed by the newcomers, who include large numbers of young men traumatized by war.
Just as worrying is a spate of hate crimes against asylum seekers, illustrating the new social tensions in European communities like Tampere. A city in south-central Finland bordered by miles of Christmas-tree forests, Tampere saw more than 4,000 asylum seekers, mostly from war-torn Iraq, arrive over the past six months.
In that time, there have been at least 50 incidents involving asylum seekers as either suspects or victims — including the alleged rape of a Finnish woman and the alleged stalking of a local teenage girl. Even foreign-born residents who have lived here for years say they have noticed a disturbing change. Abbas al-Arja — a 25-year-old former Iraqi boxer who moved to Finland in 2010 — said he intervened in the town center last month to stop two young Iraqi asylum seekers who were pushing themselves onto a Finnish woman who was "clearly uncomfortable."
"Some of them coming now have a lot to learn," he said. "They do not understand a woman dressed like that."
Yet after the recent stabbing of an asylum seeker by a group of Finnish men and a suspicious arson at a refugee center near Tampere, the newcomers are also more fearful. The new patrols by the Soldiers of Odin, Arja said, have only made the situation worse.
"Now Muslim women are afraid to go in the streets because of the Soldiers of Odin," Arja said. "What have we achieved? We are afraid of them, and they are afraid of us."
The concerns aren't limited to Tampere. In recent weeks, sales of pepper spray have gone through the roof across Finland and Germany. New self-defense classes are popping up. In some German communities, sales of fake weapons are soaring.
In several German cities, including Bornheim, men from asylum shelters were banned last week from using public pools after female swimmers complained about harassment. In the city of Zwickau, asylum seekers allegedly ejaculated and defecated in a public pool, sparking a firestorm on social media. In addition to Denmark and Switzerland, two German states — Bavaria and Baden-Württemberg — say they are now reserving the right to seize cash and valuables from asylum seekers worth more than 750 euros ($818) to help defray the cost of care and benefits.
On Wednesday, the European Commission warned Greece that it could face suspension from the region's passport-free travel zone — meaning possible checks on flights and ships arriving from the Mediterranean nation — if it does not do more to control and properly process migrants on the front lines of the refugee crisis. France, Germany, Denmark, Sweden and Austria have imposed some new border checks, putting the future of Europe's open borders at risk as nations seek ways to curb the flow of migrants.
"We want to have a society again in which women and elderly people can move safely and freely in our streets," the leader of Austria's right-wing Freedom Party, Heinz-Christian Strache, said in January. "The misogyny and contempt we have seen unfortunately has Islamist roots . . . because it is directed against 'infidel' women who are often insulted as whores for not wearing a headscarf and a veil."
In Helsinki, large numbers of male asylum seekers were hanging out one recent day at the central train station, the site of many of the New Year's Eve incidents. Satu Eklund, a 28-year-old hairdresser who looked flustered before her commute home, said that one young man "who looked like a refugee" had grabbed her rear end and offered her a salacious grin only moments before.
"No, I'm not scared, but I am mad," she said. "I don't have anything against the refugees, but we should be able to live in peace."
Helsinki police say there was an increase in rapes in the latter half of 2015, coinciding with a surge of 32,000 asylum seekers arriving in Finland. But the increase — 196 rapes in 2015, compared with 179 in 2014 — is statistically small. Officials, while declining to offer more details, said asylum seekers or refugees are suspects in at least three rapes. But they added that it is too early to say whether the numbers constitute a trend.
Refugee crisis - in pictures
Refugee crisis - in pictures
1/27

A child looks through the fence at the Moria detention camp for migrants and refugees at the island of Lesbos on May 24, 2016.

AFP/Getty Images

2/27

Ahmad Zarour, 32, from Syria, reacts after his rescue by MOAS (Migrant Offshore Aid Station) while attempting to reach the Greek island of Agathonisi, Dodecanese, southeastern Agean Sea

3/27

Syrian migrants holding life vests gather onto a pebble beach in the Yesil liman district of Canakkale, northwestern Turkey, after being stopped by Turkish police in their attempt to reach the Greek island of Lesbos on 29 January 2016.

Getty Images

4/27

Refugees flash the 'V for victory' sign during a demonstration as they block the Greek-Macedonian border

5/27

Migrants have been braving sub zero temperatures as they cross the border from Macedonia into Serbia.

6/27

A sinking boat is seen behind a Turkish gendarme off the coast of Canakkale's Bademli district on January 30, 2016. At least 33 migrants drowned on January 30 when their boat sank in the Aegean Sea while trying to cross from Turkey to Greece.

Getty Images

7/27

A general view of a shelter for migrants inside a hangar of the former Tempelhof airport in Berlin, Germany

8/27

Refugees protest behind a fence against restrictions limiting passage at the Greek-Macedonian border, near Gevgelija. Since last week, Macedonia has restricted passage to northern Europe to only Syrians, Iraqis and Afghans who are considered war refugees. All other nationalities are deemed economic migrants and told to turn back. Macedonia has finished building a fence on its frontier with Greece becoming the latest country in Europe to build a border barrier aimed at checking the flow of refugees

9/27

A father and his child wait after being caught by Turkish gendarme on 27 January 2016 at Canakkale's Kucukkuyu district

10/27

Migrants make hand signals as they arrive into the southern Spanish port of Malaga on 27 January, 2016 after an inflatable boat carrying 55 Africans, seven of them women and six chidren, was rescued by the Spanish coast guard off the Spanish coast.

11/27

A refugee holds two children as dozens arrive on an overcrowded boat on the Greek island of Lesbos

12/27

A child, covered by emergency blankets, reacts as she arrives, with other refugees and migrants, on the Greek island of Lesbos, At least five migrants including three children, died after four boats sank between Turkey and Greece, as rescue workers searched the sea for dozens more, the Greek coastguard said

13/27

Migrants wait under outside the Moria registration camp on the Lesbos. Over 400,000 people have landed on Greek islands from neighbouring Turkey since the beginning of the year

14/27

The bodies of Christian refugees are buried separately from Muslim refugees at the Agios Panteleimonas cemetery in Mytilene, Lesbos

15/27

Macedonian police officers control a crowd of refugees as they prepare to enter a camp after crossing the Greek border into Macedonia near Gevgelija

Getty Images

16/27

A refugee tries to force the entry to a camp as Macedonian police officers control a crowd after crossing the Greek border into Macedonia near Gevgelija

Getty Images

17/27

Refugees are seen aboard a Turkish fishing boat as they arrive on the Greek island of Lesbos after crossing a part of the Aegean Sea from the Turkish coast to Lesbos

Reuters

18/27

An elderly woman sings a lullaby to baby on a beach after arriving with other refugees on the Greek island of Lesbos after crossing the Aegean sea from Turkey

Getty Images

19/27

A man collapses as refugees make land from an overloaded rubber dinghy after crossing the Aegean see from Turkey, at the island of Lesbos

EPA

20/27

A girl reacts as refugees arrive by boat on the Greek island of Lesbos after crossing the Aegean sea from Turkey

Getty Images

21/27

Refugees make a show of hands as they queue after crossing the Greek border into Macedonia near Gevgelija

Getty Images

22/27

People help a wheelchair user board a train with others, heading towards Serbia, at the transit camp for refugees near the southern Macedonian town of Gevgelija

AP

23/27

Refugees board a train, after crossing the Greek-Macedonian border, near Gevgelija. Macedonia is a key transit country in the Balkans migration route into the EU, with thousands of asylum seekers - many of them from Syria, Afghanistan, Iraq and Somalia - entering the country every day

Getty Images

24/27

An aerial picture shows the "New Jungle" refugee camp where some 3,500 people live while they attempt to enter Britain, near the port of Calais, northern France

Getty Images

25/27

A Syrian girl reacts as she helped by a volunteer upon her arrival from Turkey on the Greek island of Lesbos, after having crossed the Aegean Sea

EPA

26/27

Refugees arrive by boat on the Greek island of Lesbos after crossing the Aegean sea from Turkey

Getty Images

27/27

Beds ready for use for migrants and refugees are prepared at a processing center on January 27, 2016 in Passau, Germany. The flow of migrants arriving in Passau has dropped to between 500 and 1,000 per day, down significantly from last November, when in the same region up to 6,000 migrants were arriving daily.
"We still need more specific information and analysis before we can say that there is a connection between the increase in rapes and sexual harassment cases and the increase in the number of refugees," Helsinki Police Chief Lasse Aapio said. "But we need to be alert, and of course we are worried, because it's obvious that we're facing some changes in our society right now."
Police and national authorities are also worried about the rise of vigilante groups and citizen street patrols with names such as the Finnish Resistance. The Soldiers of Odin, whose name refers to the Nordic god of war and death, includes known neo-Nazis and followers with criminal records, as well as more typical men.
But the Soldiers' first foray in Tampere recently proved less successful than they'd hoped. Moments after they hit the streets, a troop of protesters dressed as clowns and calling themselves the Loldiers of Odin (a play on the Internet shorthand for "laughing out loud") ambushed the black-clad vigilantes.
At one point, the clowns — most of them women — surrounded the men and taunted them by singing a local version of "Ring Around the Rosie."
"They are clowns, too, doing what they're doing," said one young protester, who, like the others, declined to give her name. "We are here to show tolerance, because these clowns," she said, gesturing toward the men, "are the ones who are winning in Finland."
© Washington Post
Reuse content