Nato has accused Sputnik News of being part of a "Kremlin propaganda machine" distributing biased articles and "misinformation" to influence political opinion around the world.
Oana Lungescu, the military alliance's spokesperson, said the website was exploiting news coverage for "political and military needs".
"It is a way, not to convince people, but to confuse them, not to provide an alternative viewpoint, but to divide public opinions and to ultimately undermine our ability to understand what is going on and therefore take decisions if decisions need to be made," she told the BBC.
Her claims came after a speech by Michael Fallon at St Andrews University earlier this month, where he called for "Nato and the West to do more to tackle the false reality promoted through Soviet-style misinformation". 
"A lie can travel half way around the world while the truth is putting its boots on," the Defence Secretary added. "We need to call out messengers like RT and Sputnik."
The website and the Russian embassy in London denied the allegations, which come amid increasing tensions between Nato and the Kremlin over the Ukrainian and Syrian wars and military exercises across Europe.
Sputnik, which publishes online stories as well as podcasts, radio shows and videos, was established in 2014 by the Russian state-owned and operated news agency Rossiya Segodnya, which was itself created by an executive order by Vladimir Putin.
It produces editions in more than 30 languages, including Arabic and Chinese, and has international offices in London, Edinburgh, Washington, Cairo and Beijing. 
"Telling the untold" is Sputnik's motto, but critics have accused it of spreading warped and false coverage on issues including the refugee crisis and Syrian civil war.
The website helped spread malicious social media posts falsely accusing Angela Merkel of appearing in a selfie with an Isis militant last year, with a headline asking: "Did Merkel take a selfie with Brussels attack suspect?"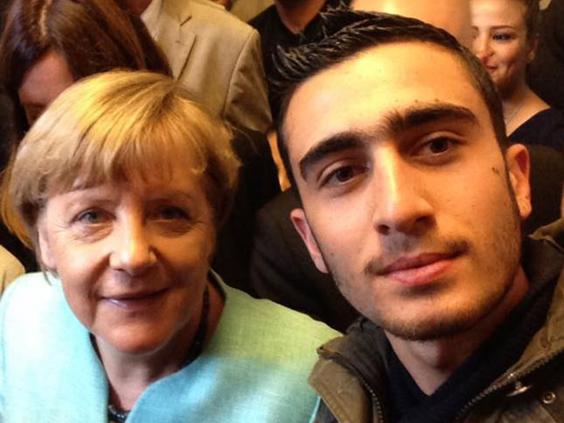 The suspect was later named as Mohamed Abrini, while the innocent man in the picture – a Syrian refugee called Anas Modamani - is now suing Facebook for failing to take down defamatory "fake news" posts accusing him of terrorism and attempted murder.
Sputnik also spread false claims that a 13-year-old Russian girl had been gang raped by asylum seekers in Berlin, sparking a diplomatic row and waves of far-right protests in Germany.
Russian media reported that she had been imprisoned for 30 hours and raped by migrants, quoting relatives' claims of a "cover-up" by German authorities.
But police disproved the allegations, saying "Lisa" had absconded from school to visit her 19-year-old boyfriend and admitted lying to her family when she returned home.
Sergei Lavrov, the Russian foreign minister, accused Germany of "covering up the reality for some domestic politically-correct reason", causing his counterpart Frank-Walter Steinmeier to hit Russia for exploiting the case for "political propaganda".
In an article for Nato's Review magazine, Stefan Meister from the German Council on Foreign Relations said the saga exposed "links between Russian domestic and foreign media campaigns against Germany and Russian politics at the highest level".
His article named Sputnik, Russia Today and other state-owned media as one of "three areas of Russian influence" in Germany.
Debunked myths and fake news stories
Debunked myths and fake news stories
1/23 Nasa releases statement over rumours that asteroid will destroy Earth

Nasa has just debunked a recent rumour of a giant asteroid due to crash into the Earth in September. Internet conspiracy theorists have been saying that an asteroid will hit our planet sometime between September 15 and 28, destroying the American continents. Acting in its role as space-news fact-checker, Nasa has issued a statement refuting the lot of it. "That's the rumor that has gone viral – now here are the facts," it said in a press release entitled 'NASA: There is No Asteroid Threatening Earth'

Alamy

2/23 Video of scorned lover who cut ex's belongings in half was actually an advert for a law firm

Revenge is a dish best served cold, or viral on YouTube as seemed to be the case for one German ex-husband who uploaded a video of himself using power tools to saw his possessions in half so he could literally give his former wife half of everything owned. The video, titled "For Laura", quickly went viral reaching nearly 5.8 million views with the description "Thank you for 12 'beautiful' years, Laura! You've really earned half."  Although the course of true love never did run smooth, it did seem that the jilted lover was taking revenge to a whole new level with the angst-ridden video. Now, however, all has been explained. The video was not created by a jealous ex, but filmed by a media-savvy legal company looking to expand its customer base

Youtube

3/23 McDonald's claims the 'secret menu' is fake

The rebuttal comes following an amusing spoof article, published by the Lucky Peach, seemingly offering a smorgasbord of hidden options for the discerning customer. Among the "delights" apparently on offer are the 'Mommie Dearest' (five burgers speared through with coat hangers) and the Burmese Python (complete with sock). Other options include the 'the Derrida' – a postmodern confection consisting of a raw potato and the remains of a few chips and a partially eaten bun

PA

4/23 Dead shark pictures might be fake

Photographs of an enormous Tiger shark fished off the eastern Australian coast have emerged on social media. NSW newspaper The Northern Star claims the four metre catch was made by a local fisherman known only as "Matthew". The images first emerged after Byron Bay resident Geoff Brooks posted them to his Facebook timeline. However, Mr Brooks has subsequently admitted he did not take the images – but continued to claim that the photographs are "real". Social media users have criticised the images, with some claiming they are fake

Geoff Brooks, via Facebook

5/23 A fried rat had been served in KFC

Facebook went into full "wtfffffffffffff" mode after a man posted a picture of what he claims was a fried rat he had been served in KFC. As news of the supposed Kentucky Fried rat was reported and spread, the incident took a dramatic turn with Dixon sealing it in a bag and freezing it as evidence. KFC has denied it is in the business of plunging rats into boiling hot oil however, and claims the whole thing is a 'hoax'. A DNA test followed, and shows that the nugget, although distinctly rodent-shaped, was just chicken all along.

Devorise Dixon/Facebook

6/23 British scientists clone dinosaur

An extraordinary story of the world's first cloned dinosaur got a lot of traction on Twitter and inspired alarmist comparisons to Jurassic Park in March this year. It was also, not unexpectedly, a complete fake, including completely fabricated quotations from 'experts' and a picture that is actually of a very young kangaroo.

7/23 Mohammed Islam - A boy who 'made $72m' in his lunch break

A New York schoolboy who reportedly made $72 million (£46 million) by trading stocks during his lunch breaks has admitted making the whole story up. Mohammed Islam, from Queens, originally told the New York Magazine he started dabbling in penny stocks aged just nine and developed a "life-long passion" for trading that was paying off. But in a later interview with the New York Observer, he said the whole story was fake and he had not made any money at all.

8/23 World's oldest tree has been accidentally chopped down by loggers in Peru

Several websites carried the "news", seemingly without realising the entire story appears to be a hoax. It first appeared on the World News Daily Report – a fake news website carrying articles including "Isis launches satellite" and "Pterodactyl sighting in New Guinea terrorises villagers".

9/23 Ryan Gosling adopted a baby

A Father's Day Facebook post from "Ryan Gosling" detailing how he adopted an orphaned baby for a year attracted Likes from almost one million users. This was despite it having all the hallmarks of a hoax, including a link for users to "save thousands of children and meet me while doing it" actually redirecting to the purchase page for a Gosling t-shirt.

Facebook

10/23 Macaulay Culkin dead hoax

How to reassure the world you're still alive after the internet reports that you're dead? Fake your own murder on Instagram, like Macaulay Culkin. The actor posted the above image via his band Pizza Underground's account yesterday, following several false rumours that he'd passed away. One particularly misleading story, originally posted on MSNBC.website (not to be confused with the real MSNBC), read: "Sources are reporting that Macaulay Culkin, best known for his role as Kevin McCallister in Home Alone and sequel Home Alone 2: Lost in New York, has been found dead at the age of 34."

11/23 'Crabzilla' - A fifty-foot crab dwelling somewhere off the English coast

A satellite picture of the so-called crab, aptly dubbed 'Crabzilla', has gone viral after first surfacing on Weird Whitstable, a website for the supernatural curated by illustrator Quinton Winter, which deals in "phantoms, mysteries, tall tales, and artefacts". The shadowy figure of a colossal crustacean, apparently spotted in the murky waters of Whistable, in Kent, dwarfs boats and cars on the pier it lurks besides. The invertebrate expert Paul Clark at the Natural History Museum in London has branded the photo a hoax.

Photo courtesy of Weird Whitstable http://www.weirdwhitstable.co.uk

12/23 Ebola 'risen from the dead' zombie story

The story of dead Ebola victims rising from the dead, with the first "picture" of one of the zombies that has gone viral, (if it weren't glaringly obvious) is a hoax. The image on the article, while impressive, is in fact doctored picture of a zombie from the film World War Z. It appears to have taken an image of one of the film's lab-zombies, and merged it with this picture of a "realistic movie sculpture" from Schell Studios, which the messageboard 8chan pointed out.

13/23 'Nasa Confirms Six Days of Darkness in December 2014'

'Satirical news site' Huzlers.com has been spreading fake story about upcoming six days of darkness, far and wide on the web, taking in numerous Facebook and Twitter users and encouraging them to post about what they're going to be up to during the six days of darkness. The story on the vaguely official looking website titled "Nasa Confirms Earth Will Experience 6 Days of Total Darkness in December 2014!" claims that an incoming solar storm is to blame, causing "dust and space debris to become plentiful and thus block 90% sunlight". This is false. Although solar storms certainly are real phenomena (they occur due to fluctuations in the Sun's magnetic field) they're not like terrestrial storms that can blow up dust and dirt.

Reuters

14/23 Meet Thea, Norway's 12-year-old child bride

A Norwegian campaign highlighting the issue of child marriage has gained global attention after a blog seemingly written by a child bride-to-be went viral. The blog, apparently written by 12-year-old girl 'Thea', charts her thoughts and feelings towards her impending marriage to 37-year-old Geir. However, the blog was carefully created by Plan, an international aid organisation working on strengthening the girls' rights, to bring home the issue of child brides.

Courtesy of Plan

15/23 Obsessive selfie-taking classified as a mental disorder

An article claimed that the American Psychiatric Association (a real body) had classified new mental disorder "selfitis" as "the obsessive compulsive desire to take photos of one's self and post them on social media". The origin of the article should have tipped off readers, however - it first appeared on a site whose owners admit that "when writing [...] we spice it up with figments of our imagination".

16/23 Shipwrecked British woman saved by Google Earth

The extraordinary story of Gemma Sheridan, a woman from Liverpool saved by Google Earth after seven years stranded on a desert island, whipped up a storm among social media users. Aside from the fairly incredible details involved in the story, a wide range of issues showed it is quite clearly a hoax - including pictures and whole swathes of text borrowed from other (real) reports.

Digital Globe via Waffles at Noon

17/23 Dwayne 'The Rock' Johnson is dead

The Rock became the latest victim of a death hoax this month after rumours circulated that the action star had died while filming a dangerous stunt for the upcoming Fast and Furious 7 on Thursday. The bogus report was created by Global Associated News, a website responsible for some of the most outlandish recent fake celebrity deaths, and went viral on Twitter and Facebook.

Getty Images

18/23 Vaccines can cause autism

A serious myth, this, and one which has repeatedly been rejected by scientific studies. The latest of these came earlier this year when a study that examined brain tissue samples donated by children who had died showed autism may actually develop in the womb during pregnancy. One scientist said the findings 'call sharply into questions other popular notions about autism'.

Rex Features

19/23 Homeopathic remedies have medicinal properties

Proponents of homeopathy claim that it stimulates the body to heal itself, and is based on the principle of 'like cures like'. But an Australian scientific body became the latest earlier this year to carry out a study showing that it actually works no better than a placebo. That story came after a homeopathic 'remedy' was actually recalled in the US because it contained traces of real medicine.

Peter Macdiarmid/Getty Images

20/23 Chinese child ruined father's passport

This picture of a Chinese passport apparently defaced by a four-year-old boy went viral around the world, despite the fact that it seems to clearly be a hoax. The picture was originally posted on Chinese social networking site Weibo by a person claiming to be the father, known as Chen, with a plea for help. But from the uniform thickness of the lines (which actually go off the page to the right) to the covering-up of identifying details, the 'drawing' looks a lot like an adult's handiwork on Photoshop or MS Paint

Weibo

21/23 MH370 was caused by aliens/Snowden/the Bermuda Triangle

Since the Malaysia Airlines flight MH370 vanished on 8 March with 239 people on board, the story has sparked a host of myths and conspiracy theories. While some of these theories as to how the flight could have just disappeared have not been discounted by authorities, others have tended towards the unusual, bizarre and downright ridiculous. One Malaysian politician claimed the Bermuda Triangle must have moved to Vietnam. A 'citizen reporter' said radar picked up a UFO. Another said there was a complicated link to former NSA contractor Edward Snowden. None are likely to be true.

Reuters

22/23 Morrissey joined Twitter

Morrissey fans rejoiced earlier this week when the verified Twitter account @itsmorrissey posted its first tweet since joining in 2009, saying: 'Hello. Testing, 1, 2, 3. Planet Earth, are you there? One can only hope...' It seems that the Twitter blue tick seal of approval doesn't mean as much as it used to, after Morrissey confirmed in a statement that he does not have an account on the social media site.

Getty Images

23/23 Chinese people ate doves at wedding, sued ugly wives and only sing numbers from takeaway menus

In November last year, the western media was bombarded by a host of stories involving Chinese misrepresentations. One involved a Chinese man suing his wife 'because he was ugly' and winning - but was later debunked by an expat magazine in Shanghai. Here, Nyima Pratten writes about how our media depict Chinese people in an unreasonably negative way.

Getty Images
But references to the Sputnik's links to the Russian government are hard to find on its website. 
Sputnik's official Twitter account describes it as "is a global wire, radio and digital news service", while its website omits to mention its owner Rossiya Segodnya or predecessor RIA Novosti.
The "about us" section describes it as a "major new media brand" launched in 2014, which is supposedly "uniquely positioned as a provider of alternative news content".
Sputnik is capitalising on growing anti "mainstream media" sentiment, pushing divisive issues like Brexit, the refugee crisis and the Syrian civil war to the fore.
Its Twitter banner is stamped with the claim "not recommended by the European Parliament".
Its pro-Russian stance was evident on Saturday morning's homepage, which displayed reports critical of Nato alongside others calling Ukrainian military exercises near "Russian Crimea" a provocation, and reporting Russia's delivery of aid in former rebel strongholds in Syria.
Russia's annexation of the Crimean Peninsula at the start of the Ukrainian war in 2014 is considered illegal under international law, while its military stands accused of indiscriminately killing civilians and committing war crimes while backing Syrian President Bashar al-Assad.
Sputnik's stories are also generally pro-Donald Trump, who has refuted allegations of Russia interference in the US election and repeatedly praised Mr Putin while pledging to improve ties with Russia.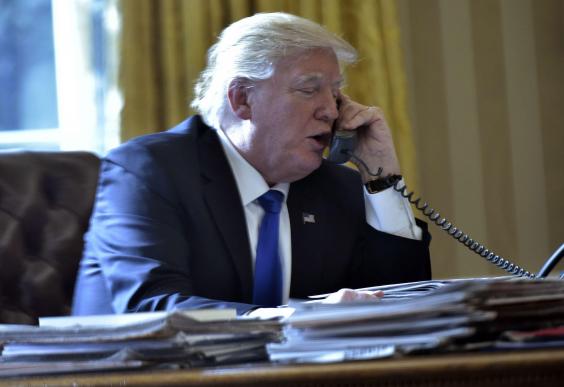 A poll on its site asks readers for their opinion on a recent phone call between the two world leaders. Out of three offered answers, there is no negative choice.
The coverage of Mr Putin and his government is also uncritical, with a gushing comment piece calling the Russian President "as relevant as ever" on Friday.
Sputnik has not yet responded to The Independent's request for comment but its UK editor, Nikolai Gorshkov, strongly denied Nato's claims in an interview with the BBC. 
"It's extremely unfair but we've been on the receiving end of other similar accusations in the past, without any substantive evidence being provided," he said, claiming the Western establishment sees Sputnik as a "threat to their view of the world". 
"We prefer to leave those inclined towards this kind of conspiratorial thinking to it."
The Russian embassy also denied the allegations, claiming Russian media was being "hounded" in Britain. 
"Sputnik, like the taxpayer-funded BBC, is independent and has its own editorial policy," a spokesperson said.
"In our view, the claims of perceived 'Russian misinformation campaign to undermine the West' are a way to avoid an open and reasoned debate of the issues raised in British and American societies. Obviously, sticking labels of 'fake news' and 'misinformation' testifies to the lack of positive agenda. By the way, that is why our bilateral relationships suffer."
Reuse content