A crowd throwing stones, shoes and bottles of water forced Serbian Prime Minister Aleksandar Vucic to flee a memorial ceremony in Bosnia commemorating the 20-year anniversary of the Srebrenica massacre.
Mr Vucic had to be whisked away through a crowd of angry mourners after his glasses were broken when a stone, thrown from the booing crowd, hit him in the face.
People also carried banners reading a wartime quote from the Prime Minster: "For every killed Serb, we will kill 100 Bosniaks."
The incident reveals the deep-seated anger over Serbia's denial of the crime as genocide.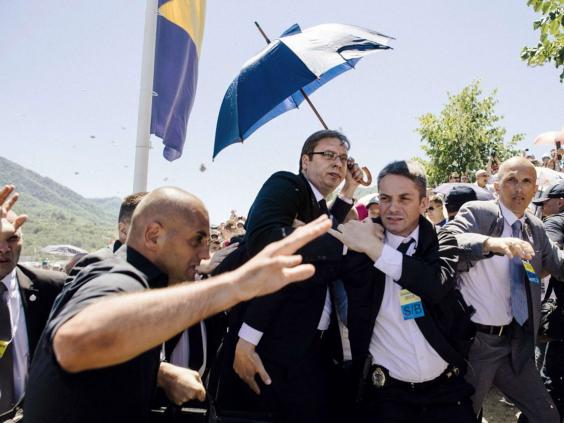 A group of women from the capital Belgrade, who are campaigning for Serbia to admit their role in the slaughter, shouted "responsibility" and "genocide" at Mr Vucic.
Tens of thousands of people were at the memorial marking the death of around 8,000 Muslim men and boys by Bosnian Serb forces during the break-up of the former Yugoslavia.
The United Nations had decalred Srebrenica to be safe for civilians, but on 11 July 1995 Serb troops attacked the Muslim area.
On Wednesday Russia vetoed a United Nations Security Council resolution to describe the Srebrenica massacre as "genocide".
Last month, Milorad Dodik, president of Bosnia's autonomous Serb Republic, called the massacre "the greatest deception of the 20th century".
14 people have been convicted at a UN tribunal in The Hague in connection to the Srebrenica killings.
The former Bosnian Serb army chief, Ratko Mladic, and former Bosnian Serb leader Radovan Karadzic are both facing seperate trials at The Hague. Both are accused of crimes relating to the Srebrenica massacre.
Reuse content