When the makers of Star Wars completed a key scene in their latest blockbuster on a wind-blasted island a few miles off the Irish coast, the country's tourist board wasted little time in capitalising.
A campaign played up the links between Skellig Michael, a craggy outcrop once colonised by early medieval monks, and its Hollywood rebirth as the intergalactic hideaway of Luke Skywalker. One advert, emblazoned with the Star Wars logo, noted that the island had been raided by vikings in 823 AD, before adding: "Next up: Stormtroopers?"
But now the success of Star Wars: The Force Awakens, already the third highest grossing film in history, has triggered a row over whether access to the Unesco World Heritage Site should be increased to cope with the thousands of tourists who now want to visit Skywalker's Celtic lair. Boat operators and hotel owners in Portmagee, County Kerry, are calling on the Irish government to extend the period of the year when visitors are permitted, following a flood of bookings to the area. 
But they are strongly opposed by conservationists who complain that Skellig Michael's archaeological and ecological treasures are being imperilled by the high profile gained by the island's association with the most successful movie franchise of all time.
The outcrop, which is home to protected colonies of seabirds as well as stone "beehive" huts used by the monks, was used in 2014 to film the closing scene of The Force Awakens, where heroine Rey finally tracks down Skywalker, played by actor Mark Hamill. The island was also visited again last year by a crew filming the series' eighth installment.
But visitors hoping to pay homage to the Jedi warrior may well be disappointed.
Under measures brought in several years ago amid concern that visitors were already too high, there is a strict limit of 180 visitors per day on the island and boats are only allowed to dock between May and October. Even then, bad weather means that up to half of those open days are lost.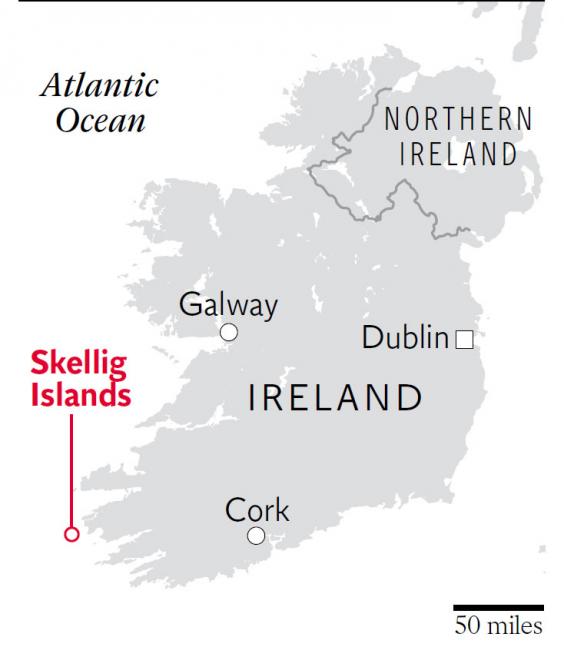 Gerard Kennedy, owner of the Moorings Guesthouse in Portmagee, told The Independent: "The film is generating an enormous amount of interest and bookings – we will have people coming from across the world this summer, from Australia to America.
"The problem is that an expectation has been created that people will be able to get out to the island and only a small number can be accommodated on any given day. The season really needs to be extended."
Business owners, who complain the restrictions have cost them £1.8m in lost takings, are asking for the period in which visits to Skellig Michael are permitted to be increased from April to the beginning of November to try and reduce the bottleneck of lightsabre-wielding tourists.
Dermot Walsh, one of 15 holders of a licence to take visitors to the island, said: "People are ringing us every day wanting to book."
A team of around 60 technicians and actors, reduced from an original proposal of 300, went to the island in 2014 to film. The number was cut following concerns that disruption could have a negative effect on nesting seabirds including puffins, kittiwakes and Manx shearwaters.
Every lightsaber in Star Wars history (films)
Every lightsaber in Star Wars history (films)
1/12 General Grievous

The general played a big part in the Clone Wars, collecting dead Jedi's lightsaber's along the way and using them to do a crazy spin-attack. Unfortunately, they all get cut off by Obi-Wan just a little too quickly.

2/12 Qui-Gon Jinn

Obi-Wan's master really didn't have too much time on screen, but his battles with Darth Maul will go down as some of the best in Star Wars history.

3/12 The Emperor

It was a little weird seeing The Emperor, at this stage Palpatine, getting out a lightsaber and battling Jedi. Much better when just using Force lightning!

4/12 Anakin Skywalker/Luke Skywalker/Finn

Now, this one really does have some history, travelling down the generations of Skywalkers, and briefly using by Finn in The Force Awakens. Of course, **Spoiler** someone else also uses the saber after it calls to them, could they be a Skywalker to?

5/12 Darth Vader

The first red-lightsaber we ever saw on screen: the definition of evil and an iconic weapon.

6/12 Yoda

Again, a little odd seeing a character from the Original Trilogy using a saber, especially when he was jumping around after putting down his walking cane. Ah well, doesn't stop Yoda being a brilliant mentor to Luke.

7/12 Mace Windu

Samuel L. Jackson managed to someone get George Lucas to give him a purple lightsaber, just to stand out from the rest of the crowd. That's one bad*ss motherlightsaber.

8/12 Obi-Wan

Sure, Obi-Wan managed to lose his saber on countless occasions throughout the prequels, but at least he had it in A New Hope when going against Vader. Because that went well...

9/12 Darth Maul

Maul's double ended lightsaber may have been the best thing about Phantom Menace. Scratch that, he was the best thing about that film! The last battle between Maul, Jinn and Obi-Wan was phenomenal, just a shame Maul didn't last until the next film (of course, he came back in The Clone Wars TV show, but that will take a little too long to explain here)

10/12 Kylo Ren

At first, the cross lightsaber was mocked by the Internet for being impractical. Yet, when seen in the movie, it's ferocious, spitting out light due to be unstable, much like it's master.

11/12 Count Dooku

Now, Dooku's character wasn't in the films for very long, feeling hugely underutilised, especially considering it was the great Christopher Lee, who took on the role as he was a trained fencer. It was still hugely impressive for an 80-year-old to be the best sword fighter in the galaxy.

12/12 Luke Skywalker

Luke's second saber, after the one he inherited from his father, was originally going to be blue as well. Yet, due to not standing out against the Tatooine landscape, it was changed to green - which is why in early posters his saber is blue.
Conservationists and tour guides pointed out that the eco-system on the island, where the only way to reach the ruins of the medieval monastery is to climb 600 steps carved from granite by monks who first arrived in the sixth century, is "extremely fragile" and said the marketing campaign advertising the island had been ill-advised. Claire O'Halloran, a local guide, told CBC Radio: "The marketing initiatives that are out there in relation to Star Wars and Skellig Michael are the biggest threat the island has encountered in the last century."
Hoteliers are meanwhile diversifying their offering to give visitors a flavour of the area's brush with Tinseltown even if they cannot reach the island. Mr Kennedy is offering two nights' accommodation, a tour of pre-production sites and a chance to pull a pint in the pub where Hamill undertook the same task in 2014.
Reuse content