France was confronted with a potentially explosive state scandal when it emerged that telephones belonging to former President Nicolas Sarkozy had been bugged by judges investigating his alleged financial links with the late Libyan dictator Moammar Gaddafi.
The scandal broke just two days after it emerged that dozens of President Sarkozy's private conversations while in office had been recorded by a right-wing political adviser.
The first affair, dubbed "Sarkotapes", was embarrassing politically and personally for Mr Sarkozy. The second scandal, exposed yesterday by the newspaper Le Monde, could have far-reaching political, legal and constitutional implications for both Mr Sarkozy and the present centre-left French government.
One Sarkozy supporter accused the government yesterday of "quasi-Soviet" behaviour – even though actions by investigating magistrates are independent of political control. According to Le Monde, the judicial bugging of Mr Sarkozy's phone – which started in April last year – uncovered alleged attempts by the former President and his lawyer to obtain secret information on the inner workings of France's highest appeal court, the Cour de Cassation.
Le Monde said that investigators suspect that in return for inside information, Mr Sarkozy tried to obtain a gilded retirement post in Monaco for one of the most senior judges in the court.
On Thursday, police raided the offices and home of Mr Sarkozy's lawyer, Thierry Herzog, and the chambers within the Cour de Cassation of Gilbert Azibert, the judge suspected of passing information to the Sarkozy clan.
A new investigation has been launched, implicitly targeting Mr Sarkozy, into alleged "influence peddling" and "breach of judicial secrecy".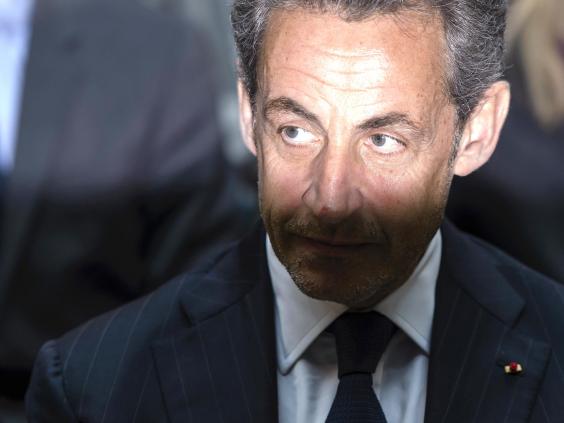 Several other members of the appeal court could face questioning, Le Monde said. Two former interior ministers, both close associates of Mr Sarkozy, have also had their phones bugged by investigating magistrates.
The appeal court is due to make a ruling next week which could decide the outcome of several investigations into alleged financial wrong-doing or favouritism by Mr Sarkozy or his associates before and during his period in the Elysée Palace from 2007 to 2012.
There is no known precedent for the bugging of the telephone of a former French head of state. Both left- and right-wing politicians spoke today – for different reasons – of a "state scandal".
Left-wingers said that the Le Monde story had lifted the veil on systematic efforts by Mr Sarkozy to interfere with the workings of the justice system, both during and after his presidency.
Mr Sarkozy's lawyer and his supporters accused the left-wing government of trampling on constitutional freedoms to "persecute" the former President for political reasons.
The ex-President's lawyer, Mr Herzog – whose own phones were also bugged – said: "This pseudo-accusation of influence-peddling is indeed a state scandal but not in the way it is being presented… I will present proof, when the time is right, that this business is all political."
President Sarkozy is officially retired from politics but he has hinted in recent months that he hopes to reclaim the presidency in 2017. His possible resurrection is threatened, however, by interlinked judicial investigations into alleged financial wrong-doing before and during his term of office.
These range from the rather weakly founded allegation that his 2007 presidential campaign was partially funded by Mr Gaddafi, to suggestions that Mr Sarkozy and close associates engineered an unjustified €400m state compensation payment to the disgraced tycoon Bernard Tapie.
The bugging of Mr Sarkozy's phone was ordered in April last year, according to Le Monde, by two judges, Serge Tournaire et René Grouman, who are investigating the Libyan allegations. The judges became suspicious that Mr Sarkozy knew about the bugging when he became uncharacteristically monosyllabic on the phone. They discovered in December last year that he had a second mobile phone under a false name – and bugged that too.
Surveillance of this second phone appears to have generated no information on the Libyan allegations, which have failed to stand up. However, says Le Monde, the bugging did reveal alleged attempts by Mr Sarkozy and associates to obtain secret, inside information from the Cour de Cassation on other investigations in which he is involved.
Under French law, inquiries by examining magistrates, or "juges d'investigation", are independent and not supposed to be influenced by the government of the day. Investigating judges have considerable powers of their own but the decision to bug Mr Sarkozy and his clan would have had to be approved by another judge.
Officially, the government has no role in such matters but "sensitive" investigation is often referred to the Justice Ministry. Sarkozy supporters yesterday exploited this grey area in French law, and practice, to suggest that the bugging was part of an "oppressive" and "quasi-Soviet" pattern of behaviour by the administration of President François Hollande.
Other Sarkozy supporters said the bugging proved there was a judicial conspiracy against the ex-President. Thierry Mariani, a former Sarkozy minister, said: "There are some magistrates who are determined to get Nicolas Sarkozy. Although the [Libyan allegation] is going nowhere, they come up with this new stuff… This persecution is shocking."
The police raids this week on the offices of Mr Sarkozy's lawyer and the Cour de Cassation were ordered jointly by the judges investigating the Libya and Tapie allegations. The court is expected to decide next week whether to allow all the different inquiries to make use of Mr Sarkozy's presidential diaries, originally seized as part of another investigation now dropped.
The bugging revelations follow closely on the heels of another scandal: the publication this week of the transcripts and tapes of four private conversations between Mr Sarkozy and advisers while he was President in 2011. The tapes were recorded, against the Elysée rules, by the political adviser, Patrick Buisson.
Both Mr Sarkozy and his wife Carla Bruni have started a legal action for invasion of privacy. Although the tapes contain nothing especially damaging, scores of others are believed to exist.
Reuse content