The mystery surrounding the identity of the Mona Lisa may about to be solved.
After years examining the remains of bodies buried below the Sant'Orsola convent in Florence, Italian researchers think they have found the bones of Lisa Gherardini del Giocondo — the noblewoman widely believed to have inspired Leonardo da Vinci's most famous work.
According to art detective Silvano Vinceti, carbon testing on a set of bones - including a femur -  from the tomb have been dated to the time of death of Gherardini.
The wife of a wealthy Florentine silk merchant, Gherardini died in 1542 aged 63.
After her husband's death, she had moved in with her daughter Marietta, who was a nun.
Records indicate she was buried beneath this chapel.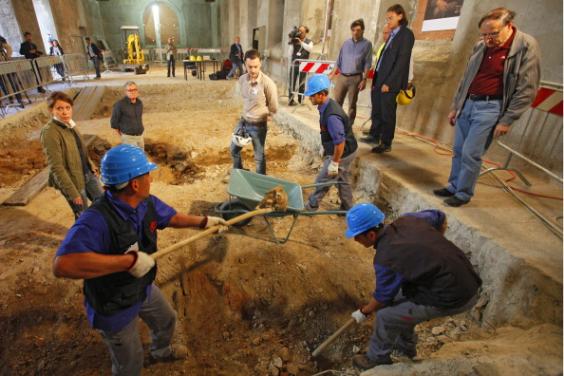 Vinceti, who leads the National Committee of Historic, Cultural and Environmental Heritage, is convinced he has found her: "The odds that the bones belong to her are extremely high.
"There are converging elements, above and beyond the results of the carbon-14 tests, that say we may well have found Lisa's grave.
"I'm speaking of historical, anthropological and archaeological analyses that have been carried out very rigorously."
But the data isn't perfect. There are only a few remains, and no skull, which means the Mona Lisa face cannot be digitally reconstructed.
After centuries underground, the her sons Bartoloemo and Piero are at this point too damaged to for a DNA comparison, though Vinceti is confident further analysis can be performed in a few years time — when they've got more DNA and the right technology.
Researcher Giorgio Gruppioni said: "Our biggest problem has been the fact that the fragments were very fragmented, very deteriorated."
20th century's biggest art heists
20th century's biggest art heists
1/10 20th century's biggest art heists

Leonard Da Vinci's iconic Mona Lisa was stolen from the Louvre by employee Vincenzo Peruggia on 21 August 1911. The thief hid overnight in the Parisian art gallery before emerging to lift the famous muse off the wall, strip the painting of its frame and shove it up his smock. Peruggia's crime has been described as the greatest art theft of the 20th Century, but he and the painting were discovered in Italy two years later.

Getty Images

2/10 20th century's biggest art heists

Works by renowned Norwegian artist Edvard Munch have been stolen three times in separate heists. In 1994 his most famous work The Scream was lifted from the National Gallery in Oslo, but was recovered later that year. In August 2004 another version of The Scream was stolen along with Munch's Madonna from the Munch Museum, also in Oslo, by a gang of gunmen. The paintings were recovered two years later and three men convicted, but the gunmen remain at large. Another three Munch paintings including the recognisable Blue Dress were stolen from a hotel in Norway but recovered the next day in March 2005.

Getty Images

3/10 20th century's biggest art heists

Russborough House, a large estate belonging to Sir Alfred Beit, has been robbed four times since 1974 and works worth millions are yet to be recovered. Robbers and members of the IRA bound and gagged the Beit family in 1974 in order to steel nineteen paintings worth an estimated £8 million, all of which were subsequently recovered when the criminals were apprehended. Twelve years later another gang of thieves stole paintings thought to be worth £30 million in total. Sixteen were recovered but two remain missing. Gainsborough's Madame Baccelli, which had been stolen in the previous raid, was stolen again in 2001, along with a Bellotto. The two paintings were recovered and returned to the Beits, but just days later the house was robbed for a fourth time and another five paintings were taken. The latest hoard were returned just months later. Let's hope they've installed burglar alarm since then...

Getty Images

4/10 20th century's biggest art heists

Armed thieves broke into the National Museum of Fine Art in Stockholm, Sweden in 2005, robbing it of one Rembrandt and two Renoirs. The robbers fled by boat and it took five years for all three paintings to be recovered.

Getty Images

5/10 20th century's biggest art heists

Canada's Montreal Museum of Fine Arts was cleaned out by thieves in September 1972 when 18 paintings, jewellery and sculptures worth a staggering (for the time) $2 million were stolen. The works, which included a rare Rembrandt landscape and paintings by Delacroix and Gainsborough, have never been recovered.

Getty Images

6/10 20th century's biggest art heists

Panels from the Ghent Altarpiece, painted by masterly brothers Jan and Hubert Van Eyck, were stolen in 1934. The left panel has never been recovered as the presumed thief, who had sent a demand for a ransom, died before it could be issued, taking the secret of the painting's whereabouts with him to the grave.

7/10 20th century's biggest art heists

Three armed men used a crowbar to break into the Pinacoteca do Estado Museum in São Paulo in June 2008, making off with five extremely valuable paintings including Pablo Picasso's The Painter and the Model and Minotaur, Drinker and Women.

Getty Images

8/10 20th century's biggest art heists

Monet's Poppy Field at Vetheuil was among a host of impressionist paintings pinched from the Emile Bührle Foundation in Zurich in February 2008 by thieves in ski masks. The total hoard, which also included Edgar Degas' Ludovic Lepic and his Daughter, Van Gogh's Blossoming Chestnut Branches and Cezanne's Boy in the Red Vest, had a combined value of $163 million at the time of theft. The Monet and Van Gogh were recovered from a nearby parked car shortly after.

Getty Images

9/10 20th century's biggest art heists

Rembrandt's Jacob de Gheyn III has been stolen four times, earning it the nickname of the "takeaway Rembrandt". It was initially stolen from the Dulwich Picture Gallery in 1981 by four men who made off with it in a taxi. The painting was returned to the gallery soon after, only to be nicked again two years later when a burglar broke in via a skylight. The painting went missing for three years before it was discovered in a luggage rack of a train station in Münster, Germany. The painting has been nabbed twice more from the Dulwich Picture House since then, but no thief has ever been apprehended. Each time the picture has just turned up: once under a bench in graveyard and another time in the basket of an abandoned bicycle. Mysterious!

Getty Images

10/10 20th century's biggest art heists

On 18 March 1990 thieves disguised as policemen handcuffed security guards and stole 13 paintings worth a collective $500 million from the Isabella Stewart Gardner Museum in Boston, USA. It has been described as the biggest art heist in the world and remains as yet unsolved. Vermeer's The Concert, three Rembrandts and a series of drawings by Edgar Degas were among the valuable artworks seized.
And there's still questions over whether Gherardini is in fact the Mona Lisa.
Art historians long argued over her identity, but a consensus emerged in 2005 when a 500-year-old note by a government clerk was found that claimed Lisa del Giocondo as the subject of the painting.
The Mona Lisa is perhaps the world's most famous painting. Every year, about 6 million people visit the Musée du Louvre in Paris to see it.