Nigel Farage wasn't shy about showing his support for the Greek people when he brought a pillar-box red 'oxi' placard, the banner of the Greek no vote, into the European Parliament.
The Ukip leader and MEP kept the banner on his desk, until Jean-Claude Junker, the European Commission president, confiscated it while he was looking the other way.
The Ukip leader took to Twitter to reassure his followers the banner was later returned.
Mr. Juncker nicked my #Oxi sign in the European Parliament when I turned my back. Don't worry, I went and got it back.

— Nigel Farage (@Nigel_Farage) July 8, 2015
In a referendum held over the weekend, the Greeks overwhelmingly rejected bailout conditions set by their country's European creditors and the IMF, a victory for the 'no' campaign but one that has left Greece struggling to keep its financial system afloat.
Mr Farage has called the Greek referendum result an indication that the EU is "dying" and urged Alexis Tsipras, Greece's prime minister, to lead his country out of the euro.
Mr Tsipras, who also addressed the European Parliament on Wednesday, called for a "sustainable" solution to his country's debt crisis.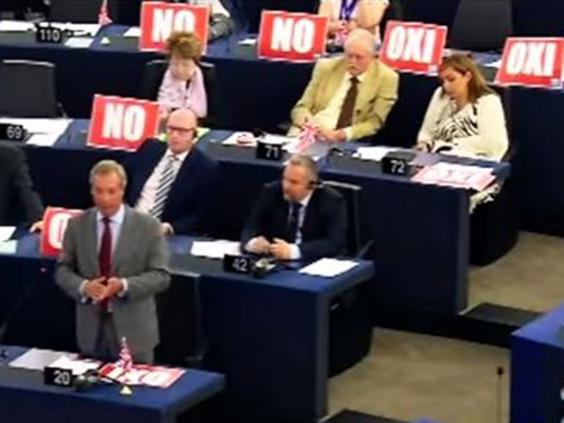 Mr Farage was not the only person to have the Greek 'no' banner on display in Strasbourg. Video footage from the parliament shows other Eurosceptic MEPs also delighted in displaying it.
Reuse content