The travel advice website TripAdvisor has been fined half a million euros (£392,000) by an Italian regulator after complaints about fake reviews on its pages.
The Italian competition authority said the company should stop "publishing misleading information about the sources of its reviews" while false reviews were still viewable on its website.
A spokesperson for TripAdvisor said it would appeal the findings, saying it believed its processes were "extremely effective in protecting consumers from the small minority of people who try to cheat our system".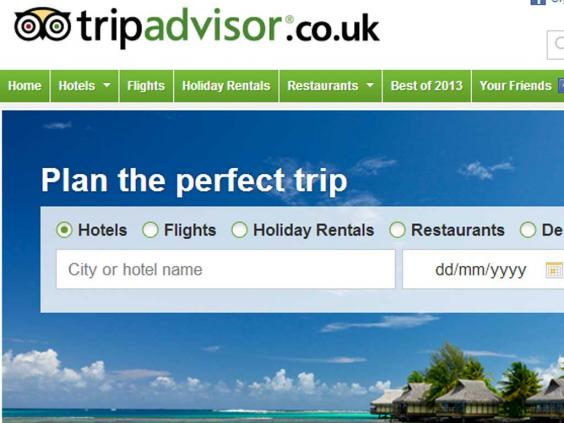 "We firmly believe that TripAdvisor is a force for good — both for consumers and the hospitality industry," the spokesperson said.
Measures deployed by the website to fight bogus reviews include a team to detect fraudsters as well as automated tools and algorithms.
The Federalberghi Italian hoteliers association, which was involved in the initial complaint against the website, alongside the country's national consumer's union, welcomed the decision.
Most popular winter holiday destinations
Most popular winter holiday destinations
1/8 3. Sharm el-Sheikh, Egypt

At number three is Egypt's Sharm el-Sheikh. The resort city offers December temperatures of up to 32 degrees Celsius and an abundance of sandy beaches.

2/8 4. Dubai, UAE

Dubai, part of the United Arab Emirates, grabs the number four spot. The city offers travellers year-round hot weather and a view from the Burj Khalifa, the world's tallest building.

Getty Images

3/8 5. Amsterdam, Netherlands

Amsterdam makes number five on the list. Lucky travellers can go ice skating on the city's famous canals, but be warned: they don't freeze every year!

Francisco Anzola

4/8 6. Playa de las Americas, Tenerife

The Spanish island of Tenerife's Playa de las Americas comes in at number six, no doubt helped by the Spanish city's reputation for all-night partying. A good way to bring in the new year.

Nolege

5/8 7. Costa Adeje, Tenerife

Those who prefer something a little more restful opted for the Costa Adeje, number seven on the list and another of Tenerife's many attractions. The coastal resort offers a more tranquil alternative to the Playa de las Américas, ideal for families.

Alicia Lopez

6/8 8. Bangkok, Thailand

Travellers looking to go a little further afield put Bangkok at number eight, with the Thai capital offering year-round hot weather and a host of major tourist attractions. The ginormous Grand Palace, residence of the Kings of Thailand since the 18th century, is a must see.

Mda

7/8 9. Playa Blanca, Lanzarote

Lanzarote's Playa Blanca, on the mainland of Spain, comes in at number nine. The town's name is well-deserved: its centrally located main beach offers soft white sand and warm temperatures, even in the winter months.

Luis Miguel Bugallo Sanchez

8/8 10. Berlin, Germany

Berlin rounds off the list at number ten. The holiday season is much loved in the German capital, where traditional Christmas markets offering festive fare pop up all over town.

Arild Vagen
"We are happy with the decision by the antitrust authority, which goes in the right direction to offer greater protection for consumers and businesses," the group's director-general Alessandro Nicara said.
The association says unscrupulous hotel owners sometimes leave false bad reviews of neighbouring competitors, which could skew holidaymakers' decisions.
In 2012 the UK advertising regulator the Advertising Standards Authority ruled that TripAdvisor could not advertise all of its reviews as being genuine.
Last month a couple were charged £100 by a hotel after they left a negative review of the establishment on TripAdvisor. The 'fine' was eventually refunded after a social media outcry.
Italy's competition authority, which was set up in 1990, has been particularly active recently.
This week it launched an investigation into Google, Apple, Amazon, and games publisher Gameloft over "free-to-play" games on mobile devices that charge consumers money for doing things in-game.
UPDATE 14 July 2015:
A spokesperson for TripAdvisor said in a statement: "We are extremely satisfied that TAR has overturned the ICA ruling and confirmed what we always knew – that TripAdvisor is a hugely valuable and reliable resource, that there is no misleading message regarding the source of TripAdvisor's reviews, and the processes TripAdvisor uses to maintain the integrity of our content are extremely effective.
"We appealed the ICA's original ruling as we believed that it was unreasonable and we strongly disagreed with its findings. The TAR has confirmed that the ICA's ruling was completely unwarranted and by extension has acknowledged the industry-leading tools TripAdvisor has to protect our site from fraud.  
"Millions of people use TripAdvisor every day to help them make better travel and booking decisions and get the best possible value for their hard-earned money. We see this as a victory for consumers as well as an endorsement of TripAdvisor's commitment to help democratize the travel industry."